Galapagos of Africa
Cast adrift 140 miles off the coast of Gabon, São Tomé and Príncipe is one nation consisting of two remote volcanic islands, often dubbed the 'African Galapagos'. Here you will discover a place that time forgot, where a unique collection of wildlife can be found and marine life thrives. It feels as though you have stepped off the edge of the world!

This itinerary takes in both Islands – first São Tomé which is home to around 7000 people and provides the necessary infrastructure for travel, and then Príncipe, a tiny island topped by a canopy of green broken by spires of primordial rock. Largely undiscovered, it is a magnificent lost world, offering fantastic beaches, jungle exploration, snorkelling, fishing and birdwatching.

São Tomé and Príncipe was uninhabited by humans until the fifteenth century when the Portuguese arrived and established vast plantations making the nation the largest producer of cacao in the world. The legacy is a handful of beautiful plantation houses, now exclusive boutique hotels for you to enjoy during this itinerary.

Whilst remaining a natural paradise, São Tomé and Príncipe is distinctively West African with a very strong Portuguese influence. It has a rhythm of its own which sets it apart from any experiences in East and Southern Africa.
You will love
Elegant lodges and hotels
Virtually no tourists
A wealth of unique wildlife
The gourmet larder of the forest
Pristine, secret swimming spots
13 UNFORGETTABLE DAYS
PLEASE NOTE
This itinerary provides the perfect framework for a spectacular journey but it is an example only. All journeys will be individually designed and quoted on a case by case basis.
DAYS 1 & 2 | São Tomé
Arrive in São Tomé where you will be met at the airport and transferred to your lodge. Take in the reality of being in this remote paradise as you spend a day at leisure and explore the local area. Please ask us for touring options! Overnight: Omali Lodge
DAYS 3-9 | Príncipe Island, Praia Sundy
Transfer from Omali Lodge to São Tomé International Airport for a scenic 35-minute flight to Príncipe Island. Discover the old ruins of the area, the historical cacao plantations, the biospheres, and get to know the locals as you explore the forest, sand and sea. Visit the smallest capital in the world, observe the secrets of the organic farming, experience different aromas and tastes and be indulge in traditional local meals.
DAYS 3-9 | Continued
Spot whales and dolphins off the northeast side of the island between August and September. The use of kayaks, snorkelling equipment and SUPs is included.
DAYS 10-12 | Príncipe Island, Roca Sundy
Enjoy the range of activities at Roca Sundy including 4×4 excursions to spot the island's astonishing wildlife to whale watching, diving, plantation tours and jungle hikes. Between September and April you can observe turtles spawning and hatching, assisting with conservation projects if you wish. One of the most relaxed and rewarding activities is a simple stroll through the island's village communities, where the locals will greet you like old friends.
DAY 13 | END OF SAFARI
You will be privately transferred to the airport to begin yoru journey home.
ACCOMMODATION
Elegant and unique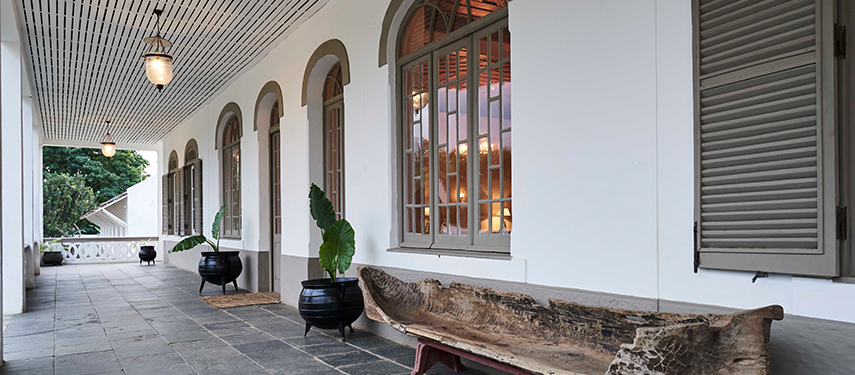 Roça Sundy – Príncipe Island, São Tomé & Príncipe
This grand colonial house is a legacy from the time that São Tomé and Príncipe was the biggest cacao producer in the world. Now a stylish boutique hotel, great care has been taken to preserve its original grandeur. This hotel is a surprising touch of sophistication in this forgotten pocket of Africa. Read More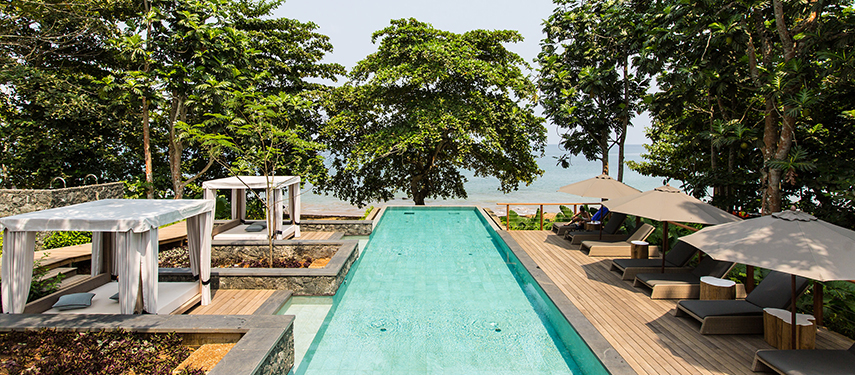 Sundy Praia – Príncipe Island, São Tomé & Príncipe
Merging seamlessly with their forest surrounds, the 15 tented villas of this luxurious tropical hideaway lie hidden among a scattering of almond and banana trees. Explore deserted coves, forests and mountain peaks, watch turtles hatch or whales breach, then return home to dine on the produce of the island's incredible natural larder. Read More
Exellent and wonderful, reaching way above expectations.
Elizabeth Mackintosh
Julia you did a fantastic job - everything was first class. Well organised, efficient and stress free. We all agreed it was the best holiday we've ever had. Cant wait to travel with CSC again.
Milford family
We are so happy we put our trust in CSC, we had an amazing adventure and would recommend them to anyone.
Kim & Brad Balance
The trip exceeded my expectations and was the best family holiday I have ever had. Our children simply loved it and now I know more about African wildlife than they do about our own farm animals.
Rowntree family
Classic Safari are the people who genuinely know other culture and offer incredible insight to perfectly meet your expectations.
Melanie McMillan & Iain Jones
We loved it all. Our son wants to go back tomorrow. We would ALL go back again!
Laurence & Remi Cunningham
An amazing experience - the best family holiday we have ever had. We were extremely impressed by the meticulous attention to our itinerary. I can't speak highly enough of all the elements of this exciting journey!
Sheryl & Robert Taylor
Thank you for making our trip to Africa so spectacular. The attention to detail really made it special. It really was the trip of a lifetime.
Paul Cozzi
Very knowledgeable and patient. Our trip was all that we hoped for. Wonderful!
Jane & Robert Happell
Everything was perfect! Advice and information on destinations and activities hit everything I had hoped to experience. I contacted the Classic Safari Company upon recommendation and have now, in turn, recommended to others.
Tim Bradley
You can't improve on perfection. I had my best birthday and holiday with my family celebrating my 80th birthday in Africa. Everything that Julia organised was perfect and the whole trip was a highlight!
Buckingham Family
The trip of a lifetime, couldn't have dreamt of a better adventure if I tried.
Emma Jeffcoat
Absolutely everything was first class & so well organised.
Simon & Jackie Adams
Classic Safari Company has done it again! A unique experience that ticked all the boxes - wildlife, culture and dining experience. A dream come true!
Ros Wheeler
Their experience and knowledge of Africa is evident and we couldn't have been happier with the total package. This has given us a taste for Africa - now we are ready for more.
Andrew & Pip Stevens
If you want the most sensational experience in Africa let Julia and the staff at Classic Safari Co plan it for you! Their knowledge, expertise and enthusiasm for their job means your every wish will be fulfilled.
Miriam & Joseph Harrison
Classic Safari is the place to go to for "top end" adventure travel.
Ron & Alison Guthrie
Classic Safari Company were brilliant - 10/10
Di & Kingsley Yates
The Classic Safari Company is the best I have dealt with. Extremely knowledgeable & professional, friendly, patient & understanding of first timers to Africa.
Annette Whiley
It certainly was the best trip we have EVER had. The experiences were mind blowing.  We want everyone we know to experience Africa - the animals, the people - magical.
Jo-anne & Dean Mifsud
Would do it all again and not change a moment. Best holiday ever!
The McGowan Tribe
An absolutely fantastic travel company - every one of the many trips they have organised for us over 22 years have been faultless and fabulous.
Judith & Roger Williams

begin your journey now
Take advantage of our highly personalised advice, inspiration and experience