Africa through the soles of your feet
Unfolding in the South Luangwa National Park, along the west bank of the Luangwa River, a Chikoko Trails safari is a unique walking holiday in one of the richest wildlife areas in the world.

The safari takes place between two camps – Chikoko Tree Camp and Crocodile River Camp – which are within walking distance of one another. These camps are just a few kilometres upstream from their parent camp, Tafika, but are only accessible on foot and feel wonderfully remote as a result. Each has just three simply furnished, reeded and thatched or canvas chalets with private bathrooms and since the camps are so small, it is possible for a group or a family to occupy them on a private basis.

Your days will be spent exploring the magnificent wilderness on foot. Covering ground in this way the minutiae of the bush come to the fore: the smells; the essence of the macro world and a sense of timelessness. Giraffes and elephants tower over you, buffaloes are now on eye level, and the Luangwa's predators set pulses raising as you track lions prints from the night before. It is the realness of the experience, that dash of adrenaline associated with standing downwind of an elephant and catching its unmistakable scent that make walking safaris unforgettable for every generation.

Chikoko Walking Trails boast real heritage – these were the trails trodden by David Livingstone and where the legendary Norman Carr pioneered early walking safaris in the 1950s. Walks take you from camp to camp following well-worn elephant and hippo trails, and as you walk your expert guides and armed scout will share their experience and intimate bush knowledge. You will discover the inner workings of the African bush in a way you could never imagine from a vehicle.
You will love
Walking in the footsteps of David Livingstone
Small, intimate camps
Some of the best guiding in Africa
Relaxed walking pace
No roads or vehicles – timeless
Great for groups or families
WHAT TO EXPECT
PLEASE NOTE: The following is an example itinerary only. Please contact us for your very own tailormade advenuture
Chikoko Trails walking safaris are all individually tailormade, however, we recommend a minimum of 2 nights at each camp.
DAY 1 | CHIKOKO TREE CAMP
Welcome to your Chikoko Trails Zambian walking safari. In the company of expert guides, arrive on foot to Chikoko Tree Camp. Settle in and enjoy a 3-course meal by candle light, then head to bed for a good rest ahead of your adventure… if you can sleep while the lions are roaring and the hyenas are whooping!
DAY 2 | CHIKOKO TREE CAMP
Rise to early morning hippo bellows and bird song for a relaxed breakfast around the fire. Head out on a 4-hour walking safari at a leisurely pace with a stop for morning tea. After lunch and a siesta, head out again in the afternoon to track spoor and encounter wildlife becoming more active as the temperature eases. Visit David Livingstone's river crossing, 'Perekani', and enjoy a sundowner or two before heading back to camp for dinner.
DAY 3 | CROCODILE RIVER CAMP
Head out from Chikoko Tree Camp on foot for your morning safari (approx. 4 hours), then arrive to Crocodile River Camp in time for lunch and a siesta. Afternoon tea is served at around 15h30, then head out again for a 2.5 – 3hr evening walking safari exploring the fringes of a big lagoon. Return before sunset for dinner and drinks.
DAY 4 | CROCODILE RIVER CAMP
The routine will be familiar by now. After breakfast round the fire, head out through this area's ebony forests to enjoy a morning safari. There will be plenty of animal tracks from the night before leading you to spectacular encounters. In the afternoon venture out again and travel a little further if you wish.
DAY 5 | END OF SAFARI
Rising with the birds you may wish to set off on a final morning walk before leaving the area on foot at a time that fits with your plans. You will then be transferred to a location from which you can continue with your onward arrangements.

ACCOMMODATION
True bush camps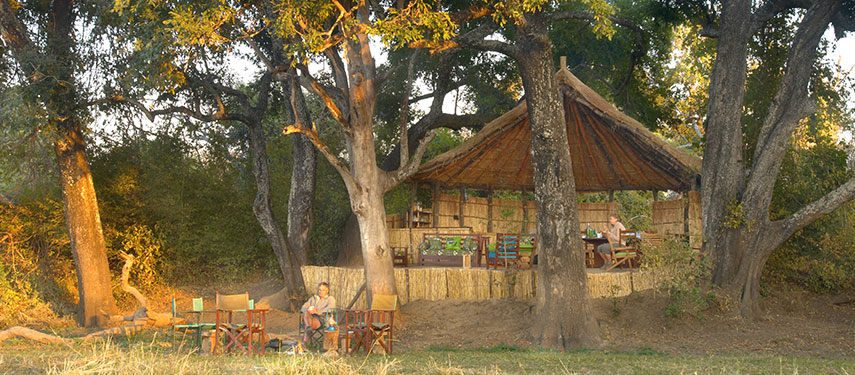 Chikoko Trails – Crocodile River Camp – South Luangwa
A stay at Crocodile River Camp allows you to undertake a wild walking safari in arguably the best safari destination in Zambia, the South Luangwa. Accommodating just a handful of guests, the camp rests quietly in the landscape, barely leaving a footprint. Read More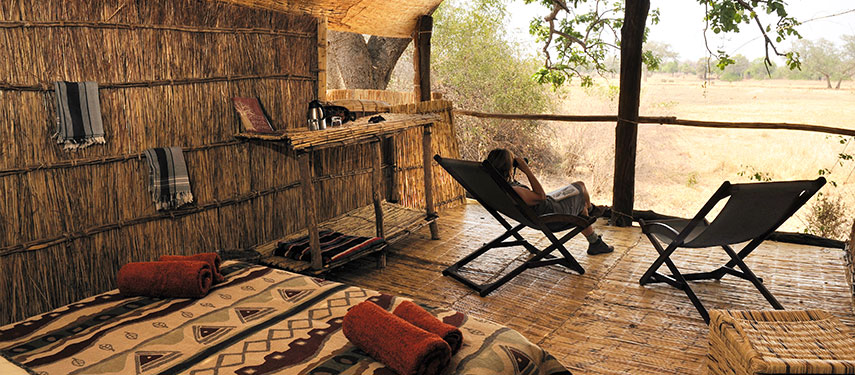 Chikoko Trails – Chikoko Tree Camp – South Luangwa
Located near David Livingstone's river crossing, Chikoko Tree Camp sits in a privileged spot in the South Luangwa, Zambia. As a walk-in camp with no roads or vehicles, a stay here is like a journey back in time. This is the Africa that the first explorers saw. Read More
NEED TO KNOW
Chikoko Trails walking safaris are all individually tailormade
Chikoko Trails walking safaris are all individually tailormade
Please enquire for pricing
Please enquire for pricing

START: South Luangwa, Zambia
|
Finish: South Luangwa, Zambia
3 rooms/chalets at each camp
Maximum 6 guests at each camp
Minimum age – 12 years old
Operates May to October
Recommended length of stay: minimum 2 nights in each camp, ideally 3 nights at each.
Single supplement may apply
Flights and insurance on request
Please contact us for pricing, dates and a full itinerary
Exellent and wonderful, reaching way above expectations.
Elizabeth Mackintosh
Julia you did a fantastic job - everything was first class. Well organised, efficient and stress free. We all agreed it was the best holiday we've ever had. Cant wait to travel with CSC again.
Milford family
We are so happy we put our trust in CSC, we had an amazing adventure and would recommend them to anyone.
Kim & Brad Balance
The trip exceeded my expectations and was the best family holiday I have ever had. Our children simply loved it and now I know more about African wildlife than they do about our own farm animals.
Rowntree family
Classic Safari are the people who genuinely know other culture and offer incredible insight to perfectly meet your expectations.
Melanie McMillan & Iain Jones
We loved it all. Our son wants to go back tomorrow. We would ALL go back again!
Laurence & Remi Cunningham
An amazing experience - the best family holiday we have ever had. We were extremely impressed by the meticulous attention to our itinerary. I can't speak highly enough of all the elements of this exciting journey!
Sheryl & Robert Taylor
Thank you for making our trip to Africa so spectacular. The attention to detail really made it special. It really was the trip of a lifetime.
Paul Cozzi
Very knowledgeable and patient. Our trip was all that we hoped for. Wonderful!
Jane & Robert Happell
Everything was perfect! Advice and information on destinations and activities hit everything I had hoped to experience. I contacted the Classic Safari Company upon recommendation and have now, in turn, recommended to others.
Tim Bradley
You can't improve on perfection. I had my best birthday and holiday with my family celebrating my 80th birthday in Africa. Everything that Julia organised was perfect and the whole trip was a highlight!
Buckingham Family
The trip of a lifetime, couldn't have dreamt of a better adventure if I tried.
Emma Jeffcoat
Absolutely everything was first class & so well organised.
Simon & Jackie Adams
Classic Safari Company has done it again! A unique experience that ticked all the boxes - wildlife, culture and dining experience. A dream come true!
Ros Wheeler
Their experience and knowledge of Africa is evident and we couldn't have been happier with the total package. This has given us a taste for Africa - now we are ready for more.
Andrew & Pip Stevens
If you want the most sensational experience in Africa let Julia and the staff at Classic Safari Co plan it for you! Their knowledge, expertise and enthusiasm for their job means your every wish will be fulfilled.
Miriam & Joseph Harrison
Classic Safari is the place to go to for "top end" adventure travel.
Ron & Alison Guthrie
Classic Safari Company were brilliant - 10/10
Di & Kingsley Yates
The Classic Safari Company is the best I have dealt with. Extremely knowledgeable & professional, friendly, patient & understanding of first timers to Africa.
Annette Whiley
It certainly was the best trip we have EVER had. The experiences were mind blowing.  We want everyone we know to experience Africa - the animals, the people - magical.
Jo-anne & Dean Mifsud
Would do it all again and not change a moment. Best holiday ever!
The McGowan Tribe
An absolutely fantastic travel company - every one of the many trips they have organised for us over 22 years have been faultless and fabulous.
Judith & Roger Williams

begin your journey now
Take advantage of our highly personalised advice, inspiration and experience