Beautiful Bushcamps
Classic Zambia Safaris is one of the few remaining owner–run operations in Zambia, a country with one of the richest wildlife heritages on the African continent. Their camps are located in the heart of two of the leading national parks in Zambia. At their heart they are safari purists offering some of the best and most passionate guiding on the continent and comfortable yet basic camps that offer none of the fuss of modern day 'luxury', but all of the thrills one would hope for from a top quality safari.

This itinerary begins in the Lower Zambezi National Park with a stay at both Kutali Camp, located in the remote eastern sector of the park, and Chula Island Camp, located on a private island on the Zambezi. In arguably the prettiest locations in Zambia, these camps combine all the charm and ethos of true seasonal bush-camps with diverse activities including game drives, canoe safaris, boating, walking and tiger fishing.   The Lower Zambezi has some of the finest big game wildlife viewing in Africa. High densities of elephant gather on the valley floor and lion, leopard and wild dog are all very well represented. The only notable omission might be the giraffe, but a night-time safari scouting for honey badger and aardvark should help you forget about our long-necked friends!

Moving to the rarely visited Kafue National Park the next stop is Musekese Camp, perched on the edge of a spectacular lagoon hidden away from the outside world, then Ntemwa-Busanga Camp, three hours game drive to the north-west on the edge of the spectacular Busanga Plains. Regional specials such as roan antelope and sable antelope are common sightings here, along with thousands of red lechwe and numerous successful prides of lion. Leopard, cheetah and wild dog are all also present.

Rounding out the itinerary is a stay at Victoria Falls, where you can dust down your khakis and relax at Chundukwa River Lodge. Floating down the Zambezi on a sunset cruise is the perfect post-safari R&R.

It is becoming more and more difficult to find any truly untouched wilderness anywhere in the world, and the allure of such unspoilt pockets of paradise is becoming every stronger. On this 'Classic Zambia' safari, the wilderness unfolds around you, unscripted and in full glory, and all the focus is on the African bush and its wild inhabitants. This is safari in its purest form.




You will love
Remote, unspoiled Africa
Safari in its purist form
Passionate, expert guiding
High concentrations of wildlife
Owner operated
17 UNFORGETTABLE DAYS
DAYS 1-3 | KUTALI CAMP, LOWER ZAMBEZI | 3 NIGHTS
Take a spectacular flight in from Lusaka to Jeki Airstrip in the Lower Zambezi National Park on Classic Zambia's very own Cessna 210 (35mins), then climb aboard your 4×4 for a short but exciting introductory transfer game drive to Kutali Camp.
Settle in to camp and then enjoy a whole host of activities including game drives, canoeing, birding, walking, boating and tiger fishing.
DAYS 4-6 | CHULA ISLAND CAMP, LOWER ZAMBEZI | 3 NIGHTS
The 'transfer' between Kutali and Chula is taken at the whim of the wildlife and your guide – we leave the timing and means of transport to the team on the ground. Sometimes a morning drive is in order, maybe a canoe, maybe a walk, all options to get you to your next camp.
Continue your explorations of the Lower Zambezi in the company of experienced guides, and if you wish, join a special river lunch set up with your toes dipped into the cool waters of the Zambezi! Watching hippos cruise past as you tuck into your tasty BBQ lunch and cold drinks is a unique treat!
DAYS 7-9 | MUSEKESE CAMP, KAFUE | 3 NIGHTS
Fly from Jeki Airstrip in the Lower Zambezi to Lufupa Airstrip in the Kafue on Classic Zambia's very own Cessna 210 – a wonderful flight taking in views of the Zambezi escarpment, the Kafue flats wetland system and the broad Kafue River. You will be met on arrival at Lufupa Airstrip by the Musekese Camp team. On arrival at Lufupa Airstrip, board a boat for a transfer South, allowing you to cross the river to the remote Eastern sector of the national park. A final safari game viewing vehicle will then take you on a short drive into camp.
DAYS 7-9 | MUSEKESE CAMP, KAFUE continued
Settle into Musekese Camp and experience the variety of activities on offer and the 'feel' of this truly remote area. The history of the camp and its ethos is entrenched in exploration and conservation.
DAYS 10-12 | NTEMWA-BUSANGA CAMP, BUSANGA PLAINS (KAFUE) | 3 NIGHTS
Cross the peaceful Kafue River to meet a the vehicle which will take you up to the Busanga Plains. The drive is a fascinating one. 50km due North-West and through the heart of the park, there is plenty to see on this 'game drive transfer' from granite outcrops to film-set-like riverine scenery.
Ntemwa-Busanga Camp is the smallest camp in Kafue (just four guest chalets) and it offers the full safari experience including dining under the stars and classic bucket-style showers. The vast open plains host huge diversity of wildlife and birdlife.
DAYS 13-15 | CHUNDUKA RIVER LODGE | 3 NIGHTS
A peaceful and enjoyable flight from the Busanga Plains Airstrip delivers you to Livingstone International Airport, from where you will take a short drive through the Mosi O Tunya National Park to the idyllic Chundukwa River Lodge on the banks of the Zambezi River. Relax into blissful riverside living with Zambezi sunset cruises, a day trip to Victoria Falls and optional in-house activities including walking and horse riding.
DAY 17 | END OF ITINERARY
It is just a short drive from the lodge back to the airport. Continue with your onward arrangements or begin your journey home.
WHERE YOU'LL STAY
A selection of the finest safari camps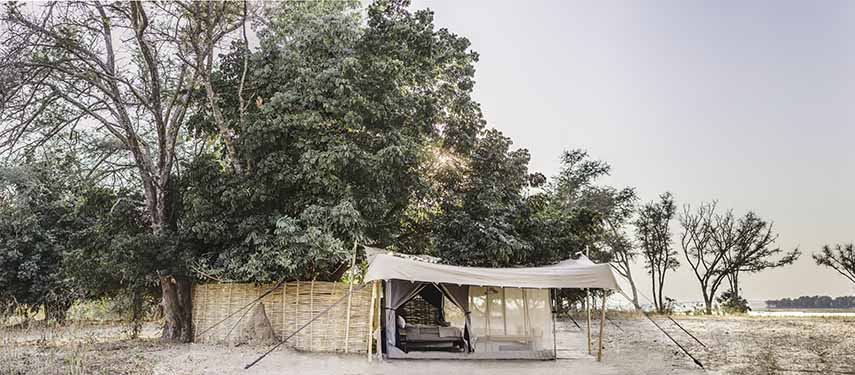 Chula Island Camp – Lower Zambezi
Chula Island is like Jurassic Park, full of surprises with plenty of hidden lagoons and wetlands, and the game is unbelievable! There is actually no need to venture further than this island paradise. The camp is basic but luxury linens and en suite bathrooms provide all the comfort you need. Read More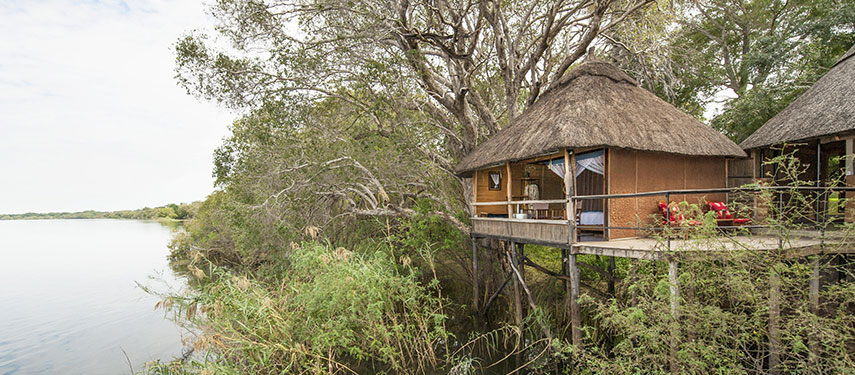 Chundukwa River Lodge – Livingstone
Situated on the banks of the Zambezi River just 30 minutes from Victoria Falls, Chundukwa River Lodge is tucked away in a quiet wilderness of its own though close enough to the action making it the perfect launch page, or final stop, pre or post your African safari! Read More
THINGS YOU NEED TO KNOW
No set departures - all itineraries are tailor made.
No set departures - all itineraries are tailor made.
PLEASE ENQUIRE FOR PRICING & AVAILABILITY
PLEASE ENQUIRE FOR PRICING & AVAILABILITY

START: Lusaka, Zambia
|
Finish: Victoria Falls, Zambia
Please enquire for pricing and availability.
Flights & insurance – on request
begin your journey now
Take advantage of our highly personalised advice, inspiration and experience