The Best of Chile & Argentina
Venture out to the Atacama desert, where burnt orange canyons and weirdly sculpted rock formations stand brilliant against an azure sky and steaming geysers rocket steam to dizzying heights. You'll explore your other-worldly surroundings with a series of nature walks, challenging treks and horse rides, all privately guided and tailored to your particular interests and physical requirements. The star gazing here is truly spectacular – don't miss it!

Next head south to the emerald hills of the Lakes District. Here you'll stay at the outstanding Vira Vira, a hacienda style boutique hotel bringing the "farm to fork" concept to the fore with an onsite dairy and wheat crops to keep fresh homemade bread in constant supply, not to mention onsite thermal springs amidst verdant gardens.

Enjoy Tipiliuke and its similar concept in the Lakes District, before a 'stint'at Eolo in El Calafate, your starting point exploring Patagonia and its icefields.

Journey further south into the depths of Patagonia staying in the heart of the Torres del Paine National Park, perched above the milky, turquoise waters of Lake Pehoé, you'll enjoy stunning views of the Paine Massif. The wilderness is yours to explore by 4×4 vehicle, walking through ethereal forests, wildlife watching and birdspotting, hiking part or all of the famous W trek and horse riding across the open pampas.

Round up a just-under-three week journey back in Santiago, the hub to the rest of Chile, and appreciate three weeks exploring wilderness areas of both Chile and Argentina.
You will love
Other-worldly Atacama landscapes
Tranquility in the Lakes District
Patagonia and its bounty of nature
Variety, exclusivity choice
19 UNFORGETTABLE DAYS
DAY 1 | ATACAMA
Arrive to Calama airport and road transfer to your accommodation. The afternoon and evening are at leisure.
DAY 2 | ATACAMA
Your accommodation Includes guided explorations of the Atacama desert; the flamingoes & salt flats, moon valley, the altiplano lagoons, geysers & thermal pools plus guided walks & trekking, bike riding, horse riding and bird watching.
DAY 3 | ATACAMA
Another day is set aside for you to enjoy activities in the Salar de Atacama, the Cordillera de la Sal, the Cordillera de Sarapana and in the Andes Mountains
DAY 4 | ATACAMA
One further full day is for you to explore more of the Atacama – either on half or full day excursions and experiences at a style, pace and length of your choice.
DAY 5 | PUCON
Road transfer back to the airport and fly to Pucon to the emerald hills of the Lakes District and stay at the outstanding Vira Vira, a hacienda style boutique hotel bringing the "farm to fork" concept to the fore with an onsite dairy and wheat crops to keep fresh homemade bread in constant supply, not to mention onsite thermal springs amidst verdant gardens.
DAY 6 | PUCON
Enjoy activities at the lodge such as walks or hikes, fishing, horse riding, canoeing, stand-up-paddleboarding or simply enjoying the farm-to-table cuisine, a cheese factory tour, or birdwatching.
DAY 7 | PUCON
Further enjoy activities at the lodge, perhaps mountain biking, a cultural Mapuche experience, white-water rafting, or activities with an additional cost such as a helicopter ride, yoga or a wellness treatment.
DAY 8 | BARILOCHE
After breakfast, road transfer to Llao Llao, passing by San Martin de los Andes, arriving to the lodge late afternoon. The journey takes approximately 6 hours, plus time for stops enroute. Enjoy mountainous scenery and the stunning lakes and forest scenery as you pass by.
DAY 9 | BARILOCHE
Enjoy activities inside the lodge such as the hydrogym, salsa or tango lessons, pilates, yoga, the jacuzzi, sauna, gym, reading room, or games such as bingo or card games. Outdoor activities include walks, mountain bike rides, tennis, boating, fishing, rafting, 4×4 adventures, bird watching and more.
DAY 10 | BARILOCHE
Further enjoy all of the activities at the lodge. Specialist activities with an instructor (additional cost) may include archery or rappelling, you may want to windsurf or stand up paddle, or enjoy walks at a style, pace and length of your choice.
DAY 11 | EL CALAFATE
Fly from Bariloche to El Calafate, then road transfer to Eolo lodge. Check in this afternoon and the remainder of the afternoon and evening is at leisure, or you may wish to head out for a small hike or horse back ride if time allows.
DAY 12 | EL CALAFATE
Enjoy activities at the lodge such as trekking, mountain biking, bird watching, horse back riding, 4×4 explorations, zip lining, heading out to Los Glaciares National Park to visit the glacier, kayak, hike or for a boat journey
DAY 13 | EL CALAFATE
Further head out to take part in activities on or nearby the lodge such as visiting the Perito Moreno Glacier, fly fishing, spending a full day at El Chalten, or at Estancia Cristina.
DAY 14 | TORRES DEL PAINE
After breakfast check out and road transfer south, crossing into Chile, to reach Explora Patagonia, the only lodge right in the heart of the Torres del Paine National Park. Arrive this afternoon and the remainder of the afternoon and evening is at leisure to rest and to admire the lodge and views over the three towers.
DAY 15 | TORRES DEL PAINE
Head out with your guide on a choice of over 40 explorations – hike, horseback ride, take a high mountain ascent, travel overland, or embark on a self-guided excursion – you choose!
DAY 16 | TORRES DEL PAINE
Further explore the area, perhaps hike the Mirador Toro or the Lago Grey, horseback ride the Laguna Negra, travel overland taking in flora and fauna such as guanacos and puma at Estepa Patagonica, or take a high mountain ascent to Cerro Tenerife.
DAY 17 | TORRES DEL PAINE
Enjoy one more day to explore the region on a choice of activities offered by Explora Patagonia.
DAY 18 | SANTIAGO
Road transfer to Punta Arenas and fly to Santiago. Check into your accommodation at The Singular and perhaps head out this afternoon to explore Lastarria, its markets and nearby restaurants.
DAY 19 | INFLIGHT
Check out of your accommodation and commence your journey homebound.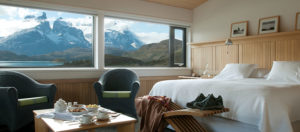 WHERE YOU'LL STAY
A selection of the finest lodges and hotels
Exellent and wonderful, reaching way above expectations.
Elizabeth Mackintosh
Julia you did a fantastic job - everything was first class. Well organised, efficient and stress free. We all agreed it was the best holiday we've ever had. Cant wait to travel with CSC again.
Milford family
We are so happy we put our trust in CSC, we had an amazing adventure and would recommend them to anyone.
Kim & Brad Balance
The trip exceeded my expectations and was the best family holiday I have ever had. Our children simply loved it and now I know more about African wildlife than they do about our own farm animals.
Rowntree family
Classic Safari are the people who genuinely know other culture and offer incredible insight to perfectly meet your expectations.
Melanie McMillan & Iain Jones
We loved it all. Our son wants to go back tomorrow. We would ALL go back again!
Laurence & Remi Cunningham
An amazing experience - the best family holiday we have ever had. We were extremely impressed by the meticulous attention to our itinerary. I can't speak highly enough of all the elements of this exciting journey!
Sheryl & Robert Taylor
Thank you for making our trip to Africa so spectacular. The attention to detail really made it special. It really was the trip of a lifetime.
Paul Cozzi
Very knowledgeable and patient. Our trip was all that we hoped for. Wonderful!
Jane & Robert Happell
Everything was perfect! Advice and information on destinations and activities hit everything I had hoped to experience. I contacted the Classic Safari Company upon recommendation and have now, in turn, recommended to others.
Tim Bradley
You can't improve on perfection. I had my best birthday and holiday with my family celebrating my 80th birthday in Africa. Everything that Julia organised was perfect and the whole trip was a highlight!
Buckingham Family
The trip of a lifetime, couldn't have dreamt of a better adventure if I tried.
Emma Jeffcoat
Absolutely everything was first class & so well organised.
Simon & Jackie Adams
Classic Safari Company has done it again! A unique experience that ticked all the boxes - wildlife, culture and dining experience. A dream come true!
Ros Wheeler
Their experience and knowledge of Africa is evident and we couldn't have been happier with the total package. This has given us a taste for Africa - now we are ready for more.
Andrew & Pip Stevens
If you want the most sensational experience in Africa let Julia and the staff at Classic Safari Co plan it for you! Their knowledge, expertise and enthusiasm for their job means your every wish will be fulfilled.
Miriam & Joseph Harrison
Classic Safari is the place to go to for "top end" adventure travel.
Ron & Alison Guthrie
Classic Safari Company were brilliant - 10/10
Di & Kingsley Yates
The Classic Safari Company is the best I have dealt with. Extremely knowledgeable & professional, friendly, patient & understanding of first timers to Africa.
Annette Whiley
It certainly was the best trip we have EVER had. The experiences were mind blowing.  We want everyone we know to experience Africa - the animals, the people - magical.
Jo-anne & Dean Mifsud
Would do it all again and not change a moment. Best holiday ever!
The McGowan Tribe
An absolutely fantastic travel company - every one of the many trips they have organised for us over 22 years have been faultless and fabulous.
Judith & Roger Williams

begin your journey now
Take advantage of our highly personalised advice, inspiration and experience