Biblical Landscapes
Ethiopia is a land of ageless beauty where the landscapes have barely changed since biblical times, the environments are inhospitable and the sheer scale is unfathomable. A helicopter safari facilitates a breathtaking safari to some of its remotest and most challenging destinations, from the soaring Simien Mountains, to the Danakil Depression which sits below sea level.

Your journey begins in Addis Ababa, the vibrant capital, from where you will follow the course of the Blue Nile Gorge (by air) to Lalibela, Ethiopia's holiest city. Here you will explore ancient medieval rock-hewn churches, hidden crypts and dimly lit passageways carved from solid granite a millennia ago. Flying over the Tekeze River which has created one of the world's deepest canyons, you will arrive in the Tigray region where you will find a particularly spectacular landscape of red stratified mountains and sharp peaks that rise from the plains. Ancient churches teeter on top of rocky pinnacles and you will have the opportunity to hike to Abuna Yemata – the 'church in the sky'. Your next destination is the Danakil Depression which lies at 120m below sea level and is considered the hottest place on earth. It is a stunningly beautiful but wildly inhospitable environment of neon lakes, minerals crusts and weird rock formations and you'll witness the Afar people and their camel caravans eking a life out of the salt pans that exist here. At over 4500m, the misty green Simien Mountains provide a stark contrast and the opportunity for hiking and spotting rare wildlife including the walia ibex and endemic gelada or 'bleeding heart' baboons. Along the way you will take in the stellae monuments of Aksum and the mightY fortress of Gondar.

This helicopter safari provides the unique opportunity to experience Ethiopia's remotest communities and loneliest holy sites, touching down spontaneously to experience the most spectacular landscapes imaginable. Only by air is it possible to cover these vast distances whilst truly appreciating the immense scale of this stunningly beautiful and timeless land.
You will love
The rock hewn churches of Lalibela and Tigray

Exclusive use of private helicopter

Impossibly remote

The proud Afar people

The soaring Simien Mountains to the Martian looking Danakil Depression
8 UNFORGETTABLE DAYS
PLEASE NOTE
This itinerary provides the perfect framework for a spectacular journey but it is an example only. All journeys will be individually designed and quoted on a case by case basis.
DAY 1 | Addis Ababa
Arrive in Addis Ababa. Explore the street markets and museum, and enjoy an evening in the traditional song houses. Overnight: Sheraton Hotel
DAYS 2 & 3 | LALIBELA
Fly to Lalibela via the Blue Nile gorge. Visit some of the ancient monolithic churches including St George and Yemrehana Krestos in the company of a local guide. Overnight: Mountain View Hotel.
DAYS 4, 5 & 6 | TIGRAY, DANAKIL & AKSUM
Head to Gheralta in the Tigray region, flying via the spectacular Tekeze Gorge. Visit the ancient churches in the mountains including an optional thrilling hike to Abuna Yemata – the 'church in the sky'.
DAYS 4, 5 & 6 CONTINUED
Take a morning heli excursion to the Danakil Depression to see the sulphurous landscape of the the lowest, hottest point on Earth. Experience life in a Tigray village, and take a short flight to the historical town of Aksum. Overnight: Gheralta Lodge
DAY 7 | SIMIEN MOUNTAINS
An early departure allows you to see the mountain scenery at dawn, when it is most spectacular. Spend the day exploring the National Park, in search of Gelada Baboon and other unique wildlife. Overnight: Limalimo Lodge
DAY 8 | GONDAR & ADDIS ABABA
Morning visit to Gondar to see the walled city of Fasil Ghebbi famous for its ancient castles and palaces. Return to Addis Ababa.
ACCOMMODATION
A handpicked selection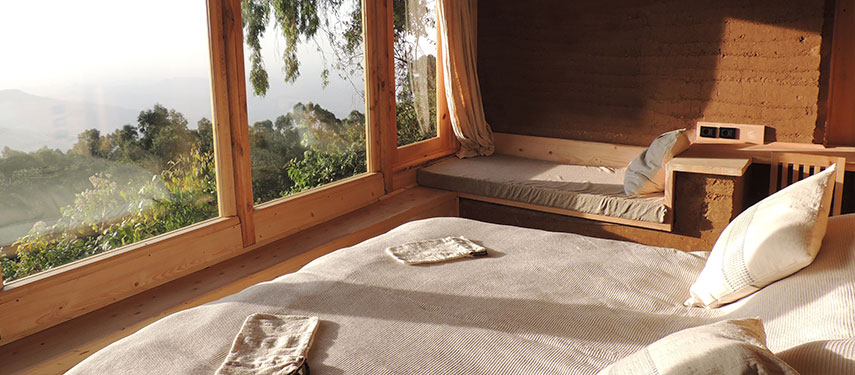 Limalimo – Simien Mountains National Park
The first lodge of its kind in Ethiopia, Limalimo is luxurious, design led and sustainable. Architecturally masterminded in clean lines and polished concrete, it perches on the edge of an escarpment in the Simien Mountains National Park with simply stunning views. Rooms are minimal but stylish and communal areas are inviting. Read More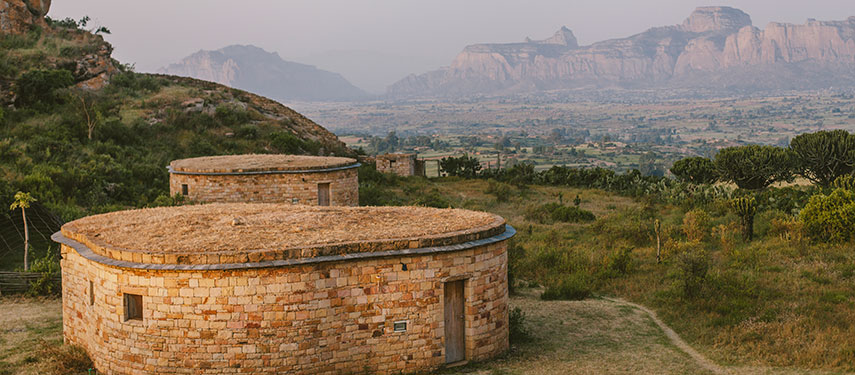 Gheralta Lodge – Tigray
Gheralta Lodge is your launch point for exploring the rock-hewn churches and 'land that time forgot' scenery of the northern Tigray region. Low level and built of rock it blends seamlessly into its stony environment and boasts dramatic views across the vast landscape, especially at sunset. Read More
NEED TO KNOW
8 days
8 days
Please enquire for pricing
Please enquire for pricing

START: Addis Ababa
|
Finish: Addis Ababa
This itinerary provides the perfect framework for a spectacular journey through Ethiopia by air but it is an example only. All journeys will be individually designed and quoted on a case by case basis.
Exellent and wonderful, reaching way above expectations.
Elizabeth Mackintosh
Julia you did a fantastic job - everything was first class. Well organised, efficient and stress free. We all agreed it was the best holiday we've ever had. Cant wait to travel with CSC again.
Milford family
We are so happy we put our trust in CSC, we had an amazing adventure and would recommend them to anyone.
Kim & Brad Balance
The trip exceeded my expectations and was the best family holiday I have ever had. Our children simply loved it and now I know more about African wildlife than they do about our own farm animals.
Rowntree family
Classic Safari are the people who genuinely know other culture and offer incredible insight to perfectly meet your expectations.
Melanie McMillan & Iain Jones
We loved it all. Our son wants to go back tomorrow. We would ALL go back again!
Laurence & Remi Cunningham
An amazing experience - the best family holiday we have ever had. We were extremely impressed by the meticulous attention to our itinerary. I can't speak highly enough of all the elements of this exciting journey!
Sheryl & Robert Taylor
Thank you for making our trip to Africa so spectacular. The attention to detail really made it special. It really was the trip of a lifetime.
Paul Cozzi
Very knowledgeable and patient. Our trip was all that we hoped for. Wonderful!
Jane & Robert Happell
Everything was perfect! Advice and information on destinations and activities hit everything I had hoped to experience. I contacted the Classic Safari Company upon recommendation and have now, in turn, recommended to others.
Tim Bradley
You can't improve on perfection. I had my best birthday and holiday with my family celebrating my 80th birthday in Africa. Everything that Julia organised was perfect and the whole trip was a highlight!
Buckingham Family
The trip of a lifetime, couldn't have dreamt of a better adventure if I tried.
Emma Jeffcoat
Absolutely everything was first class & so well organised.
Simon & Jackie Adams
Classic Safari Company has done it again! A unique experience that ticked all the boxes - wildlife, culture and dining experience. A dream come true!
Ros Wheeler
Their experience and knowledge of Africa is evident and we couldn't have been happier with the total package. This has given us a taste for Africa - now we are ready for more.
Andrew & Pip Stevens
If you want the most sensational experience in Africa let Julia and the staff at Classic Safari Co plan it for you! Their knowledge, expertise and enthusiasm for their job means your every wish will be fulfilled.
Miriam & Joseph Harrison
Classic Safari is the place to go to for "top end" adventure travel.
Ron & Alison Guthrie
Classic Safari Company were brilliant - 10/10
Di & Kingsley Yates
The Classic Safari Company is the best I have dealt with. Extremely knowledgeable & professional, friendly, patient & understanding of first timers to Africa.
Annette Whiley
It certainly was the best trip we have EVER had. The experiences were mind blowing.  We want everyone we know to experience Africa - the animals, the people - magical.
Jo-anne & Dean Mifsud
Would do it all again and not change a moment. Best holiday ever!
The McGowan Tribe
An absolutely fantastic travel company - every one of the many trips they have organised for us over 22 years have been faultless and fabulous.
Judith & Roger Williams

begin your journey now
Take advantage of our highly personalised advice, inspiration and experience