Where gorillas roam
For many, a "bucket list" item for an African safari has trekking for the Mountain Gorillas as a top priority. Rwanda's Volcanoes National Park is the home range of these much-loved primates but whilst close to the equator, the higher altitude mountainous rainforests guarantees a colder and often damp climate with daily bursts of rain. Thus once you have trekked for much of your day up and over these stunning mountains in honour of that once-in-a-lifetime encounter with the Gorillas, a roaring fire and a relaxing spa treatment back at your cottage along with plenty of hot running water for your bath, nourishing food and your own private deck where you can sit and contemplate what you have experienced amidst the amazing forest views, is an absolute must.

Sabyinyo Silverback Lodge, the only community-owned lodge in the Virungas, will deliver on those requirements splendidly.  Sitting in the foothills of these mighty mountains with rainforest all around and offering only 8 guest stone cottages, it is an idyllic retreat to relax and very conveniently located base from which to get to the trekking start point and further explore the region. Thoughtfully constructed with elegant furnishings and impeccable service, Sabyinyo is not only a wonderful place to stay.  The money earned from its guests offers real benefits to the people and primates of this region via the numerous local community and conservation projects underway.

A three night stay is recommended so that you can also enjoy the numerous other activities on offer. Take your pick from trekking the endangered Golden Monkeys, scenic drives to see the twin volcanic crater lakes Burera and Ruhondo, visit vibrant local communities or hike to Diane Fossey's gravesite, to name a few.
You will love
Well located to start Gorilla trekking
Majestic mountain rainforest
Luxurious traditional-style stone cottages
Superior lodge team and service
Community owned
4 UNFORGETTABLE DAYS
Note:
We recommend that you have at least one overnight stay in Kigali, Rwanda's capital, at the start or finish of your itinerary. This will allow you to recover from your long flights (or the gorilla trekking) and take some time to learn about the country's history and experience its genuinely warm hospitality. Highly recommend is a Kigali City Tour which would include a visit to the Kigali Genocide Memorial, honouring the memory of over one million Rwandans who were killed. With more time you can also take a community walking tour or explore Kigali's creative art, music, and dining scenes.
DAY 1 | SABYINYO SILVERBACK LODGE
Your local guide, who will remain with you for the entire duration of your stay in Rwanda, will collect you in Kigali, for the scenic road transfer over about two and a half hours to Sabyinyo Silverback Lodge nestled in the foothills of Volcanoes National Park. The lodge affords wonderful views of the volcanoes and surrounding countryside and once you have settled in and had lunch the remainder of the day is yours to explore and enjoy. This evening enjoy a pre-gorilla trek briefing, sunset drinks and dinner.
DAY 2 | SABYINYO SILVERBACK LODGE
After a restful sleep you will be up early to experience the main reason to visit Rwanda, trekking for the mountain gorillas. The lodge will have already fitted you out with your complementary loaned rain backpack, rain jacket, gators, and gloves. You will meet at the park's headquarters at 7am for a briefing before being allocated your trekking guide and porters. The distance of each gorilla trek is varied, so depending on which gorilla family group you are allocated to, the duration is anywhere from a couple of hours to a full day. When you have found the gorillas, you will be allowed a maximum of one hour in their presence. Refreshments are provided along with lunch.
If you find the gorillas quickly you might be back at the lodge in time for a soak in your heated pool or a massage and a nourishing lunch. The remainder of the day can be spent as you wish. If time permits it is recommended that you take a scenic drive with your guide to see the twin volcanic crater lakes Burera and Ruhondo.
DAY 3 | SABYINYO SILVERBACK LODGE
Take a second gorilla trek today or alternatively enjoy one of the many activities on offer such as trekking to find the rare Golden Monkeys, hike to Dian Fossey's gravesite, visit the Musanze Caves or enjoy an interactive visit to the vibrant traditional communities and villages in the region.
DAY 4 | DEPARTURE
After check out this morning you can explore the region further with your guide or return to Kigali in order to connect with onward arrangements.

WHERE YOU'LL STAY
A selection of the finest safari camps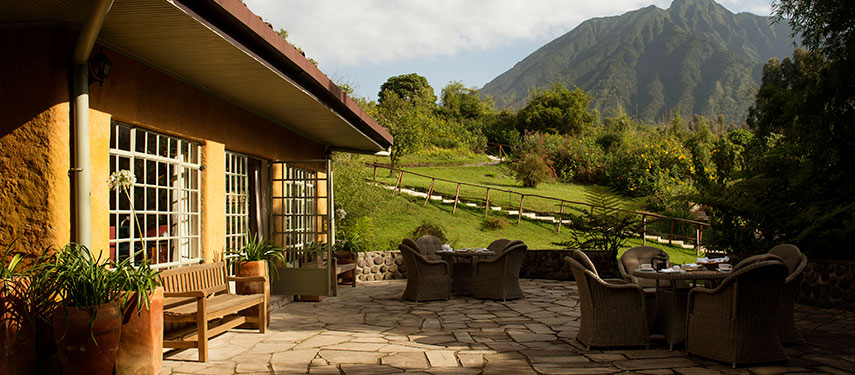 Sabyinyo Silverback Lodge – Volcanoes National Park
The elegant Sabyinyo Silverback Lodge lies hidden amongst the foothills of the Virungas - an ideal location for mountain biking, seeing rare golden monkeys and tracking the endangered gorilla population. The décor is cosy and inviting with deep armchairs, fireplaces and panoramic views over the five volcanoes. Read More
Exellent and wonderful, reaching way above expectations.
Elizabeth Mackintosh
Julia you did a fantastic job - everything was first class. Well organised, efficient and stress free. We all agreed it was the best holiday we've ever had. Cant wait to travel with CSC again.
Milford family
We are so happy we put our trust in CSC, we had an amazing adventure and would recommend them to anyone.
Kim & Brad Balance
The trip exceeded my expectations and was the best family holiday I have ever had. Our children simply loved it and now I know more about African wildlife than they do about our own farm animals.
Rowntree family
Classic Safari are the people who genuinely know other culture and offer incredible insight to perfectly meet your expectations.
Melanie McMillan & Iain Jones
We loved it all. Our son wants to go back tomorrow. We would ALL go back again!
Laurence & Remi Cunningham
An amazing experience - the best family holiday we have ever had. We were extremely impressed by the meticulous attention to our itinerary. I can't speak highly enough of all the elements of this exciting journey!
Sheryl & Robert Taylor
Thank you for making our trip to Africa so spectacular. The attention to detail really made it special. It really was the trip of a lifetime.
Paul Cozzi
Very knowledgeable and patient. Our trip was all that we hoped for. Wonderful!
Jane & Robert Happell
Everything was perfect! Advice and information on destinations and activities hit everything I had hoped to experience. I contacted the Classic Safari Company upon recommendation and have now, in turn, recommended to others.
Tim Bradley
You can't improve on perfection. I had my best birthday and holiday with my family celebrating my 80th birthday in Africa. Everything that Julia organised was perfect and the whole trip was a highlight!
Buckingham Family
The trip of a lifetime, couldn't have dreamt of a better adventure if I tried.
Emma Jeffcoat
Absolutely everything was first class & so well organised.
Simon & Jackie Adams
Classic Safari Company has done it again! A unique experience that ticked all the boxes - wildlife, culture and dining experience. A dream come true!
Ros Wheeler
Their experience and knowledge of Africa is evident and we couldn't have been happier with the total package. This has given us a taste for Africa - now we are ready for more.
Andrew & Pip Stevens
If you want the most sensational experience in Africa let Julia and the staff at Classic Safari Co plan it for you! Their knowledge, expertise and enthusiasm for their job means your every wish will be fulfilled.
Miriam & Joseph Harrison
Classic Safari is the place to go to for "top end" adventure travel.
Ron & Alison Guthrie
Classic Safari Company were brilliant - 10/10
Di & Kingsley Yates
The Classic Safari Company is the best I have dealt with. Extremely knowledgeable & professional, friendly, patient & understanding of first timers to Africa.
Annette Whiley
It certainly was the best trip we have EVER had. The experiences were mind blowing.  We want everyone we know to experience Africa - the animals, the people - magical.
Jo-anne & Dean Mifsud
Would do it all again and not change a moment. Best holiday ever!
The McGowan Tribe
An absolutely fantastic travel company - every one of the many trips they have organised for us over 22 years have been faultless and fabulous.
Judith & Roger Williams

begin your journey now
Take advantage of our highly personalised advice, inspiration and experience