Himalaya Village Walk to Leti 360
The little known Kumaon region lies in the northern hill state of Uttarakhand in India and offers
some of the most stunning mountain scenery – from the perennially snow capped peaks of the Great Himalaya range in the north to the pretty hill stations of Almora and Nainital in the foothills.
Few people have heard of the Kumaon outside of India, and surprisingly the  region escaped the influx of backpackers that characterised other parts of Himachal Pradesh.  Shakti was founded in the Kumaon in  2004, blessed with the opportunity to pioneer the village walk concept in an unspoilt and off the beaten track region of India The Shakti Village Walk not only brings benefits to the local people of the region, but also to you –  fresh air, warm hospitality, glorious surroundings and all without a negative impact on the Kumaon's environment and culture.
The Shakti Village Houses are all just a couple of hours walk from one another and offer you the chance to experience the local customs and way of life of this stunning Himalayan location.
Located in the villages of Deora, Alai and Jwalabanj you will walk from one village house to another, accompanied by a guide and porters so that you can enjoy every minute.  You will move through a land unchanged for centuries, stopping as frequently as you wish to interact with the people you meet.

The village houses are simple and traditional. Shakti have brought in exceptionally comfortable beds and fine linen an installed western toilets.  Most houses are two bedroom with a share bathroom with a hot water bucket for bathing.

It is ultimately a privilege to get a snapshot into the India that hasn't welcomed hordes of endless tourists and retains its identity and spirit.


Your Shakti Village Walk can be tailored to specifically suit your interests, however this is a recommended itinerary combining a four day walk with time spent in the award-winning lodge Leti 360° – creating a complete Himalayan experience.
You will love
A remote corner of India
Warm & hospitable hosts
Authentic uber-comfy Village Houses
Options to suit you to get from 'A to B'
Exploring pristine Himalaya environments
Harmonious balance of activity & relaxation
8 INCREDIBLE DAYS
DAY 1 | DEORA VILLAGE | 1 NIGHT
Travel from Delhi to Kathgodam by train this morning before proceeding by road to Shakti Deora and beginning your walk from the village of Chitai – famous for the Chitai temple (God of Justice). After two hours you will reach your first village house in the small and sleepy town of Deora.
The village of Deora is dotted with beautiful homes and its inhabitants are beaming with infectious smiles. The traditional woodcarvings around the doorframes set a stunning contrast to the colourfully painted windows and doors. The rooms have been partially renovated, ensuring the authenticity has been maintained but your comfort has not been compromised. They are wonderfully clean, fresh and welcoming. Having enjoyed a hot water bucket bath in the bathrooms (fitted with western loos), the evening is spent around the fire with 'sundowners' in hand.
The head of the village, in hygienic and safe methods, prepares the dinner, the local Kumaon cuisine. Once your dinner is over, the night is enjoyed beneath the stars, hearing some of the many tales of the area.
Walking time is approximately 1 hour covering 2 kms. Gradient is relatively flat on hill pathway. Altitude: 1900m-1500m.
DAY 2 | JWALABANJ VILLAGE | 1 NIGHT
Setting off from Deora you will shortly reach the village of Chirala where you have the opportunity to visit the local school. Continue walking through a pine forest before descending into the scenic Shivalaya Valley where you can often see children playing in the stream whilst adults work the surrounding fields.
Walk along the valley floor before climbing up towards the village of Alai, where you can stop to dip your feet in a natural rock pool, and on to Ka-Chula Pool where you will be collected and driven to Dhaulchina, around twenty minutes away, before walking gradually uphill for thirty minutes to your lunch spot.
After lunch, continue walking gradually uphill through a stunning rhododendron forest for 1.5hrs to reach the village of Jwalabanj where you will spend this evening being entertained by a group of local musicians and traditional dancers.
DAY 3 | KANA VILLAGE
This morning after breakfast, you will start with a downhill walk through green terraced fields that bring you to the Jageshwar Temple Complex built in the 8th century and an interesting place to explore. Some distance ahead you can have lunch at a lovely spot beside a stream before pushig on for another hour to reach Kana Village House.
DAY 4 | LETI 360 | 3 NIGHTS
This morning you will walk for 30 minutes to the road head where you will be collected and driven to Leti 360 – a journey of 5 hours. Enroute visit the Panchachuli Weavers Co-operative. Upon arrival and this evening take a cooking lesson and learn how to make momos and biriyani. Enjoy a private dinner beneath the stars.
DAY 5 & 6 | LETI 360
Early morning casts a pink glow over the snow-covered peaks; very soon the sun burns off the cool of the night. Energised by the crystalline air, you may already be out walking with your guide through the ancient rhododendron forests or you may choose to linger over a long breakfast.
As the sun rises higher, the achingly pure light casts sharply defined shadows. Eagles soar and swoop on the rising thermals. There's no sound, other than the breeze and an occasional snatch of birdsong. Mesmerised by the beauty, you may simply sit and stare. Or you might pack fishing gear and hike down to the river at the base of the valley, picnic hampers and guides are provided.
In the evening gather around the lodge fireplace, before an astonishingly delicious dinner, served by candle light. Outside the sky is an arc of black velvet, the stars diamond-bright. Here you can sleep, better than you can ever remember sleeping.
DAY 7 | KANA VILLAGE
After a leisurely breakfast, you will be driven 6 hours to the village of Kana. There is the option to visit Almora and see the Panchachuli Women's Factory. If you are keen to trek today, you can leave early from Shakti 360 to reach Kana and enjoy a 2 hour walk through the terraced fields to the Jageshwar Temple Complex. Spend the evening by the fire, enjoying drinks as you reflect on your time in the Himalaya.
DAY 8 | END OF ITINERARY
Spend the morning relaxing under the majestic old cedars that give the place its name, or go exploring along the numerous trails that lead you into the forests, villages and ferny ravines below. The forests surrounding Kana are a bird-watcher's paradise, and treks, walks and sight-seeing excursions with experienced and affable guides can also be arranged.
Later, you will be transferred to Kathgodam Railway Station, a journey of 4 hours where you will take the train back to Delhi, arriving late in the evening.
PLEASE NOTE:
This itinerary provides the perfect framework for the opportunity to walk in the Indian Himalaya whilst be hosted in local villages, however it can be designed to suit your preferred pace, price and pursuits. Contact us for a tailormade journey.
WHERE YOU'LL STAY
Three Village Houses & a Mountain Retreat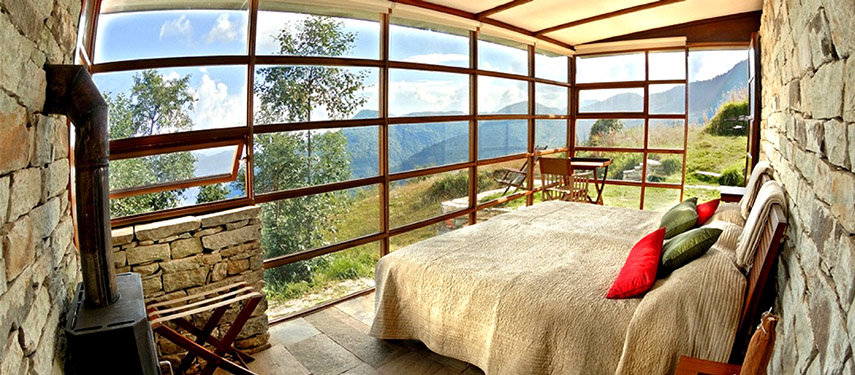 Shakti 360 Leti – Kumaon Region, Indian Himalaya
In a stunning location at 2,200m, Leti 360 offers a remoteness usually reserved only for the hardiest of explorers. Rejuvenate your body and mind with the stunning scenery around you, take in crystalline air and enjoy absolute quietude, then in the evening retire to the comfort of your bed adorned with duvets and pashmina blankets. Read More
NEED TO KNOW
8 days in an untouched area of the Himalaya that can be shortened or extended to suit
8 days in an untouched area of the Himalaya that can be shortened or extended to suit
Please enquire for pricing based on your preferences
Please enquire for pricing based on your preferences

START: Delhi, India
|
Finish: Delhi, India
This itinerary provides the perfect inspiration for a spectacular journey and can be tailored to suit your style, pace, preferences and budget.  Elements of this trip may vary based on your chosen season and dates of travel and, once the timing of internal flights/trains is known, this may also present the opportunity to see and do even more!
Exellent and wonderful, reaching way above expectations.
Elizabeth Mackintosh
Julia you did a fantastic job - everything was first class. Well organised, efficient and stress free. We all agreed it was the best holiday we've ever had. Cant wait to travel with CSC again.
Milford family
We are so happy we put our trust in CSC, we had an amazing adventure and would recommend them to anyone.
Kim & Brad Balance
The trip exceeded my expectations and was the best family holiday I have ever had. Our children simply loved it and now I know more about African wildlife than they do about our own farm animals.
Rowntree family
Classic Safari are the people who genuinely know other culture and offer incredible insight to perfectly meet your expectations.
Melanie McMillan & Iain Jones
We loved it all. Our son wants to go back tomorrow. We would ALL go back again!
Laurence & Remi Cunningham
An amazing experience - the best family holiday we have ever had. We were extremely impressed by the meticulous attention to our itinerary. I can't speak highly enough of all the elements of this exciting journey!
Sheryl & Robert Taylor
Thank you for making our trip to Africa so spectacular. The attention to detail really made it special. It really was the trip of a lifetime.
Paul Cozzi
Very knowledgeable and patient. Our trip was all that we hoped for. Wonderful!
Jane & Robert Happell
Everything was perfect! Advice and information on destinations and activities hit everything I had hoped to experience. I contacted the Classic Safari Company upon recommendation and have now, in turn, recommended to others.
Tim Bradley
You can't improve on perfection. I had my best birthday and holiday with my family celebrating my 80th birthday in Africa. Everything that Julia organised was perfect and the whole trip was a highlight!
Buckingham Family
The trip of a lifetime, couldn't have dreamt of a better adventure if I tried.
Emma Jeffcoat
Absolutely everything was first class & so well organised.
Simon & Jackie Adams
Classic Safari Company has done it again! A unique experience that ticked all the boxes - wildlife, culture and dining experience. A dream come true!
Ros Wheeler
Their experience and knowledge of Africa is evident and we couldn't have been happier with the total package. This has given us a taste for Africa - now we are ready for more.
Andrew & Pip Stevens
If you want the most sensational experience in Africa let Julia and the staff at Classic Safari Co plan it for you! Their knowledge, expertise and enthusiasm for their job means your every wish will be fulfilled.
Miriam & Joseph Harrison
Classic Safari is the place to go to for "top end" adventure travel.
Ron & Alison Guthrie
Classic Safari Company were brilliant - 10/10
Di & Kingsley Yates
The Classic Safari Company is the best I have dealt with. Extremely knowledgeable & professional, friendly, patient & understanding of first timers to Africa.
Annette Whiley
It certainly was the best trip we have EVER had. The experiences were mind blowing.  We want everyone we know to experience Africa - the animals, the people - magical.
Jo-anne & Dean Mifsud
Would do it all again and not change a moment. Best holiday ever!
The McGowan Tribe
An absolutely fantastic travel company - every one of the many trips they have organised for us over 22 years have been faultless and fabulous.
Judith & Roger Williams

begin your journey now
Take advantage of our highly personalised advice, inspiration and experience