A Marine Extravaganza
A journey on board 'Shore Thing' is an exclusive small group experience, offering an opportunity to explore one of the world's most exciting, remote and pristine coral reef systems. A passionate, professional and experienced crew will provide the highest quality personal service ensuring you receive the adventurous getaway or the relaxing escape that you desire. Sail Ningaloo offers quality gourmet meals freshly prepared on board, accommodation in comfortable, spacious cabins and guided activities are available such as snorkelling, scuba diving, kayaking and eco-fishing, with the only additional costs being any alcohol purchased on board and dive hire equipment (if required).

Coral Bay is one of the most reliable places in the world to see and swim with Manta Rays and you should have a great chance of snorkelling and diving with reef sharks, marine turtles and rays, as well as spotting humpback whales (June – Oct), dolphins, and the mysterious dugong. Whale Sharks are the only marine life you won't expect to see on board Shore Thing, but you will have the opportunity to swim with Whale Sharks at your next destination – Sal Salis, your ultimate bush luxury camp.

Here you wake to the song of a butcher bird, the raucous squawks of a galah or the thump of a wallaroo passing by. Fill your days however you choose, relax in your tent's hammock and watch the world go by, or laze on the beach and paddle in the warm Indian Ocean waters. The most popular experiences are in the water, as here on the Ningaloo Reef you can swim alongside the majestic whale sharks and the magnificent humpback whales. Right off the shores of Sal Salis, you will have access to the UNESCO World Heritage listed Ningaloo Reef where you will find more than 500 species of colourful fish, 250 coral species, rays and turtles.

Your guides want you to fall in love with this little patch of paradise and will tailor activities to suit the weather and tides. They will take you to the rugged landscapes of the Cape Range National Park and introduce you to Australia's unique flora and fauna. You'll spot red kangaroos, wallaroos, rock wallabies, goannas, echidnas and more than 100 bird species of all the colours of the rainbow. At night fall asleep to the sound of the waves on the beach and under a blanket of hundreds of thousands of stars.
You will love
Remote bush luxury
Swim with Whale sharks
Snorkel amazing coral reefs
Access spectacular shallow lagoons
Pristine white beaches
Small groups
ADVENTUROUS DAYS AMONGST CORAL REEFS IN WESTERN AUSTRALIA'S NINGALOO REEF
DAY 1 | FIVE FINGERS REEF | 1 NIGHT
Join us on a journey to some of the most remote areas of the Ningaloo Reef Marine Park. The snorkelling and diving experience is world-class as you surround yourself with pristine coral reef and an abundance of fish life. Your first destination is the beautiful Sandy Point and Pelican Point Sanctuary, perfect places to explore the shallow reef lagoons either by kayak or by donning a mask, snorkel and fins. Enjoy walking along sparkling white beaches and viewing turtles in their natural feeding grounds. Dugongs can also be seen on occasions grazing on seagrass beds and inquisitive Dolphins can often be seen chasing fish throughout the clear water. Between June and October, Humpback Whales are a common site on the outer reef, as they make their way north on their annual migration and return south with their calves for the summer.
Your adventure begins as you board "Shore Thing" at the local marine facility for a 4pm departure. Enjoy a late afternoon snorkel or dive near "Five Fingers Reef" before enjoying a cool drink as the sunsets and the vessel sails to its overnight anchorage. Before the evening meal is served, have a go at fishing from the back deck, with the opportunity for a fresh caught meal.
DAY 2 | THE SANCTUARY | 1 NIGHT
Enjoy a morning snorkel at "The Stag Forest", a beautiful coral garden exhibiting stunning branching coral formations and home to numerous marine turtles. After morning tea set sail for your next snorkel location the 'Sanctuary' where you see reef sharks and turtles cruising and large rays resting as you snorkel along sandy underwater pathways fringed by hard coral outcrops rising to the waters surface. Enjoy a freshly prepared gourmet buffet lunch before immersing yourself into Ningaloo's clear waters or relaxing on the deck of Shore Thing. The day winds down with another snorkel before a sumptuous two course meal and well deserved rest.
DAY 3 | POINT MAUD | 1 NIGHT
Take a leisurely kayaking trip along the secluded coastline to Pelican Point, keeping an eye out for large rays resting and turtles feeding in the shallow waters. Your crew and guides will then select the best snorkel or dive sites based on the conditions. Some of the favorite's include "Syd's Harbour" and "Goliath's Den". You seek out dugongs and dolphin's as you travel to your evenings anchorage at Point Maud. From June – October there is a fantastic opportunity to observe Humpback Whales as they migrate along the Ningaloo Coast.
DAY 4 | SAL SALIS | 1 NIGHT
Sailing to more coral sites to experience the best marine life based on the conditions. Ningaloo Reef and Coral Bay is home to a resident population of coastal Manta Rays that frequent the inner reef to mate, give birth and feed. Enjoy a presentation from your local guide on Manta Ray biology and behaviour along the Ningaloo Reef and then snorkel with one of these graceful rays where you can assist identifying the Manta Rays via photo identification.
Before a sumptuous buffet lunch, enjoy one last snorkel or dive at "Asho's Gap" which is a cleaning station for grey reef sharks. Watch as the sharks swim into a large cabbage coral and hold themselves in the currents with their mouths open, whilst small cleaner fish dart in and out of their mouths and gills. You will return to Coral Bay at approximately 12:30pm to catch the afternoon airport transfer to Learmonth airport for your onward arrangements to Sal Salis.
DAY 5-7 | SAL SALIS | 3 NIGHTS
Fill your next three days however you choose; swim alongside the majestic whale sharks and the magnificent humpback whales, explore this UNESCO World Heritage site where you will find more than 500 species of colourful fish, 250 coral species, rays and turtles, traverse the rugged landscapes of the Cape Range National Park and learn all about Australia's unique flora and fauna. Spot red kangaroos, wallaroos, rock wallabies, goannas, echidnas and more than 100 bird species of all the colours of the rainbow, watch the world go by from you hammock, or laze on the beach and paddle in the warm Indian Ocean waters.  At night fall asleep to the sound of the waves on the beach and under a blanket of hundreds of thousands of stars.
DAY 8 | NINGALOO REEF - EXMOUTH I END OF ITINERARY
Depart Ningaloo Reef to Exmouth by road to connect with your scheduled flight home.

WHERE YOU'LL STAY
A handpicked selection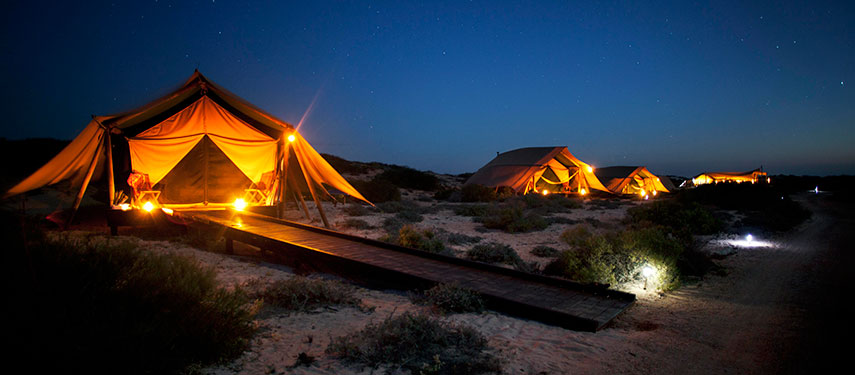 Sal Salis – Ningaloo Reef, Western Australia
Sal Salis Ningaloo Reef is a remote, beachside safari camp nestled in the dunes of Western Australia's Cape Range National Park - expect a red kangaroo grazing amongst the dunes or a humpback whale breaching just offshore. With just 9 wilderness tents, Sal Salis ensures an exclusive 'barefoot luxury' experience. Read More
NEED TO KNOW
7 nights / 8 days
7 nights / 8 days
USD $ 8,235 per person Twin Share
USD $ 8,235 per person Twin Share

START: Learmonth, Australia
|
Finish: Exmouth, Australia
Destinations: Coral Bay I Ningaloo Reef
Inclusions
Full board accommodation
Tea, coffee, fruit juices & soft drinks
Alcoholic drinks (except premium brands) from select open bar at Sal Salis only
Fishing equipment
Non-motorised water sports equipment including kayaks, stand-up paddleboards, snorkelling equipment, and wetsuits
Guided walks in Cape Range National Park
Reef snorkelling tours
Kayaking excursions
Guest National Park fees are included however additional fees apply for guests who wish to self-drive.
Exclusions
Domestic flights
Arrival and departure transfers to/from Learmonth/Exmouth
Alcoholic drinks aboard "Shore Thing"
Additional National park fees applicable for self-drive guests. These fees are payable locally when entering Cape Range National Park
Extra activities
Travel insurance
Items of a personal nature
Flights to / from Learmonth or Exmouth & Travel Insurance – on request
COVID19 : A FULL REFUND WILL BE PROVIDED IF THE TRIP IS UNABLE TO PROCEED DUE TO COVID19 GOVERNMENT IMPOSED TRAVEL RESTRICTIONS
Exellent and wonderful, reaching way above expectations.
Elizabeth Mackintosh
Julia you did a fantastic job - everything was first class. Well organised, efficient and stress free. We all agreed it was the best holiday we've ever had. Cant wait to travel with CSC again.
Milford family
We are so happy we put our trust in CSC, we had an amazing adventure and would recommend them to anyone.
Kim & Brad Balance
The trip exceeded my expectations and was the best family holiday I have ever had. Our children simply loved it and now I know more about African wildlife than they do about our own farm animals.
Rowntree family
Classic Safari are the people who genuinely know other culture and offer incredible insight to perfectly meet your expectations.
Melanie McMillan & Iain Jones
We loved it all. Our son wants to go back tomorrow. We would ALL go back again!
Laurence & Remi Cunningham
An amazing experience - the best family holiday we have ever had. We were extremely impressed by the meticulous attention to our itinerary. I can't speak highly enough of all the elements of this exciting journey!
Sheryl & Robert Taylor
Thank you for making our trip to Africa so spectacular. The attention to detail really made it special. It really was the trip of a lifetime.
Paul Cozzi
Very knowledgeable and patient. Our trip was all that we hoped for. Wonderful!
Jane & Robert Happell
Everything was perfect! Advice and information on destinations and activities hit everything I had hoped to experience. I contacted the Classic Safari Company upon recommendation and have now, in turn, recommended to others.
Tim Bradley
You can't improve on perfection. I had my best birthday and holiday with my family celebrating my 80th birthday in Africa. Everything that Julia organised was perfect and the whole trip was a highlight!
Buckingham Family
The trip of a lifetime, couldn't have dreamt of a better adventure if I tried.
Emma Jeffcoat
Absolutely everything was first class & so well organised.
Simon & Jackie Adams
Classic Safari Company has done it again! A unique experience that ticked all the boxes - wildlife, culture and dining experience. A dream come true!
Ros Wheeler
Their experience and knowledge of Africa is evident and we couldn't have been happier with the total package. This has given us a taste for Africa - now we are ready for more.
Andrew & Pip Stevens
If you want the most sensational experience in Africa let Julia and the staff at Classic Safari Co plan it for you! Their knowledge, expertise and enthusiasm for their job means your every wish will be fulfilled.
Miriam & Joseph Harrison
Classic Safari is the place to go to for "top end" adventure travel.
Ron & Alison Guthrie
Classic Safari Company were brilliant - 10/10
Di & Kingsley Yates
The Classic Safari Company is the best I have dealt with. Extremely knowledgeable & professional, friendly, patient & understanding of first timers to Africa.
Annette Whiley
It certainly was the best trip we have EVER had. The experiences were mind blowing.  We want everyone we know to experience Africa - the animals, the people - magical.
Jo-anne & Dean Mifsud
Would do it all again and not change a moment. Best holiday ever!
The McGowan Tribe
An absolutely fantastic travel company - every one of the many trips they have organised for us over 22 years have been faultless and fabulous.
Judith & Roger Williams

begin your journey now
Take advantage of our highly personalised advice, inspiration and experience