India in Style
Amongst The Maharajas
Safari, Forts & Palaces in Style
This 14 day journey showcases the very best of India, travelling by air and train (First Class) it is ideal for those not wanting to travel exclusively by road. The list of highlights is considerable, as only India can deliver, and includes stunning accommodation from Palaces to Luxury Tented Camps interspersed with first class hotels. Touring highlights include a fun Old Delhi Street Eats walking tour, the Aarti Ceremony on the ghats of the Ganges in Varanasi, sunrise overlooking the Taj Mahal, safaris in search of tiger in Ranthambore National Park, special access to the private quarters of the City Palace in Jaipur, a cruise on Lake Pichola in Udaipur and a special behind the scenes tour of the Mehrangarh Fort in Jodhpur with the Curator…..plus so much more!

This journey begins in the capital, Delhi, before flying to the holy city of Varanasi before arriving in Agra – home to the iconic Taj Mahal.  You will then travel by train from Bharatpur to the wildlife Reserve of Ranthambore and onto the Pink City of Jaipur (by train) before flying to the Lake City of Udaipur where your journey will culminate in a flight home via Delhi.  By the end of this trip we are confident that India will have you spellbound….and you will not be ready to leave!


You will love
Unrivalled luxury accommodation
Travel India by train (First Class)
A collision of culture and wildlife
Architecture, history & oppulence
Rare behind the scenes experiences
14 UNFORGETTABLE DAYS
PLEASE NOTE:
This itinerary provides the perfect framework for a spectacular opportunity to live like a Maharajah, however it can be designed to suit your preferred pace, price and pursuits. Contact us for a tailormade journey.
DAY 1 | DELHI | 2 NIGHTS
Welcome to India! On arrival you will be met and transferred to your hotel to rest and recuperate after your flight, and to prepare for the next two weeks of inspiring experiences.
DAY 2 | DELHI
Relax this morning before heading out to explore Old & New Delhi. Marvel at the city's British-inspured and Mughal architecture before travelling to bustling Old Delhi to enjoy a fun Street Eats walking tour as you explore this fascinating, pulsating old city and its narrow lanes.
DAY 3 | VARANASI | 2 NIGHTS
Fly to Varanasi, one of the holiest cities in India and, after settling in to your accommodation, soak up the atmosphere as you walk along the famous ghats (steps) that line the Ganges River before visiting the Durga Temple, dedicated to Maa Durga and of immense religious importance in Hinduisn, and the Kashi Vishwanath, one of the most famous Hindu temples dedicated to Lord Shiva. At the end of the day experience the breathtaking evening Aarti ceremony at the Dasaswamedh Ghat.
DAY 4 | VARANASI
Rise early this morning for an unforgettable boat ride on the River Ganges to witness pilgrims perform puja along the banks of the river and cruise past the funeral ghat's from a respectful distance. Later visit Sarnath, a sacred Buddhist pilgrimage site where Buddha preached his first sermon, just outside Varanasi.
DAY 5 | AGRA | 2 NIGHTS
Fly from Varanasi to Agra today arriving in time to check into your hotel. before your seeing your first sight of the Taj Mahal. On the bank of the Yamuna River you will watch the sunset over the Taj Mahal from the impressive Mehtab Bagh Gardens.
DAY 6 | AGRA
An early start is well worth it today, to visit the Taj Mahal at sunrise to see the changing colours over the structures of the mausoleum. Later tour Agra Fort steeped in history and visit the 'restorers of the Taj – craftsmen who have been taught the art of recreating the stone encrusted marble that was used to build the Taj. The remainder of your afternoon is at leisure.
DAY 7 | RANTHAMBORE | 2 NIGHTS
This morning visit the eerie, yet magnificent, abandoned royal Mughal capital of Fatehpur SikriFatehpur Sikri en-route to Bharatpur Railway Station. Board your First Class train for a journey of just under 2.5 hours to Ranthambore National Park. Whilst this is a short train journey you wil have the opportunity to watch rural India pass by viewing places where villagers go about their daily routine and where nature is an integral part of life… soak up the glory of the countryside, breathe the unpolluted air and sway to the zigzag movement of the train as it carries you to Rannthambore in time to check in to your lodge and head out on your first jungle drive in search of tiger!
DAY 8 | RANTHAMBORE
Ranthambore National Park is most famous for its Royal Bengal tiger population and you will have the opportunity to head out on a morning and afternoon jungle safari. But beyond these majestic animals you may also spot crocodiles and sloth bears, among many other fascinating animals. Ancient Ranthambore Fort lies in the middle of the park and is well worth a visit to see the famous Ganesha temple inside.
DAY 9 | JAIPUR
Once more take a First Class train – this time from Ranthambore to the famed Pink City of Jaipur. After settling in & relaxing in your hotel you will undertake a cooking class. This fun filled culinary experience will introduce you to the art of a variety of regional and traditional cuisines and you will culminate with you dining on your culinary creations!
DAY 10 | JAIPUR
A full day sightseeing tour of Jaipur awaits you today. Explore the Amber Fort, pass by the Hawa Mahal (Palace of Winds), visit the City Palace and Museum and, with exclusive access, you will walk through the private quarters of the Jaipur Royal Family. Your day ends with a visit to the UNESCO World Heritage Site of Jantar Mantar.
DAY 11 | JAIPUR
Start today with an optional, private one hour yoga session at your hotel followed by a Heritage Walking Tour of Jaipur that will unveil the city's art, architecture, culture and traditions. An rewarding and enriching day spent on the Pink City.
DAY 12 | UDAIPUR | 2 NIGHTS
Fly to Udaipur today, check in to your hotel and head out for an afternoon Heritage Walking Tour of Udaipur. Commence with a visit to the famous Jagdish Temple. Located just outside the Royal Palace this temple has been in continuous worship since 1651. Continue through the alleyways of Old Udaipur – housing ancient temples, colourful havelis with facades of intricate jhakoras and with a temple at every turn along with houses adorned with miniature frescoes reflecting the painting style of the region.
DAY 13 | UDAIPUR
Enjoy a relaxed morning, or – as you wish – head out early to return for an afternoon at leisure. Whichever you choose toda you will have the opportunity to explore Udaipur's City Palace, the elaborate Garden of the Maids of Honour and enjoy a boat ride on Lake Pichola (ideal at sunset).
DAY 14 | END OF ITINERARY
Your journey ends with a trransfer to the airport today to continue your travels or return home.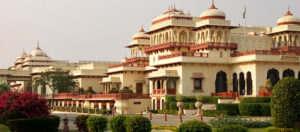 ACCOMMODATION
A handpicked selection of recommended accommodation
NEED TO KNOW
13 UNFORGETTABLE NIGHTS
13 UNFORGETTABLE NIGHTS
Please enquire for pricing based on your preferred style of accommodation
Please enquire for pricing based on your preferred style of accommodation

START: Delhi, India
|
Finish: Udaipur, India
This itinerary provides the perfect inspiration for a spectacular journey and can be tailored to suit your style, pace, preferences and budget.  Elements of this trip may vary based on your chosen season and dates of travel and, once the timing of internal flights is known, this may also present the opportunity to see and do even more!
Exellent and wonderful, reaching way above expectations.
Elizabeth Mackintosh
Julia you did a fantastic job - everything was first class. Well organised, efficient and stress free. We all agreed it was the best holiday we've ever had. Cant wait to travel with CSC again.
Milford family
We are so happy we put our trust in CSC, we had an amazing adventure and would recommend them to anyone.
Kim & Brad Balance
The trip exceeded my expectations and was the best family holiday I have ever had. Our children simply loved it and now I know more about African wildlife than they do about our own farm animals.
Rowntree family
Classic Safari are the people who genuinely know other culture and offer incredible insight to perfectly meet your expectations.
Melanie McMillan & Iain Jones
We loved it all. Our son wants to go back tomorrow. We would ALL go back again!
Laurence & Remi Cunningham
An amazing experience - the best family holiday we have ever had. We were extremely impressed by the meticulous attention to our itinerary. I can't speak highly enough of all the elements of this exciting journey!
Sheryl & Robert Taylor
Thank you for making our trip to Africa so spectacular. The attention to detail really made it special. It really was the trip of a lifetime.
Paul Cozzi
Very knowledgeable and patient. Our trip was all that we hoped for. Wonderful!
Jane & Robert Happell
Everything was perfect! Advice and information on destinations and activities hit everything I had hoped to experience. I contacted the Classic Safari Company upon recommendation and have now, in turn, recommended to others.
Tim Bradley
You can't improve on perfection. I had my best birthday and holiday with my family celebrating my 80th birthday in Africa. Everything that Julia organised was perfect and the whole trip was a highlight!
Buckingham Family
The trip of a lifetime, couldn't have dreamt of a better adventure if I tried.
Emma Jeffcoat
Absolutely everything was first class & so well organised.
Simon & Jackie Adams
Classic Safari Company has done it again! A unique experience that ticked all the boxes - wildlife, culture and dining experience. A dream come true!
Ros Wheeler
Their experience and knowledge of Africa is evident and we couldn't have been happier with the total package. This has given us a taste for Africa - now we are ready for more.
Andrew & Pip Stevens
If you want the most sensational experience in Africa let Julia and the staff at Classic Safari Co plan it for you! Their knowledge, expertise and enthusiasm for their job means your every wish will be fulfilled.
Miriam & Joseph Harrison
Classic Safari is the place to go to for "top end" adventure travel.
Ron & Alison Guthrie
Classic Safari Company were brilliant - 10/10
Di & Kingsley Yates
The Classic Safari Company is the best I have dealt with. Extremely knowledgeable & professional, friendly, patient & understanding of first timers to Africa.
Annette Whiley
It certainly was the best trip we have EVER had. The experiences were mind blowing.  We want everyone we know to experience Africa - the animals, the people - magical.
Jo-anne & Dean Mifsud
Would do it all again and not change a moment. Best holiday ever!
The McGowan Tribe
An absolutely fantastic travel company - every one of the many trips they have organised for us over 22 years have been faultless and fabulous.
Judith & Roger Williams

begin your journey now
Take advantage of our highly personalised advice, inspiration and experience