In the Land of the Lamas
Ladakh – the 'Land of the High Passes' – is one of the most stunning parts of India, and one of our favourite destinations!  Situated between the Karakoram mountain range in the north and the Himalayan mountain range in the south, it is a starkly beautiful region in the state of Jammu and Kashmir.  A wonderful mix of dramatic landscapes, cultural charm and impressive architecture this journey is perfect for those who wish to discover the magic in every corner of India
.
After a (recommended) overnight in Delhi your journey begins with an epic flights over the Himalayas into Leh where you will spend time exploring stunning palaces, temples and monasteries before driving along the world's highest motorable road, across the Khardungla Pass, into the Nubra Valley.  Here on the Tibetan Plateau you can ride Bactrian Camels in the Hunder Desert, experience traditional village life and marvel at the Chamba Monastery before returning to Leh.
A day trip to Pangong Lake and an extension to the remote village of Nimmu can be added to this extraordinary journey – please get in touch to design your own Ladakh adventure!
You will love
Awe inspiring landscapes
Feeling on top of the world
Impressive palaces & monasteries
Smiling red-robed monks
A unique cultural experience
8 UPLIFTING DAYS
PLEASE NOTE:
This itinerary provides the perfect framework to experience the Buddhist world of Ladakh, however it can be designed to suit your preferred pace, price and pursuits. Contact us for a tailormade journey.
DAY 1 | DELHI | 1 NIGHT
We recommend overnighting in Delhi before flying to Leh as most flights to Ladakh leave very early in the morning due to the weather conditions in northern India. Enjoy your evening at leisure in Delhi.
DAY 2 | LEH | 2 NIGHTS
Start with an early morning wake-up and transfer to the airport for the spectacular flight to Leh. The views of the mighty Himalaya are impressive and if the sky is clear you may even see the peak of K2. Met on arrival with the remainder of the day at leisure to acclimatise to your new address at 3,500m!
DAY 3 | LEH
The morning is at leisure before a hearty lunch and an afternoon visit the famed Matho Monastery before undertaking a Leh City Heritage Walk ending in Chubi Village.
DAY 4 | DISKIT | 2 NIGHTS
Depart for Diskit on the highest motorable road in the world. Marvel at the spectacularly stark landscape, make a brief stop for photos at Khardungla Pass (5,360m), and across the Nubra Valley, before descending to Diskit where you have the remainder of the afternoon at leisure.
DAY 5 | DISKIT
After a leisurely breakfast, drive to Diskit Gompa, considered to be the oldest & largest Buddhist monastery in the Nubra Valley. Later this afternoon ride a double hump Bactrian camel on the sand dunes of the Hunder cold desert. An optional rafting trip on the Shyok River is also available (but must be pre-booked).
DAY 6 | LEH | 2 NIGHTS
Begin the stunning return road journey to Leh through a landscape that you can never tire of (there is an alternate route back to Leh for variation). Arrive late afternoon with the evening at leisure.
DAY 7 | LEH
At dawn visit Thiksey Monstary & participate in the Buddhist morning prayer before returning to your accommodation for breakfast. After lunch explore the jewel in the crown of the Drukpa lineage, the Hemis Monastery ‐ the biggest monastic institution in all of Ladakh. Late afternoon wander Leh's markets and bazaars where you will discover some of the finest pashminas in the world.
DAY 8 | END OF ITINERARY
Your time amongst the Lamas of Ladakh ends today with a transfer to the airport to begin your return home, or to start your next adventure.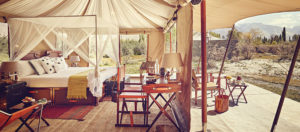 WHERE YOU'LL STAY
Stunning Tented Camps that will be a highlight of your visit to Ladakh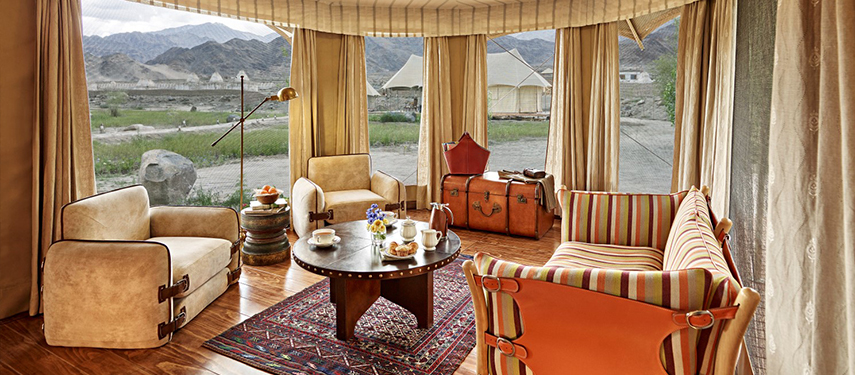 Chamba Camp Thiksey – Leh, Ladakh
Pitched at the base of Thiksey monastery, for a few months over festivals during Ladakh's short summer, the luxurious Chamba Camp has entered into a unique commercial and spiritual partnership. Your stay provides valuable income for the monastery at one of the most picturesque places on earth. Read More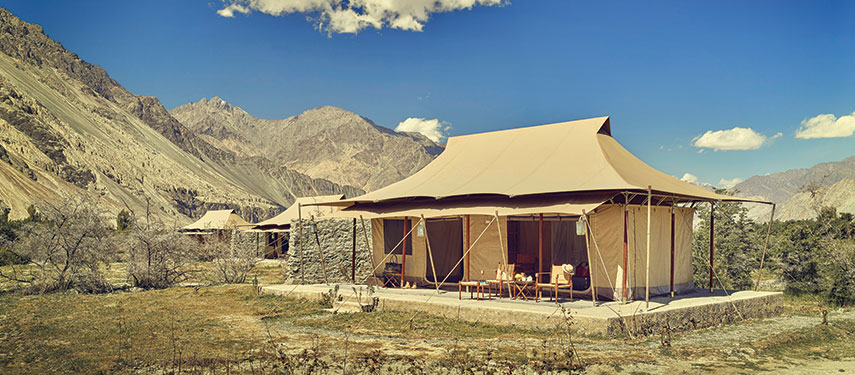 Chamba Camp Diskit – Nubra Valley, Ladakh
Chamba Camp Diskit is located amongst jagged mountains on the northern route to Leh, where the two rivers of the Nubra and the Shyok meet to form the glorious Nubra Valley. Sleep in luxurious canvas tents with grandiose four poster beds, take in the 360 degree views on your private sit out and unwind in the Himalaya region. Read More

NEED TO KNOW
8 days of Himalayan happiness that can be shortened or extended to suit
8 days of Himalayan happiness that can be shortened or extended to suit
Please enquire for pricing based on your preferences
Please enquire for pricing based on your preferences

START: Delhi, India
|
Finish: Delhi, India
This itinerary provides the perfect inspiration for a spectacular journey & can be tailored to suit your style, pace, preferences and budget.  Elements of this trip may vary based on your chosen season & dates of travel which may also present the opportunity to see & do even more!
Exellent and wonderful, reaching way above expectations.
Elizabeth Mackintosh
Julia you did a fantastic job - everything was first class. Well organised, efficient and stress free. We all agreed it was the best holiday we've ever had. Cant wait to travel with CSC again.
Milford family
We are so happy we put our trust in CSC, we had an amazing adventure and would recommend them to anyone.
Kim & Brad Balance
The trip exceeded my expectations and was the best family holiday I have ever had. Our children simply loved it and now I know more about African wildlife than they do about our own farm animals.
Rowntree family
Classic Safari are the people who genuinely know other culture and offer incredible insight to perfectly meet your expectations.
Melanie McMillan & Iain Jones
We loved it all. Our son wants to go back tomorrow. We would ALL go back again!
Laurence & Remi Cunningham
An amazing experience - the best family holiday we have ever had. We were extremely impressed by the meticulous attention to our itinerary. I can't speak highly enough of all the elements of this exciting journey!
Sheryl & Robert Taylor
Thank you for making our trip to Africa so spectacular. The attention to detail really made it special. It really was the trip of a lifetime.
Paul Cozzi
Very knowledgeable and patient. Our trip was all that we hoped for. Wonderful!
Jane & Robert Happell
Everything was perfect! Advice and information on destinations and activities hit everything I had hoped to experience. I contacted the Classic Safari Company upon recommendation and have now, in turn, recommended to others.
Tim Bradley
You can't improve on perfection. I had my best birthday and holiday with my family celebrating my 80th birthday in Africa. Everything that Julia organised was perfect and the whole trip was a highlight!
Buckingham Family
The trip of a lifetime, couldn't have dreamt of a better adventure if I tried.
Emma Jeffcoat
Absolutely everything was first class & so well organised.
Simon & Jackie Adams
Classic Safari Company has done it again! A unique experience that ticked all the boxes - wildlife, culture and dining experience. A dream come true!
Ros Wheeler
Their experience and knowledge of Africa is evident and we couldn't have been happier with the total package. This has given us a taste for Africa - now we are ready for more.
Andrew & Pip Stevens
If you want the most sensational experience in Africa let Julia and the staff at Classic Safari Co plan it for you! Their knowledge, expertise and enthusiasm for their job means your every wish will be fulfilled.
Miriam & Joseph Harrison
Classic Safari is the place to go to for "top end" adventure travel.
Ron & Alison Guthrie
Classic Safari Company were brilliant - 10/10
Di & Kingsley Yates
The Classic Safari Company is the best I have dealt with. Extremely knowledgeable & professional, friendly, patient & understanding of first timers to Africa.
Annette Whiley
It certainly was the best trip we have EVER had. The experiences were mind blowing.  We want everyone we know to experience Africa - the animals, the people - magical.
Jo-anne & Dean Mifsud
Would do it all again and not change a moment. Best holiday ever!
The McGowan Tribe
An absolutely fantastic travel company - every one of the many trips they have organised for us over 22 years have been faultless and fabulous.
Judith & Roger Williams

begin your journey now
Take advantage of our highly personalised advice, inspiration and experience