DISPATCHES FROM EXOTIC LANDS
Our inaugural flying safari took to the skies this month and travel designer Warren Smith was on board to share the experience. These are his words…
With no international travel for some time to come… there will be no safari in Africa for the wildlife, no European getaway for the history and unique architecture and no 4WD adventure of the Grand Canyon in search of stunning landscapes…. Ok, not a problem, as we have it all here in Australia, in spades, as I and seven fellow adventurers discovered on our recent private Air Safari through New South Wales and South Australia.
Take Off
Day one saw us depart Bankstown airport in our private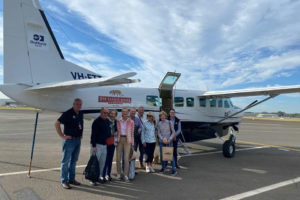 Cessna Caravan aircraft, carrying flight crew and 8 very excited passengers….streamlined, elegant, smooth, and very sophisticated (technically), our aircraft took to the skies with grace and ease and before long we found ourselves, camera in hand, glued to the window, in awe at the spectacular and ever changing landscapes below us.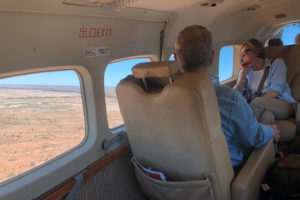 Flying at around 6,500 feet above sea level offered us the perfect vantage point, a vantage point not available at 35,000 feet in a commercial airliner, nor in a vehicle travelling across rough, dusty outback roads. Something none of us had anticipated until we experienced it – we were in the perfect position to embrace the raw essence of outback Australia, while sitting in air-conditioned comfort.
To Broken Hill & over Lake Frome
We flew via Griffith to refuel, visiting the quaint Griffith Aeroclub for a cuppa, then continued on to Broken Hill for lunch, before our final hop, over the South Australian border and Lake Frome to the northern reaches of the rugged Flinders Ranges; Arkaroola. As we flew across New South Wales the lush green hills and valleys melted away to open flat plains, often devoid of vegetation or at best dry grasses or scrub. We felt as if we were seeing the real Australia for the very first time….the colours changed regularly, landscapes tarnished and tormented by past flood waters and droughts, dried rivers snaking their way across barren otherworld like landscapes; sand, soil and rock changed colour a multitude of times to create some of the most dramatic landscapes I had seen anywhere on the planet.
Arkaroola Wilderness Sanctuary & mining history
Arkaroola is a 610 sq km Wilderness Sanctuary, known for its protection of the fauna and flora, including the rare yellow footed rock wallaby, however, more significantly it is a geological wonderland and about to receive no less than 13 separate UNESCO World Heritage listings. A location of immense geological and palaeontology importance, parts of the ancient sedimentary rock is 1,600 million years old. We enjoyed a fascinating 4-hour 4WD excursion across significant parts of the reserve to Sillers Lookout for breathtaking views over the mountain range and the flat plains and dried salt lakes beyond.
We then flew back to Broken Hill, to learn about the regions incredible mining history, the inspirational union movement which fundamentally changed working conditions, most of which we take for granted today, and to see the beautiful architecture which is of outstanding heritage value. With over 130 years of continuous mining here, the City is rich in history, is unique in its mix of architecture and mining infrastructure and is one of the world's greatest mineralogical finds, with around 300 different minerals found here.
Outback life
The trip was designed to encompass all that is unique to the Australian outback, which of course includes country towns and iconic Aussie pubs to. Our next stop was Tibooburra, an isolated town in the far northwest of New South Wales in what is called Corner Country; the place where three States meet.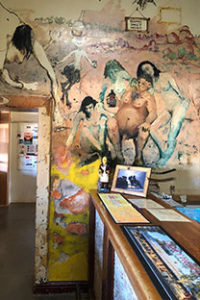 The iconic pub here is the Family Hotel, famed for its Clifton Pugh erotic art on the walls of the front bar, which he painted in the 1960's. Not content with one isolated town, we also visited Milparinka, a 40 km drive away, with a population of just 9 souls. The characters, history and hardship surrounding life in these towns is remarkable and unique. We rejoiced in the spirit of mateship which is so crucial to life in the outback and to the humble pub, the focal point of any town, where people come together to share their hardships and reconnect with mates.
Australia's outback is not just about mining and isolated towns, it is also about sheep and cattle farming. Our next stop, flying to Louth, was a fascinating insight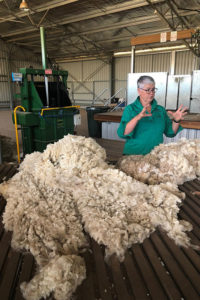 into living and working on an active sheep station, Trilby, on the banks of the Darling River. Gary is a 5th generation of the Murray family who settled here from Ireland, back in 1860. Gary and Liz married in 1981 and have four adult children, two of who work with Gary and Liz on Trilby Station today, be it flying helicopters, light aircraft or riding motorbikes to look after the 20,000 odd sheep on their 500 sq km piece of Australia. No cafes here… just hard work and plenty of it, 7 days a week, as well as running a unique farm stay operation. We enjoyed sundowners while watching the sunset over a 'vast' paddock, enjoyed nibbles around a roaring fire pit, licked our lips over home cooked meals prepared by Liz herself, and toured their shearing sheds and aircraft hangar with many a story about the adventures, both good and bad, the family has endured over the generations. An experience as real as it was surreal, and one we all agreed was poignant and exceptional.
Mudgee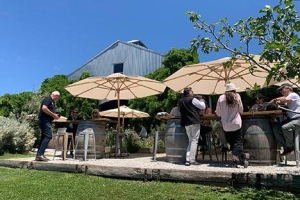 We departed Trilby with a newfound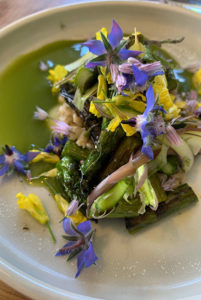 appreciation of the hard work and hard lives lived by our outback farmers. We took to the air again, with a quick refuelling stop in Cobar, and continued to Mudgee. The barren outback landscape was replaced with lush green hills and vineyards, an opportunity to taste the stunning local produce Australia's finest foodies are raving about. Wine was of course a part of the experience in Mudgee, however, the pièce de resistance was lunch at The Zin House on the Lowe Family Winery. A fitting end to our adventure and a short 45-minute flight back to Bankstown and the end of an amazing trip.
A new appreciation
Flying by private light aircraft offered us a new appreciation of our country and its stunning landscapes, offered us easy access to remote, wild and wonderful outback places and experiences, educated us on the spellbinding vastness of our country, ignited the senses, and we all agreed, would be the first of many Air Safaris to other regions of our wonderful country. There has never been a better time to experience our own backyard!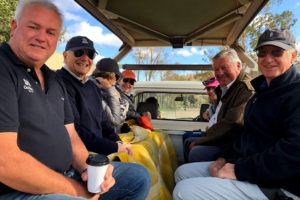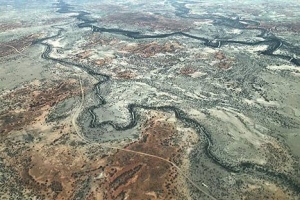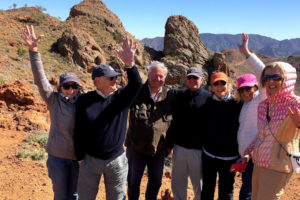 Written by Warren Smith, Travel Designer with The Classic Safari Company
OLDER POSTS

27/11/2023
Did you receive our latest newsletter in the post? It contains all…