DISPATCHES FROM EXOTIC LANDS
A saddle provides possibly the best seat you can buy on any wilderness holiday. In the bush, your horse senses every rustle in the grass long before your eyes have clocked its source, whilst in the mountains there's no engine noise to punctuate the sound of silence. Being on horseback allows you to navigate terrain that vehicles can't – whether that be through the desert to reach isolated communities, or down narrow cattle tracks to travel back in time – and all with virtually no impact on the environment. Whether you're a professional equestrian who enjoys luxury horse riding holidays, or a happy hacker just looking to feel the wind in your sails, our collection of horseback adventures won't disappoint.
Here are five of the best horse riding holidays around the world:
1. Riding with the Great Migration in Kenya
This is an African wildlife safari like no other – riding among masses of migrating wildebeest on horseback, you are one of the herd! They don't scatter like they might if you approached them in a vehicle and as you come to a standstill and let your horse graze, so they relax and accept you into their world. You notice their smell and their noises in a way you couldn't possibly when bumping along in a vehicle, and when an elephant or a predator comes on the scene the adrenalin is electric!
We offer six- and eight-night rides in the Maasai Mara with an outstanding outfitter who combines great hospitality and top notch guiding with luxurious comfort and style. Read more about out riding safari in the Maasai Mara.

2. Horse riding Patagonia
Horse riding holidays in Patagonia offer that rare blend of rugged wilderness, authentic culture, and a taste of 'the good life'.
Heading out into the wilds of the mountains aboard a trusty 'criollo' you experience majestic snow-capped peaks, crystal clear mountain streams, giant forests, birdlife, deer and the great outdoors – it's breath taking in every sense. Guests are accommodated in cosy wooden chalets and hosted by a band of merry gauchos, headed up by the infamous Jakob Von Plessen. There's no pretence here – this is how they spend their life, between cattle and horses, and they are in their element in the mountains. Their cheerful, mischievous characters and endless tales of life on the land make them the stars of the show, and tucking into hearty asados, washed down with plenty of Malbec, you really get a sense that when it comes to horse riding, Patagonia delivers the good life.
Read more about horse riding in Patagonia

3. Riding back in time across Spain
A horse ride with George Scott opens a secret door to the 'lost' corner of Spain and the Sierra Morena, a wild and unexplored region of northern Andalucia. George's rides are set up like a campaign style mobile safari, moving location every day or so and accommodating guests in luxurious tented suites of canvas as you move through the Spanish countryside. You are even provided with a rich Rajasthani robe to wear in the evenings. As life in the great outdoors goes, it doesn't get much more comfortable than this!
Accompanied by a team of expert caballeros, you will be riding old cattle-driving routes and bridle ways, through swathes of wild flowers and down forgotten paths carefully chosen for their isolation and timelessness. With almost no modern references you could be riding back into centuries gone by.
Forget what you've heard about Europe being overcrowded with hordes of tourists – this couldn't be further from it!
Details of these safaris are kept top secret – contact us for further information.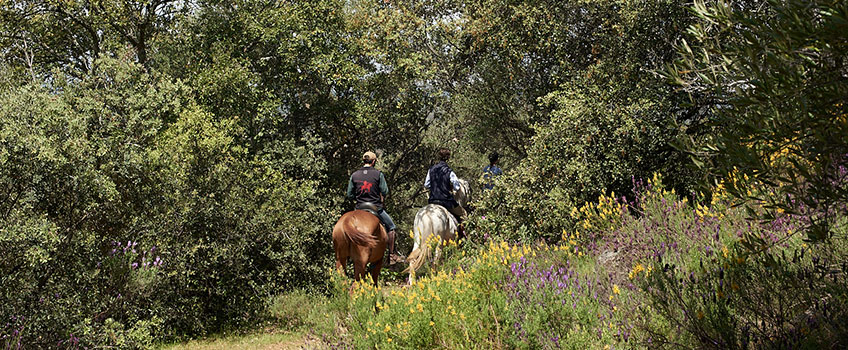 4. Galloping through the desert in Namibia
Namibia horse safaris cover a lot of ground – fast! The Namibian terrain is perfect for flat out gallops and long days spent in the saddle covering vast tracts of unbroken wilderness. Given their expeditionary style, these safaris are not luxury horse riding holidays (don't expect lavish tents and private bathrooms), but they are real adventures with no sign of civilisation for days at a time. The experience allows you to really disconnect with any troubles in the modern world and time spent quietly at a walk allows for thoughtful reflection, or long conversations with fellow riders. Bonds are formed and lifelong friendships created thorough a common passion for horses, wilderness, nature, a sense of adventure and a love of the great outdoors.
Read more about our Namibia Horse Safaris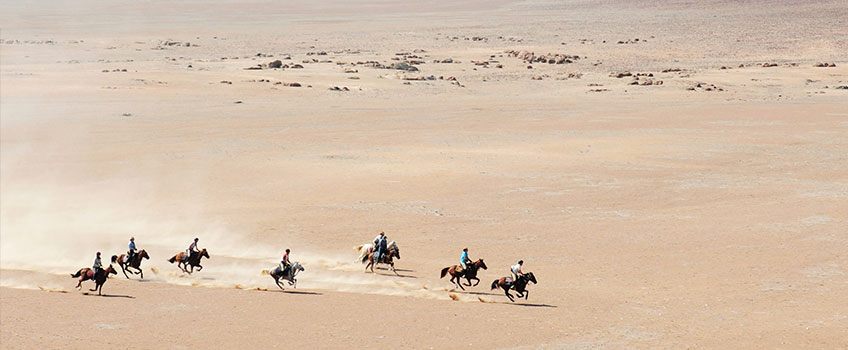 5. Delivering humanitarian support in India
'Relief Riders International' outfit a handful of remarkable horseback journeys through India that also provide humanitarian aid to isolated communities…and they do it with real panache! A caravan of riders, accompanied by doctors and Red Cross personel, weaves its way through the shimmering Thar desert of India to be greeted at some lonely outpost by gaggles of cheering children and provide any number of services from dentistry to ophthalmology. Riders are assigned tasks such as managing queues or assisting medics, before finishing the day in an elegant white tented camp to dine under the stars and sleep in feather soft beds.
The real draw is the perspective you gain on India and her people – it is truly unrivalled.
Dates and itineraries for next years' rides have not yet been released – please contact us to register your interest and we will provide you with full details as they become available.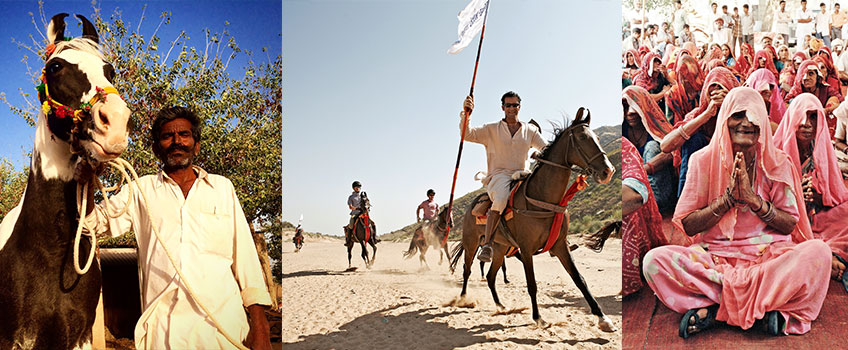 These itineraries all operate on a 'set departure' basis but since we specialise in bespoke travel, all can be easily incorporated into a tailormade journey.
Contact us to discuss or start planning you next great adventure!
OLDER POSTS

27/11/2023
Did you receive our latest newsletter in the post? It contains all…