DISPATCHES FROM EXOTIC LANDS
A Zambian home from home
Zambia's unique proliferation of owner-operated, family run outfits have given rise to a number of seriously stylish, effortlessly cool homes to call your own. They're the perfect intimate spaces to spend holidays with your friends and family or a comfortable sanctuary to retreat to, go off grid and escape the world for a little while. No pretence and no fuss, just you, your nearest and dearest and a wilderness all to yourself.
Here's a selection of our favourites…
Luangwa Safari House, South Luangwa
An imposing castle of a house designed in perfect symmetry with four double rooms each subtly but differently decorated to mimic the elements – water, earth, wind and fire. The open fronted living room opens onto a quartz tiled terrace with a large plunge pool to one side and from the terrace, a walkway leads to a wooden deck surrounding a small group of ebony trees. From here you can enjoy outdoor dining and sundowners whilst watching elephant and other wildlife coming to drink and bathe. The South Luangwa National Park, which marks the end of the Great Rift Valley, plays host to huge concentrations of game including elephant, buffalo, leopard, lion, giraffe, hippo and over 450 species of birds.

Shiwa Ng'andu – The Africa House, Northern Zambia nr North Luangwa NP
A unique and surprising addition to Zambia's great houses, Shiwa Ng'andu wouldn't look out of place in the rolling Great British Countryside. Built in the 1920s by Sir Stewart Gore-Browne, a former British Army officer who fell in love with the African bush, it is loaded with history and oozes colonial charm. The estate and wildlife reserve cover twenty-two thousand acres of breathtaking terrain, teeming with game, and boasts a large natural lake at its center, one of the largest privately owned bodies of water in Africa. Guests have complete access to the estate including the extensive historical archives and the day to day workings of the estate farm and can enjoy relaxed morning drives, horseriding through the hills and fascinating historical tours.

Chongwe River House, Lower Zambezi
Crafted by renowned architect Neil Rocher, this is award-winning safari design at its finest with architecture to resemble towering spires of termitariums, walls the follow the natural lines of the branches used in its construction and even soft colored pebbles from the Chongwe River embedded in the ceilings. Eight guests can enjoy four huge en suite bedrooms, their own safari guide and vehicle, a dedicated house manager and a team of chefs. Exclusive activities with no set timetable put the Lower Zambezi at your disposal!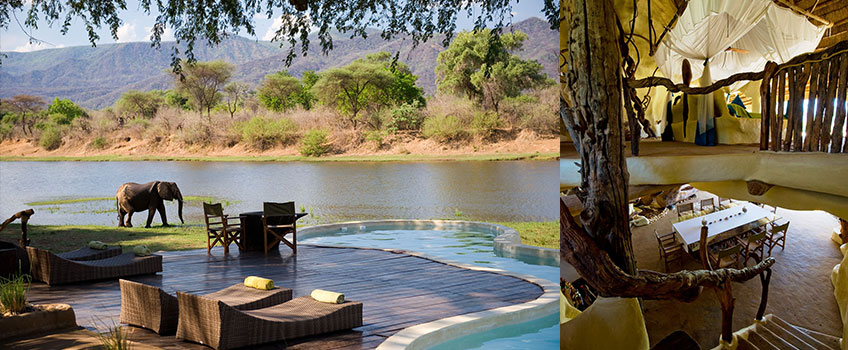 Tongabezi's Nut House, Dog House, Tree House and more…
Where would you rather be sent – the Nut House or the Dog House?! We'd happily take either! Tongabezi's collection of houses offer idyllic private retreats for couples, families and groups of up to five. Each house and cottage has its own valet who takes care of your throughout your stay and there is no set pattern to your days. You can do as much or as little as you wish, with game drives, bush walks and boating trips all included. Each of the houses are individually styled and all feature something unique and special be that claw footed, open-air bathtubs, private dining terraces under the stars or an eclectic collection of carefully sourced art and textiles.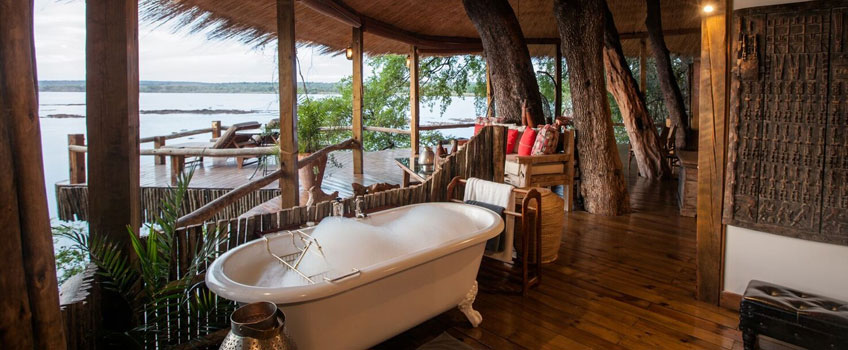 The Tree House for two is set against basalt rock bed, looking across the Zambezi from amongst the branches of three riverine Ebony trees; The Garden House is set back from the river in a very private, very safe space where young children can enjoy some freedom and members of the family can spread out a little; the Dog House rests on elevated walkways while the mighty Zambezi River runs underneath during high water. There's a niche here to fill every requirement!
OLDER POSTS

27/11/2023
Did you receive our latest newsletter in the post? It contains all…