Across the Antarctic Circle
Early Antarctic explorers returned from their voyages to the deep south with tales of a magnificent, ice-covered land teeming with life. Experience the awe-inspiring immensity of Antarctica, reducing your time on the high seas by flying across the Drake to Antarctica. Venturing below the Antarctic Circle is about more than just earning bragging rights. It is the chance to enter a different world more rarely seen, it feels more isolated and colder than further north, with great swathes of pack-ice and dreamlike icebergs. Thread through pack ice and narrow channels where scenes of ice-clad mountains, feeding whales and lively penguin colonies become lasting memories.

Aurora Expeditions specialise in small ship expeditions onboard their purpose built Greg Mortimer & Sylvia Earle, purpose built ships that take you to the remotest places on earth. Their ships have the revolutionary Ulstein X-Bow design allowing for maximum comfort and fuel efficiency. The trips are designed to be active expeditions, all lead by specialists who will allow you to immerse into the White Continent enjoying it's spectacular scenery and unique wildlife. All this knowing that you have a state of the art ship to return to, complete with all the creature comforts you can wish for.  See – Key Facts for more about these remarkable vessels.

They are expeditions you have to "Do before you Die" and we are proud to partner with such a professional expeditionary cruising operator such as Aurora Expeditions.
You will love
Crossing Antarctic Circle at latitude 66°33′ South
Wildlife & Scenery
Historical Sites
Zodiacs & Icebergs
12 UNFORGETTABLE DAYS
Day 1 Arrive Punta Arenas
Arrive in Punta Arenas, where you will be met by a representative of Aurora Expeditions and transferred to our group hotel. Upon arrival at your included hotel, kindly remind hotel check-in staff to provide you with Aurora Expeditions cabin tags. Please clearly label the tags with your name and ship cabin number.
Overlooking the Straits of Magellan, the city sits astride one of the world's most historic trade routes. Today, Punta Arenas reflects a great mix of cultures, from English sheep ranchers to Portuguese sailors, and it remains an utterly fascinating testament to Chile's rich history.
At approximately 6.00 pm this evening, meet your fellow expeditioners at a voyage briefing. Afterwards, there's free time to enjoy the local cuisine at one of Punta Arenas's many restaurants. (Dinner not included).
Accommodation: Hotel Cabo de Hornos (or similar)
Day 2 Fly Punta Arenas to King George Island
This morning we will be transferred to Punta Arenas airport for our charter flight to King George Island, Antarctica (weather permitting). The flight will take approximately one-and-a-half hours.
On arrival into King George Island our expedition team is on hand to greet you for your Zodiac transfer to board the vessel. You'll have time to settle into your cabin before our important briefings.
Note: King George Island is located at the northern part of the Antarctic Peninsula in the South Shetland Islands and is one of the most remote places on Earth. A clear sky with perfect visibility is required for safe take-off and landing. We apologise in advance for any delays.
Days 3-9 Antarctic Peninsula & Antarctic Circle
It's almost impossible to describe the feeling of arriving in Antarctica. Spotting your first iceberg and taking a deep breath of some of the most fresh, crisp air on earth is an experience that will stay with you forever.
The western side of the Antarctic Peninsula and the South Shetland Islands are ours to explore, and we have a host  of choices available to us. Because we are so far south, we will experience approximately 18-24 hours of daylight and the days can be as busy as you wish.
Your experienced expedition team, who have made countless journeys to this area, will use their expertise to design your voyage from day to day, choosing the best options based on the prevailing weather, ice conditions and wildlife opportunities.
We generally make landings or Zodiac excursions twice a day. You'll want to rug up before joining Zodiac cruises along spectacular ice cliffs or among grounded icebergs, keeping watch for whales, seals and porpoising penguins. Zodiacs will also transport you from the ship to land, where you can visit penguin rookeries, discover historic huts and explore some of our favourite spots along the peninsula.
While ashore we aim to stretch our legs, wandering along pebbly beaches or perhaps up snow-covered ridgelines to vantage points with mountains towering overhead and ice-speckled oceans below. If you have chosen an optional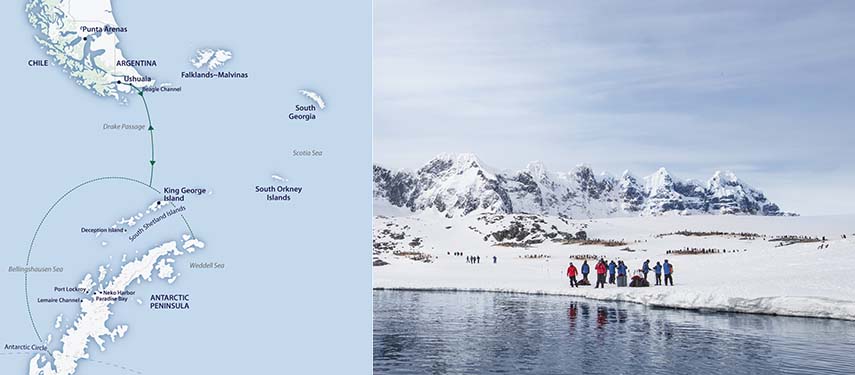 activity, you'll have the option to do that whenever conditions allow, and of course keen polar plungers will have the chance to fully immerse themselves in polar waters – conditions permitting!
In addition to Zodiac cruises and shore excursions, we may ship cruise some of the narrow, dramatic straits separating offshore islands from the mainland, or linger in scenic bays to watch whales travelling or feeding. This is a great time to enjoy the observation lounge or make your way to the bridge for uninterrupted views of Antarctica in all its splendour. Keep an ear out for the creak and deep rumble of glaciers as they carve their way from summit to sea, and take a quiet moment to experience the wonder of this incredible white continent.
On this voyage, we plan to cross the Antarctic Circle, an imaginary line located at the Antarctic Circle at latitude 66°33′ South (approximately). This is certainly a special highlight for everyone, and the moment will be celebrated with a toast on the deck. You've earned some boasting privileges, joining a small group of lucky adventurers who've made it to this part of the world. As we approach and cross the circle, you will notice subtle changes in the landscape, icescape, and also in the distribution of wildlife. The waters at this time of year are rich with krill and we hope to see plenty of whales – particularly humpbacks and minkes, and enjoy the spectacle of penguins feeding their ravenous chicks.
Days 10-11 Drake Passage crossing
We re-enter the Drake Passage for our return journey to South America. With lectures and film presentations to complete our Antarctic experience, there is still plenty of time to enjoy the magic of Southern Ocean and the life that calls it home. There is time for reflection and discussion about what we have seen and experienced, and the impact this voyage has had on our attitude to life.
As we approach the tip of South America, our Captain may sail close to legendary Cape Horn, weather and time permitting.
Day 12 Disembark Ushuaia
During the early morning, we cruise up the Beagle Channel, before quietly slipping into dock in Ushuaia, where we will be free to disembark around 8.00 am. Farewell your expedition team and fellow passengers as we all continue our onward journeys, hopefully with a newfound sense of the immense power of nature. A transfer to the airport or to your hotel is included in the cost of the voyage.
THINGS YOU NEED TO KNOW
Across the Antarctic Circle - Aurora Expeditions
Departures December to March
12 - 13 Days
Optional Activities: Sea Kayaking & Snorkelling

Across the Antarctic Circle - Aurora Expeditions
Departures December to March
12 - 13 Days
Optional Activities: Sea Kayaking & Snorkelling

PLEASE ENQUIRE FOR PRICING & AVAILABILITY
PLEASE ENQUIRE FOR PRICING & AVAILABILITY

START: Punta Arenas, Chile
|
Finish: Ushuaia, Argentina
Day 1  |  Arrival airport transfer and overnight in Punta Arenas  Day 2  |  Fly Punta Arenas to King George Island. Embarkation  Days 3-9  |  Antarctic Peninsula & Antarctic Circle  Days 10-11  |  Drake Passage crossing  Day 12  |  Disembark Ushuaia
About the Ships – Aurora specialise in small ship expedition vessels
The ships are named after; Aurora's co-founder and well-known mountaineer, Greg Mortimer; and Sylvia Earle, a world-renowned oceanographer and explorer.  The Greg Mortimer & the Sylvia Earle are small enough (averaging 132 onboard) to go where others simply can't and are purpose-built for expeditions to the most remote places on earth.
With the revolutionary ULSTEIN X-BOW® to cross oceans more comfortably, expansive observation decks, inviting communal areas and unsurpassed environmental credentials, the ships offer the perfect base camp for adventures at the outer limits of human exploration.
Designed for rugged, remote areas
The ships are designed for rugged, remote areas and when crossing the notorious Drake Passage, the expeditions face some of the most extreme conditions. The ships are at the cutting edge of nautical technology: robust, powerful and up to the task.  The ULSTEIN X-BOW® is an inverted bow design that has been used on over 100 vessels in commercial shipping industry – the Greg Mortimer being the first passenger vessels to incorporate this innovative marine technology.  The bow cuts through the swell so you feel fewer vibrations, make quicker transits through sea passages and helps reduce fuel consumption by up to 60%. This, in combination with Rolls Royce dynamic stabilisers offers unrivalled stability and comfort on ocean crossings.
Designed for active expeditions
The ships are built to world-class polar standards and designed in close consultation with the expedition specialists, to ensure that every aspect of the ship's design enriches your expedition experience.  The zodiac loading platforms and activities platform allows for faster disembarkation from the ship – to get out on your adventure quicker, whether by zodiac or by kayak. In the mudroom you will have access to a locker when you can hang your gear up to dry, and store your boots between excursions. You will also have access to lockers and rapid drying areas for wetsuits, to give your gear the best chance to dry between excursions.
Designed for wildlife watching, education & learning
While on board, the ship is your base camp in the most incredible environments on earth.  Within the ship, you will find indoor lounge areas with floor-to ceiling windows and panoramic views, and multiple open decks with expansive 270-360 degree views.  On all expeditions you will meet naturalists and local specialists, who offer presentations on their area of expertise to deepen your understanding of the region you're visiting. Join the team in the lecture theatre for presentations covering topics as broad as history and culture, biology and climate change, but they have one thing in common: they all aim to engage, educate and entertain.  With floor-to-ceiling windows, the library is a peaceful sanctuary where you can find non-fiction books to read up on the day's destinations and wildlife, plug in and organise your photos or play board games with newfound friends.
Designed for a comfortable onboard experience
When you are not busy on regular shore excursions, there is gym or sauna or book a massage (additional cost applies). There are also 2 jacuzzis on the top outside deck with amazing views of the world outside.  The comfortable open seating dining area is where you will share tales of the day and be fuelled with delicious meals cooked by our onboard chefs.  The cabins are beautifully appointed and you can choose from a range of configurations and features, including twin and double-bed options, private balconies and interconnecting staterooms.
Responsible travel features
The ships boasts the lowest polluting marine engines in the world, due to a combination of low energy consumption, high fuel-efficiency and a streamlined design. Our state-of-the-art Tier 3 engines deliver an 80% reduction in emissions*.  The onboard desalination plants convert seawater to freshwater that's safe to drink. This means we can carry less freshwater on sea crossings, further reducing the fuel consumption.
Your safety is a critical consideration and our ships feature industry-leading safety technology that exceeds the requirements for ships of this size. The ships are Ice Class 1A and Polar Code 6 compliant, hold BV class and are fully compliant with the latest SOLAS requirements.  A world class return-to-port system enables the ships to maintain operating systems and comfort in the event of an engine failure. As the expeditions take place in remote areas far from traditional medical facilities, we have a fully-resourced medical clinic, open 24 hours a day and staffed by qualified medical professionals.
Inclusions
All airport transfers
One night's hotel accommodation with breakfast in Punta Arenas on day 1
Charter flight from Punta Arenas to King George Island on day 2
On-board accommodation during voyage including daily cabin service
All meals, snacks, tea and coffee during voyage
Beer, house wine and soft drinks with dinner
All shore excursions and Zodiac cruises
Educational lectures and guiding services from expedition team
Complimentary access to onboard expedition doctor and medical clinic (initial consult)
A 3-in-1 waterproof polar expedition jacket
Complimentary use of muck boots during the voyage
Comprehensive pre-departure information
Port surcharges, permits and landing fees
Gratuities for ship crew
Exclusions
International or domestic flights to or within South America, unless specified
Transfers not mentioned in the itinerary
Airport arrival or departure taxes
Passport, visa, reciprocity and vaccination charges
Travel insurance or emergency evacuation charges
Hotels and meals not included in itinerary
Optional excursions not included in the itinerary
Optional activity surcharges
All items of a personal nature including but not limited to: alcoholic beverages and soft drinks (outside of dinner service), laundry services, personal clothing, medical expenses, Wi-Fi, email or phone charges
Flights & Insurance – on request
Exellent and wonderful, reaching way above expectations.
Elizabeth Mackintosh
Julia you did a fantastic job - everything was first class. Well organised, efficient and stress free. We all agreed it was the best holiday we've ever had. Cant wait to travel with CSC again.
Milford family
We are so happy we put our trust in CSC, we had an amazing adventure and would recommend them to anyone.
Kim & Brad Balance
The trip exceeded my expectations and was the best family holiday I have ever had. Our children simply loved it and now I know more about African wildlife than they do about our own farm animals.
Rowntree family
Classic Safari are the people who genuinely know other culture and offer incredible insight to perfectly meet your expectations.
Melanie McMillan & Iain Jones
We loved it all. Our son wants to go back tomorrow. We would ALL go back again!
Laurence & Remi Cunningham
An amazing experience - the best family holiday we have ever had. We were extremely impressed by the meticulous attention to our itinerary. I can't speak highly enough of all the elements of this exciting journey!
Sheryl & Robert Taylor
Thank you for making our trip to Africa so spectacular. The attention to detail really made it special. It really was the trip of a lifetime.
Paul Cozzi
Very knowledgeable and patient. Our trip was all that we hoped for. Wonderful!
Jane & Robert Happell
Everything was perfect! Advice and information on destinations and activities hit everything I had hoped to experience. I contacted the Classic Safari Company upon recommendation and have now, in turn, recommended to others.
Tim Bradley
You can't improve on perfection. I had my best birthday and holiday with my family celebrating my 80th birthday in Africa. Everything that Julia organised was perfect and the whole trip was a highlight!
Buckingham Family
The trip of a lifetime, couldn't have dreamt of a better adventure if I tried.
Emma Jeffcoat
Absolutely everything was first class & so well organised.
Simon & Jackie Adams
Classic Safari Company has done it again! A unique experience that ticked all the boxes - wildlife, culture and dining experience. A dream come true!
Ros Wheeler
Their experience and knowledge of Africa is evident and we couldn't have been happier with the total package. This has given us a taste for Africa - now we are ready for more.
Andrew & Pip Stevens
If you want the most sensational experience in Africa let Julia and the staff at Classic Safari Co plan it for you! Their knowledge, expertise and enthusiasm for their job means your every wish will be fulfilled.
Miriam & Joseph Harrison
Classic Safari is the place to go to for "top end" adventure travel.
Ron & Alison Guthrie
Classic Safari Company were brilliant - 10/10
Di & Kingsley Yates
The Classic Safari Company is the best I have dealt with. Extremely knowledgeable & professional, friendly, patient & understanding of first timers to Africa.
Annette Whiley
It certainly was the best trip we have EVER had. The experiences were mind blowing.  We want everyone we know to experience Africa - the animals, the people - magical.
Jo-anne & Dean Mifsud
Would do it all again and not change a moment. Best holiday ever!
The McGowan Tribe
An absolutely fantastic travel company - every one of the many trips they have organised for us over 22 years have been faultless and fabulous.
Judith & Roger Williams

begin your journey now
Take advantage of our highly personalised advice, inspiration and experience