Antarctica Complete
Experience unparalleled adventure and discovery on your ultimate Antarctic voyage. If you want to see it all, this is the trip for you. Be transported to enthralling subantarctic islands rich with human history and unique wildlife. Then venture into the deep south of the Antarctic Peninsula, crossing the coveted Antarctic Circle. Zodiac-cruise in vast ice-covered landscapes, visit lively penguin colonies, watch for whales and discover the rich history of this fascinating region.

Aurora Expeditions specialise in small ship expeditions onboard their purpose built Greg Mortimer & Sylvia Earle, purpose built ships that take you to the remotest places on earth. Their ships have the revolutionary Ulstein X-Bow design allowing for maximum comfort and fuel efficiency. The trips are designed to be active expeditions, all lead by specialists who will allow you to immerse into the White Continent enjoying it's spectacular scenery and unique wildlife. All this knowing that you have a state of the art ship to return to, complete with all the creature comforts you can wish for.  See – Key Facts for more about these remarkable vessels.

They are expeditions you have to "Do before you Die" and we are proud to partner with such a professional expeditionary cruising operator such as Aurora Expeditions.
You will love
Step ashore on the Antarctic continent to unforgettable vistas, bustling penguins, swooping skuas and frolicking fur seal pups
Raise a glass as you join a small club of people to cross the Antarctic Circle (conditions permitting)
Zodiac-cruise through glassy waters and gaze at the iridescent blues of gleaming icebergs
In South Georgia king penguins are sitting on eggs, chicks are hatching, juveniles are moulting and fledging
Hike along pebble beaches and climb tussock steps with unexpected wildlife encounters at every turn
23 UNFORGETTABLE DAYS
Day 1 Arrive Ushuaia
Arrive in Ushuaia, where you will be met by a representative of Aurora Expeditions and transferred to our group hotel. Upon arrival at your included hotel, kindly remind hotel check-in staff to provide you with Aurora Expeditions cabin tags. Please clearly label the tags with your name and ship cabin number.
At approximately 6.00 pm this evening, meet your fellow expeditioners at a voyage briefing. Afterwards, there's free time to enjoy the local cuisine at one of Ushuaia's many restaurants. (Dinner not included).
Accommodation: Las Hayas Hotel (or similar)
Day 2 Embarkation
This morning, please ensure your cabin luggage is fitted with cabin tags clearly labelled with your name and cabin number. Please take your cabin luggage down to hotel reception by 8.00 am. Your luggage will be collected from your hotel and transferred directly to the port for clearance and delivered to your cabin ahead of your arrival on        board. Please keep any valuables or personal items with you throughout the day. Once you have checked out of your hotel by 11.00 am, you have free time before meeting back in the hotel lobby at 2.00 pm to commence a short sightseeing tour of Ushuaia. Alternatively, enjoy time at leisure and make your own way to the Prison Museum carpark by 3.45 pm to re-join the group to be transferred to the pier for embarkation.
Ushuaia, capital of Tierra del Fuego is located at the shores of the Beagle Channel and surrounded by the Martial Mountains giving you a unique landscape in Argentina, which is the combination of mountains, sea, glaciers and forests. On this brief introductory tour, you will visit "La Mision" neighbourhood, the old Government House, and the upper area of the city, which offers beautiful panoramic views of Ushuaia and the Beagle Channel. During the excursion you will see the antique houses that belonged to the first families settled in Ushuaia. The excursion ends with a visit to the Old Prison Museum before transferring to the pier for embarkation at approximately 4.00 pm.
After embarkation, you'll have time to settle into your cabin before our important mandatory briefings. As the ship pulls away from port, we'll gather on the deck to commence our adventure with spectacular views over Ushuaia and Tierra del Fuego.
This evening get to know your fellow expeditioners and friendly expedition team and crew at a welcome dinner to celebrate the start of a thrilling adventure to Antarctica.
Day 3 Drake Passage crossing
As we commence the Drake Passage crossing, we make the most of our time getting comfortable with the motions of the sea. Our expedition team prepare you for our first landing with important wildlife guidelines and biosecurity procedures and start our lecture program to help you learn more about Antarctica's history, wildlife and environment.
Our wildlife experiences begin as we enjoy watching and photographing the many seabirds, including majestic albatrosses and giant petrels following in our wake. They rise and fall skilfully, using air currents created by the ship to gain momentum.
Day 4 Drake Passage & South Shetland Islands
Nearing the South Shetland Islands and the tip of the Antarctic Peninsula on day four, the excitement is palpable  with everyone converging on one of the observation decks, watching for our first iceberg. The ocean takes on a whole new perspective once we are below the Antarctic Convergence and are surrounded by the surreal presence of floating ice sculptures. The memory of your first big iceberg sighting is likely to remain with you for a lifetime.
Weather permitting, we may attempt our first landing in Antarctica by late afternoon.
Days 5-10 Antarctic Peninsula, Crossing the Antarctic Circle
It's almost impossible to describe the feeling of arriving in Antarctica. Spotting your first iceberg and taking a deep breath of some of the most fresh, crisp air on earth is an experience that will stay with you forever.
Once we arrive, the western side of the Antarctic Peninsula and the South Shetland Islands are ours to explore, and we have a host of choices available to us. Your experienced expedition team, who have made countless journeys to this area, will use their expertise to design your voyage from day to day, choosing the best options based on the prevailing weather, ice conditions and wildlife opportunities.
We generally make landings or Zodiac excursions twice a day. You'll want to rug up before joining Zodiac cruises along spectacular ice cliffs or among grounded icebergs, keeping watch for whales, seals and penguins. Zodiacs will also transport you from the ship to land, where you can visit penguin rookeries, discover historic huts and explore some of our favourite spots along the peninsula.
While ashore we aim to stretch our legs, wandering along pebbly beaches or perhaps up snow-covered ridgelines to vantage points with mountains towering overhead and ice-speckled oceans below. If you have chosen an optional activity, you'll have the option to do that whenever conditions allow, and of course keen polar plungers will have the chance to fully immerse themselves in polar waters – conditions permitting!
In addition to Zodiac cruises and shore excursions, we may ship cruise some of the narrow, dramatic straits separating offshore islands from the mainland, or linger in scenic bays to watch whales travelling or feeding. This is a great time to enjoy the observation lounge or make your way to the bridge for uninterrupted views of Antarctica in all its splendour. Keep an ear out for the creak and deep rumble of glaciers as they carve their way from summit to sea, and take a quiet moment to experience the wonder of this incredible white continent.
On this voyage, we plan to cross the Antarctic Circle, an imaginary line located at the Antarctic Circle at latitude 66°33′ South. This is certainly a special highlight for everyone, and the moment will be celebrated with a toast on the deck. You've earned some boasting privileges, joining a small group of lucky adventurers who've made it to this part of the world. As we approach and cross the circle, you will notice subtle changes in the landscape, icescape, and in the distribution of wildlife. The waters at this time of year are rich with krill and we hope to see plenty of whales – particularly humpbacks and minkes, and enjoy the spectacle of penguins feeding their ravenous chicks.
Days 11-12 Scotia Sea
En route for South Georgia we'll head across the Scotia Sea, following the route that Shackleton and five of his men took in order to find help for the rest of their crew. On 24 April, 1916, they piled into the James Caird, the most seaworthy of their open boats, to attempt this perilous journey to South Georgia, some 1290 km (802 miles) distant. Shackleton hoped to reach South Georgia in two weeks. There he would enlist the help of the whalers to return to Elephant Island and rescue the men who had been left behind. As excitement builds for South Georgia, catch up with fellow expeditioners in the bar, keep watch for wildlife alongside our naturalist from the open bridge, or learn more of the Shackleton story from our historian.
"Nearly always there were gales. So small was our boat and so great were the seas that often our sail flapped idly in the calm between the crests of two waves. Then we would climb the next slope and catch the full fury of the gale where the wool-like whiteness of the breaking water surged around us."
– Ernest Shackleton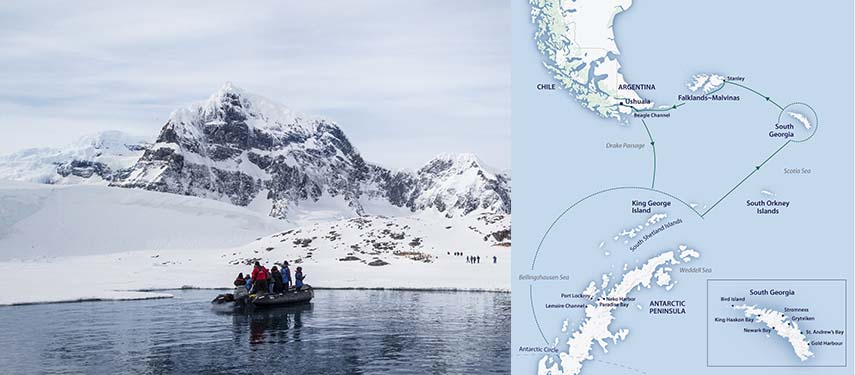 Days 13-17 South Georgia
As you near the rugged island of South Georgia, spare a thought for Captain James Cook, who arrived here in 1775 and believed it to be the northern tip of a great southern continent! In fact, it is a small island only 176 km (110 mi) long, but with a 3,000 m (9,842 ft) snow-capped mountain range, some of the world's largest congregations of wildlife and a truly fascinating human history, South Georgia is an island of incredible riches.
On approach, jagged mountain peaks rise steeply, while seabirds are often spotted soaring around the ship. You'll sail down the east coast, taking in the spectacular glaciated scenery and enjoying a little shelter from the prevailing westerly winds. This enchanting coastline is yours to explore!
Your experienced expedition team, who have made countless journeys to this area, will use their local knowledge to plan your voyage from day to day, choosing the best options based on the prevailing weather, sea state and wildlife opportunities.
We generally make landings or Zodiac excursions twice a day. Make sure you layer up before joining Zodiac cruises around craggy coves and along the rocky coastline in search of porpoising penguins, seal haul-outs and bird cliffs. Remember to keep an eye out for South Georgia's kelp forests—these remarkable underwater ecosystems are quite mesmerising as their fronds sway back and forth on the water's surface.
Zodiacs will also transport you from ship to shore, where you can visit some of the largest king penguin colonies on earth, take a guided walk among fur seals and elephant seals (making sure you listen to your guides and keep your distance!) and wander along pebbled streams and grassy glacial outwash plains. We also hope to visit the remnants of South Georgia's thriving whaling stations and pay our respects to Sir Ernest Shackleton, whose incredible voyage of survival is synonymous with this island. If you have chosen an optional activity, you'll have the option to do that whenever conditions allow.
In addition to Zodiac cruises and shore excursions, we may ship-cruise through fjords with towering cliffs of ancient stone, or into deeply indented bays towards dramatic glacier fronts. This is a great time to find a comfy spot in the observation lounge or make your way to the bridge to enjoy uninterrupted views of South Georgia's majestic coast.
Days 18-20 At Sea
Between South Georgia and the Falklands~Malvinas, you will be entranced by the ceaseless flight of the many seabirds that follow our wake, skilfully using the air currents created by the ship to gain momentum. On this leg, we are usually travelling into the prevailing weather, so it is difficult to estimate our arrival time in the Falklands~Malvinas. Our lecture program will continue and highlight all the amazing sights we have witnessed over the past few days. We'll have ample time to enjoy the rest of our time observing the sea birds, whale watching from the bridge, or simply relaxing in the bar with a book.
If time and weather conditions permit, we could pass close to Shag Rocks, a fascinating group of jagged rocky islets protruding from the sea, in the proximity of South Georgia.
Day 21 Falklands~Malvinas
The Falklands~Malvinas comprises two large islands (East and West Falkland), with over 700 islands scattered off the coast. All but seven of these are uninhabited, with windswept coastlines, white sand beaches and crystal-clear  water. These beautifully barren islands are true wildlife havens, sheltering an impressive diversity of birdlife, including the largest black-browed albatross colony on earth. The cold, nutrient-rich waters surrounding the islands make this a prime location for spotting marine life.
There are many beautiful areas to explore across the Falklands~Malvinas, each offering a unique perspective on this magnificent archipelago. Your experienced expedition team, who have made countless journeys to this area, will use their expertise to design your voyage from day to day, choosing the best options based on the prevailing winds, weather and wildlife opportunities.
We generally make landings or Zodiac excursions twice a day. Even though we're north of the Antarctic Convergence it can be quite chilly here, so you'll want to layer up before joining Zodiac cruises into rocky coves or along sea cliffs, keeping watch for seals, sea lions, dolphins and penguins. Zodiacs will also transport you from the ship to land, where you may be able to visit albatross colonies, penguin rookeries and perhaps even have a traditional English 'tea        and scones' at a local cottage.
We also aim to land in historic Stanley, the capital of the Falklands~Malvinas. This charming town has a distinctly British character, with terraced town houses, pioneer cottages and even an iconic red telephone box! Colourful buildings house cosy cafes, English pubs, souvenir shops, a post office and the fascinating Historic Dockyard Museum, with displays on the maritime history of the Falkland Islands, natural history and links to Antarctica.
Day 22 At Sea
As we sail towards Ushuaia, you may choose precious time editing photos, enjoying the onboard facilities, or attend final lectures. Celebrate the end of an unforgettable voyage with newfound friends at a special Captain's farewell dinner.
Day 23 Disembark in Ushuaia
During the early morning, we cruise up the Beagle Channel, before quietly slipping into dock in Ushuaia, where we will be free to disembark around 8.00 am. Farewell your expedition team and fellow passengers as we all continue our onward journeys, hopefully with a newfound sense of the immense power of nature. A transfer to Ushuaia airport or to your hotel is included in the voyage fare.
PLEASE NOTE
Please refer to this itinerary as a guide only, as changes may occur due to unpredictable sea and weather conditions. Flexibility is key, when joining us on our expeditions.
THINGS YOU NEED TO KNOW
Expedition: Antarctica Complete

22 Nights & 23 Days

Sailing on the Sylvia Earle
13 March - 04 April 2023

Optional Activities: Sea Kayaking & Snorkelling
Expedition: Antarctica Complete

22 Nights & 23 Days

Sailing on the Sylvia Earle
13 March - 04 April 2023

Optional Activities: Sea Kayaking & Snorkelling
from USD $22,795 per person Twin Share
from USD $22,795 per person Twin Share

START: Ushuaia, Argentina
|
Finish: Ushuaia
** ask about Promotional Offers of up to 25% off the standard pricing
Day 1  |  Arrival airport transfer and overnight in Ushuaia  Day 2  |  Embarkation Day  Day 3  |  Drake Passage crossing  Day 4  |  Drake Passage & South Shetland Islands  Days 5-10  |  Antarctic Peninsula. Cross the Antarctic Circle  Days 11-12  |   At Sea  Days 13-17  |  South Georgia  Days 18-20  |   At Sea  Day 21  |  Falklands~Malvinas  Day 22  |  At Sea  Day 23  |  Disembark in Ushuaia
About the Ships – Aurora specialise in small ship expedition vessels
The ships are named after; Aurora's co-founder and well-known mountaineer, Greg Mortimer; and Sylvia Earle, a world-renowned oceanographer and explorer.  The Greg Mortimer & the Sylvia Earle are small enough (averaging 132 onboard) to go where others simply can't and are purpose-built for expeditions to the most remote places on earth.
With the revolutionary ULSTEIN X-BOW® to cross oceans more comfortably, expansive observation decks, inviting communal areas and unsurpassed environmental credentials, the ships offer the perfect base camp for adventures at the outer limits of human exploration.
Designed for rugged, remote areas
The ships are designed for rugged, remote areas and when crossing the notorious Drake Passage, the expeditions face some of the most extreme conditions. The ships are at the cutting edge of nautical technology: robust, powerful and up to the task.  The ULSTEIN X-BOW® is an inverted bow design that has been used on over 100 vessels in commercial shipping industry – the Greg Mortimer being the first passenger vessels to incorporate this innovative marine technology.  The bow cuts through the swell so you feel fewer vibrations, make quicker transits through sea passages and helps reduce fuel consumption by up to 60%. This, in combination with Rolls Royce dynamic stabilisers offers unrivalled stability and comfort on ocean crossings.
Designed for active expeditions
The ships are built to world-class polar standards and designed in close consultation with the expedition specialists, to ensure that every aspect of the ship's design enriches your expedition experience.  The zodiac loading platforms and activities platform allows for faster disembarkation from the ship – to get out on your adventure quicker, whether by zodiac or by kayak. In the mudroom you will have access to a locker when you can hang your gear up to dry, and store your boots between excursions. You will also have access to lockers and rapid drying areas for wetsuits, to give your gear the best chance to dry between excursions.
Designed for wildlife watching, education & learning
While on board, the ship is your base camp in the most incredible environments on earth.  Within the ship, you will find indoor lounge areas with floor-to ceiling windows and panoramic views, and multiple open decks with expansive 270-360 degree views.  On all expeditions you will meet naturalists and local specialists, who offer presentations on their area of expertise to deepen your understanding of the region you're visiting. Join the team in the lecture theatre for presentations covering topics as broad as history and culture, biology and climate change, but they have one thing in common: they all aim to engage, educate and entertain.  With floor-to-ceiling windows, the library is a peaceful sanctuary where you can find non-fiction books to read up on the day's destinations and wildlife, plug in and organise your photos or play board games with newfound friends.
Designed for a comfortable onboard experience
When you are not busy on regular shore excursions, there is gym or sauna or book a massage (additional cost applies). There are also 2 jacuzzis on the top outside deck with amazing views of the world outside.  The comfortable open seating dining area is where you will share tales of the day and be fuelled with delicious meals cooked by our onboard chefs.  The cabins are beautifully appointed and you can choose from a range of configurations and features, including twin and double-bed options, private balconies and interconnecting staterooms.
Responsible travel features
The ships boasts the lowest polluting marine engines in the world, due to a combination of low energy consumption, high fuel-efficiency and a streamlined design. Our state-of-the-art Tier 3 engines deliver an 80% reduction in emissions*.  The onboard desalination plants convert seawater to freshwater that's safe to drink. This means we can carry less freshwater on sea crossings, further reducing the fuel consumption.
Your safety is a critical consideration and our ships feature industry-leading safety technology that exceeds the requirements for ships of this size. The ships are Ice Class 1A and Polar Code 6 compliant, hold BV class and are fully compliant with the latest SOLAS requirements.  A world class return-to-port system enables the ships to maintain operating systems and comfort in the event of an engine failure. As the expeditions take place in remote areas far from traditional medical facilities, we have a fully-resourced medical clinic, open 24 hours a day and staffed by qualified medical professionals.
Inclusions
Full board accommodation
All drinks (except Champagne) in camp, including bottled drinking water
Professional riding guide & professional safari guide in each vehicle
Full Compliment of camp crew – chefs, waiters, porters, grooms, tent stewards, drivers etc
Vehicles and back up truck
4×4 vehicles and game drives – day & night
Kenyan Flying Doctors membership
Return flights Nairobi to Mara and Mara to Nairobi & transfers
Park entry fees and activities on the riding safari
Laundry in camp
government taxes
Exclusions
International flights
Extra safari arrangements & accommodation in Nairobi]
Gratuities for camp staff USD$1809 & $225 pp for he 6 & 8 night rides respectively and $80pp for the second guide.
Extra activities, visas, insureance Items of a personal nature
Flights & Insurance – on request
Exellent and wonderful, reaching way above expectations.
Elizabeth Mackintosh
Julia you did a fantastic job - everything was first class. Well organised, efficient and stress free. We all agreed it was the best holiday we've ever had. Cant wait to travel with CSC again.
Milford family
We are so happy we put our trust in CSC, we had an amazing adventure and would recommend them to anyone.
Kim & Brad Balance
The trip exceeded my expectations and was the best family holiday I have ever had. Our children simply loved it and now I know more about African wildlife than they do about our own farm animals.
Rowntree family
Classic Safari are the people who genuinely know other culture and offer incredible insight to perfectly meet your expectations.
Melanie McMillan & Iain Jones
We loved it all. Our son wants to go back tomorrow. We would ALL go back again!
Laurence & Remi Cunningham
An amazing experience - the best family holiday we have ever had. We were extremely impressed by the meticulous attention to our itinerary. I can't speak highly enough of all the elements of this exciting journey!
Sheryl & Robert Taylor
Thank you for making our trip to Africa so spectacular. The attention to detail really made it special. It really was the trip of a lifetime.
Paul Cozzi
Very knowledgeable and patient. Our trip was all that we hoped for. Wonderful!
Jane & Robert Happell
Everything was perfect! Advice and information on destinations and activities hit everything I had hoped to experience. I contacted the Classic Safari Company upon recommendation and have now, in turn, recommended to others.
Tim Bradley
You can't improve on perfection. I had my best birthday and holiday with my family celebrating my 80th birthday in Africa. Everything that Julia organised was perfect and the whole trip was a highlight!
Buckingham Family
The trip of a lifetime, couldn't have dreamt of a better adventure if I tried.
Emma Jeffcoat
Absolutely everything was first class & so well organised.
Simon & Jackie Adams
Classic Safari Company has done it again! A unique experience that ticked all the boxes - wildlife, culture and dining experience. A dream come true!
Ros Wheeler
Their experience and knowledge of Africa is evident and we couldn't have been happier with the total package. This has given us a taste for Africa - now we are ready for more.
Andrew & Pip Stevens
If you want the most sensational experience in Africa let Julia and the staff at Classic Safari Co plan it for you! Their knowledge, expertise and enthusiasm for their job means your every wish will be fulfilled.
Miriam & Joseph Harrison
Classic Safari is the place to go to for "top end" adventure travel.
Ron & Alison Guthrie
Classic Safari Company were brilliant - 10/10
Di & Kingsley Yates
The Classic Safari Company is the best I have dealt with. Extremely knowledgeable & professional, friendly, patient & understanding of first timers to Africa.
Annette Whiley
It certainly was the best trip we have EVER had. The experiences were mind blowing.  We want everyone we know to experience Africa - the animals, the people - magical.
Jo-anne & Dean Mifsud
Would do it all again and not change a moment. Best holiday ever!
The McGowan Tribe
An absolutely fantastic travel company - every one of the many trips they have organised for us over 22 years have been faultless and fabulous.
Judith & Roger Williams

begin your journey now
Take advantage of our highly personalised advice, inspiration and experience