The Last Shangri-La
Bhutan is simply breathtaking! Ringed by snow capped mountains with lush green valleys that had been closed to tourism for years, preserving the Bhutanese traditional way of life aand culture.  Now the doors to this Kingdom are open (albeit still to limited numbers) you have the opportunity to explore this Shangri-La.

This itinerary can be as energetic or as gentle as you wish to make it.  Spend your days hiking to monasteries perched high in the mountains or wander across rice paddies to temples set low in the hills;   whichever you choose you will cross paths with some of the most hospitable people in the world, many living as they have done for centuries.  To experience the customs of these residents, and to be welcomed into their homes in order to share their way of life, is truly humbling.
You will love
Bhutan's heritage and architecture
Walking through local villages
Admiring astounding landscapes
Visiting museums, temples and monasteries
9 UNFORGETTABLE DAYS
DAY 1 | THIMPHU | 3 NIGHTS
Arrive in Paro and transfer by road to your hotel in Thimphu (approx 1.5 hours) enroute you will visit Chuzom to view three different styles of stupas (shrines) ‐ Tibetan, Nepalese and Bhutanese & will see the temple of Tamchog Lhakhang ‐ home to one of the most photographed bridges in all of Bhutan!
DAY 2 | THIMPHU
This morning take a short drive to Pangri Zampa and enjoy an interactive session with the monks. Later discover the highlights of Thimphu including the Textile Museum, the National Library, the institute for Zorig Chusum (arts and crafts school) and the Folk Heritage Museum. This afternoon visit the Trashicchoe Dzong – a Buddhist monastery and fortess
DAY 3 | THIMPHU
Explore the Centenary Farmer's Market this morning. Heaving with local produce and imported fish and meat (True Buddhists will not sacrifice, or eat, any living creature so all meat arrives, predminantly, from India). Visit the Bhutan 'Postal Museum Post Office' with the curator and make your own Bhutanese stamps before proceeding to the Drubthob Goemba (the only nunnery in Thimphu), and finally the impressive Memorial Chorten.
DAY 4 | PUNAKHA | 2 NIGHTS
Road transfer to Punakha (approx 3 hours). Enroute view the 108 chortens or stupas at the Dochula Pass, and explore the Royal Botanical Gardens. On arrival in Punakha visit the Punakha Dzong and in the evening venture out to Wangdue town and explore its local markets.
DAY 5 | PUNAKHA
Visit Sangcchen Dorji Lhuendrup Lhakhang Nunnery before taking a short hike to the regal Khamsum Yuelley Namgel Chorten. Enjoy lunch by the riverside before experiencing Bhutanese rural life in the villages or Nobgang and Talo.
DAY 6 | PARO | 3 NIGHTS
Transfer by road to Paro (approx 3 hours), visiting the Simtokha Dzong, the oldest fortress in Bhutan enroute. Also stop at Ta Dzong and Rinpung Dzong. Stroll around Paro's market street to get a feel for the local life, before attending a cooking session focusing on traditional Bhutanese delicacies.
DAY 7 | PARO
Embark on a fascinating excursion to the famous Taktshang Monastery known as Tigers Nest. This afternoon drive to the base of Drukygel Dzong, a 17th century fortress, and visit a colourful and traditionally built Bhutanese farmhouse.
DAY 8 | PARO
Enjoy a drive to Chelela Pass – one of the highest motorable passes in Bhutan at an elevation of 3,988 metres above sea level before embarking on a walk (1hr) to the nunnery of Kila Gompa. After lunch drive to Neyphug Monastery, home to approx 60 orphans and play a traditional game of Khuru with them.
DAY 9 | END OF ITINERARY
Your itinerary ends with a to the airport this morning in time for your outbound flight and onward adventure.
PLEASE NOTE:
This itinerary provides the perfect framework for a spectacular opportunity to travel through the 'Land of Happiness', however it can be designed to suit your preferred pace, price and pursuits. Contact us for a tailormade journey.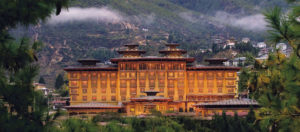 RECOMMENDED ACCOMMODATION
A handpicked selection of incomparable lodgings

Amankora Thimphu – Thimphu Valley, Bhutan
Amankora Thimphu sits in a blue pine forest in the upper reaches of the Motithang area of the Thimphu Valley. The valley is at an altitude of 2,350m surrounded by richly forested mountains dotted with ancient monasteries and temples. It remains a quiet retreat away from the hustle and bustle of the Kingdom's main commercial centre. Read More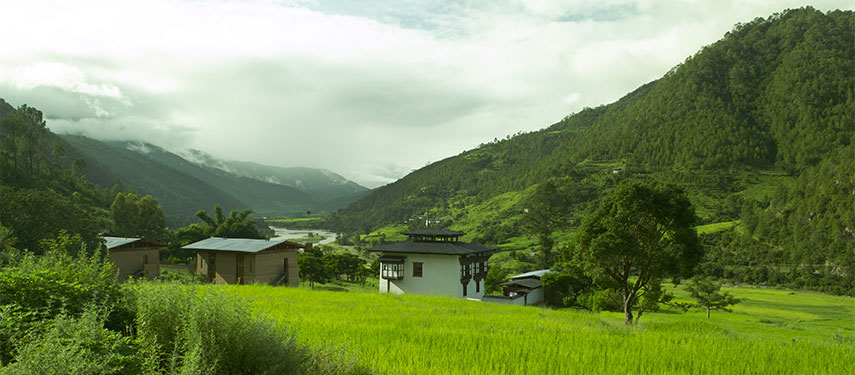 Amankora Punakha – Punakha Valley
Amankora Punakha lies at an elevation of 1,300m above sea level in the Punakha Valley. The lodge itself includes a traditional Bhutanese farmhouse built as a residence by a previous Je Kempo (spiritual and religious leader). The courtyard is suitable for outdoor dining and relaxation in Punakha's temperate climate. Read More
NEED TO KNOW
9 nights in the Land of Happiness
9 nights in the Land of Happiness
Please enquire for pricing based on your preferences
Please enquire for pricing based on your preferences

START: Paro, Bhutan*
|
Finish: Paro, Bhutan*
Recommended Routings to Paro | Qantas to Bangkok or Singapore Airlines to Delhi + Bhutan Airlines to Paro*
This itinerary provides the perfect inspiration for a spectacular journey  through the Kingdom of Bhutan & can be tailored to suit your style, pace, preferences and budget.  Elements of this trip may vary based on your chosen season & dates of travel which may also present the opportunity to see & do even more!
*please note that flights to and from Paro MUST BE BOOKED inconjunction with land arrangements in Bhutan – this is a stipulation in order to obtain a Tourist Entry Visa.  Flights into Paro are available from Bangkok, Delhi or Kathmandu. Please talk to us about the best access point for you as we can provide competitive airfare quotes and, if necessary, stopover packages.
Exellent and wonderful, reaching way above expectations.
Elizabeth Mackintosh
Julia you did a fantastic job - everything was first class. Well organised, efficient and stress free. We all agreed it was the best holiday we've ever had. Cant wait to travel with CSC again.
Milford family
We are so happy we put our trust in CSC, we had an amazing adventure and would recommend them to anyone.
Kim & Brad Balance
The trip exceeded my expectations and was the best family holiday I have ever had. Our children simply loved it and now I know more about African wildlife than they do about our own farm animals.
Rowntree family
Classic Safari are the people who genuinely know other culture and offer incredible insight to perfectly meet your expectations.
Melanie McMillan & Iain Jones
We loved it all. Our son wants to go back tomorrow. We would ALL go back again!
Laurence & Remi Cunningham
An amazing experience - the best family holiday we have ever had. We were extremely impressed by the meticulous attention to our itinerary. I can't speak highly enough of all the elements of this exciting journey!
Sheryl & Robert Taylor
Thank you for making our trip to Africa so spectacular. The attention to detail really made it special. It really was the trip of a lifetime.
Paul Cozzi
Very knowledgeable and patient. Our trip was all that we hoped for. Wonderful!
Jane & Robert Happell
Everything was perfect! Advice and information on destinations and activities hit everything I had hoped to experience. I contacted the Classic Safari Company upon recommendation and have now, in turn, recommended to others.
Tim Bradley
You can't improve on perfection. I had my best birthday and holiday with my family celebrating my 80th birthday in Africa. Everything that Julia organised was perfect and the whole trip was a highlight!
Buckingham Family
The trip of a lifetime, couldn't have dreamt of a better adventure if I tried.
Emma Jeffcoat
Absolutely everything was first class & so well organised.
Simon & Jackie Adams
Classic Safari Company has done it again! A unique experience that ticked all the boxes - wildlife, culture and dining experience. A dream come true!
Ros Wheeler
Their experience and knowledge of Africa is evident and we couldn't have been happier with the total package. This has given us a taste for Africa - now we are ready for more.
Andrew & Pip Stevens
If you want the most sensational experience in Africa let Julia and the staff at Classic Safari Co plan it for you! Their knowledge, expertise and enthusiasm for their job means your every wish will be fulfilled.
Miriam & Joseph Harrison
Classic Safari is the place to go to for "top end" adventure travel.
Ron & Alison Guthrie
Classic Safari Company were brilliant - 10/10
Di & Kingsley Yates
The Classic Safari Company is the best I have dealt with. Extremely knowledgeable & professional, friendly, patient & understanding of first timers to Africa.
Annette Whiley
It certainly was the best trip we have EVER had. The experiences were mind blowing.  We want everyone we know to experience Africa - the animals, the people - magical.
Jo-anne & Dean Mifsud
Would do it all again and not change a moment. Best holiday ever!
The McGowan Tribe
An absolutely fantastic travel company - every one of the many trips they have organised for us over 22 years have been faultless and fabulous.
Judith & Roger Williams

begin your journey now
Take advantage of our highly personalised advice, inspiration and experience