Icons of India
India is blessed with some of the most stunning architecture on the planet. This intriguing twelve day itinerary visits two of it's jewels; the iconic Taj Mahal; the ivory-white mausoleum which sits on the banks of the Yamuna River in Agra – the tomb of Shah Jahan's favourite wife, Mumtaz Mahal. Then, at the other end of this extraordinary adventure, you will visit the Golden Temple in Amritsar in the Punjab. The preeminent spiritual site of Sikhism, this temple is literally covered in gold and welcomes everyone of any faith. Sikhism is an interesting faith, that is all about giving back. Here, they feed anyone who needs a meal, and serve in excess of 50,000 people every single day. You can enjoy a 'free' meal here too, or join in the kitchens (must be pre-arranged) to help the multitude of volunteers who assist in food preparations daily. A truly unique and spiritual experience.

In addition, you will also visit Udaipur in the lakes district, the 'pink-city' of Jaipur, the UNESCO world Heritage Fatepur Sikri, experience the back streets and alley-ways of Old Delhi and enjoy the very unique Wagah border closing ceremony on the Indo-Pakistan border.
You will love
Visit two of India's incredible landmarks
Explore 4 of India's iconic cities
See 'bucket-list' places
Stay in Palaces, Havelis and Luxury Hotels
Spirituality and cultural focus
12 DAYS OF ICONIC INDIAN SITES
DAY 1 | UDAIPUR | 3 NIGHTS
On arrival in Udaipur you will be met on arrival and transferred to your hotel. Later this afternoon enjoy a relaxing walk through the local village.
DAY 2 | UDAIPUR
Head out on a half day sightseeing tour of Udaipur which includes a visit to the City Palace. Also visit the Jagdish Temple and the Saheliyon Ki Bari or Maids of Honour. To finish the day, take a late afternoon boat ride on Lake Pichola, ringed by stunning palaces, havelis and temples.
DAY 3 | UDAIPUR
A full day at leisure today, however, with a vehicle and driver at your disposal should you wish to head out. Otherwise relax enjoy the beautiful surroundings of the palace and gardens.
DAY 4 | JAIPUR | 3 NIGHTS
Transfer by road from Udaipur to Jaipur and check into the your haveli. The remainder of the afternoon/evening is at leisure.
DAY 5 | JAIPUR
Enjoy a full day sightseeing tour of Jaipur including a visit to the Amber Fort, passing by the Hawa Mahal, then explore the City Palace and Museum. End the day with a walk around the UNESCO World Heritage Site of Jantar Mantar.
DAY 6 | JAIPUR
Full day at leisure today. Relax at your hotel or perhaps head out for some shopping and explore the local markets. Your driver and vehicle are at your disposal today.
DAY 7 | AGRA | 1 NIGHT
Drive to Agra, visiting the UNESCO World Heritage city of Fatehpur Sikri en-route. On arrival in Agra, check into your hotel, freshen up then head out to explore the Agra Fort & catch your first glimpse of the Taj Mahal. At dusk drive to Mehtab Bagh Gardens to watch the sun set over the Taj Mahal before retreating to your hotel.
DAY 8 | DELHI | 2 NIGHTS
Rise early this morning to watch sunrise over the Taj Mahal. Later drive to Delhi and check into your hotel with the afternoon at leisure to shop in the myriad of local markets or boutique stores.
DAY 9 | DELHI
This morning discover the sights and sounds of India's most vibrant capital city with a half day tour exploring the highlights of the city's magnificent Mughal architecture as well as the exotic and bustling bazaars of Old Delhi. Visit Jama Masjid, Delhi's largest Sikh Temple, enjoy a rickshaw ride and in the evening enjoy a street food walking tour among the backstreets of Old Delhi.
DAY 10 | AMRITSAR | 2 NIGHTS
This morning take the train from Delhi to Amritsar, arriving early afternoon. Check into your hotel and in the evening visit the Golden Temple to see the Temple and surrounding buildings stunningly lit at night.
DAY 11 | AMRITSAR
Head out on a half day sightseeing tour of Amritsar visiting the Golden Temple again, by day, includes the kitchens and eating halls, which feed in excess of 50,000 people a day. Also visit Jalianwala Bagh, the site of the infamous Amritsar massacre of 1919, then later in the afternoon witness the extraordinary Wagah border closing ceremony at the Indo-Pakistan border, an hour's drive from Amritsar.
DAY 12 | END OF ITINERARY
Your Icons of India tour ends after breakfast this morning with a transfer to the airport for your onward flight and your next adventure.
PLEASE NOTE:
This itinerary provides the perfect framework for a spectacular opportunity to see some of India's most iconic sites, however it can be designed to suit your preferred pace, price and pursuits. Contact us for a tailormade journey.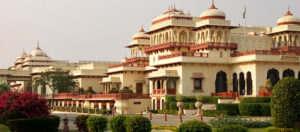 ACCOMMODATION
Our handpicked selection of suggested accommodation
NEED TO KNOW
12 inspiring nights that can be shortened or extended to suit
12 inspiring nights that can be shortened or extended to suit
Please enquire for pricing based on your preferences
Please enquire for pricing based on your preferences

START: Udaipur, India
|
Finish: Delhi
This itinerary provides the perfect inspiration for a spectacular journey and can be tailored to suit your style, pace, preferences and budget.  Elements of this trip may vary based on your chosen season and dates of travel and, once the timing of internal flights is known, this may also present the opportunity to see and do even more!
Exellent and wonderful, reaching way above expectations.
Elizabeth Mackintosh
Julia you did a fantastic job - everything was first class. Well organised, efficient and stress free. We all agreed it was the best holiday we've ever had. Cant wait to travel with CSC again.
Milford family
We are so happy we put our trust in CSC, we had an amazing adventure and would recommend them to anyone.
Kim & Brad Balance
The trip exceeded my expectations and was the best family holiday I have ever had. Our children simply loved it and now I know more about African wildlife than they do about our own farm animals.
Rowntree family
Classic Safari are the people who genuinely know other culture and offer incredible insight to perfectly meet your expectations.
Melanie McMillan & Iain Jones
We loved it all. Our son wants to go back tomorrow. We would ALL go back again!
Laurence & Remi Cunningham
An amazing experience - the best family holiday we have ever had. We were extremely impressed by the meticulous attention to our itinerary. I can't speak highly enough of all the elements of this exciting journey!
Sheryl & Robert Taylor
Thank you for making our trip to Africa so spectacular. The attention to detail really made it special. It really was the trip of a lifetime.
Paul Cozzi
Very knowledgeable and patient. Our trip was all that we hoped for. Wonderful!
Jane & Robert Happell
Everything was perfect! Advice and information on destinations and activities hit everything I had hoped to experience. I contacted the Classic Safari Company upon recommendation and have now, in turn, recommended to others.
Tim Bradley
You can't improve on perfection. I had my best birthday and holiday with my family celebrating my 80th birthday in Africa. Everything that Julia organised was perfect and the whole trip was a highlight!
Buckingham Family
The trip of a lifetime, couldn't have dreamt of a better adventure if I tried.
Emma Jeffcoat
Absolutely everything was first class & so well organised.
Simon & Jackie Adams
Classic Safari Company has done it again! A unique experience that ticked all the boxes - wildlife, culture and dining experience. A dream come true!
Ros Wheeler
Their experience and knowledge of Africa is evident and we couldn't have been happier with the total package. This has given us a taste for Africa - now we are ready for more.
Andrew & Pip Stevens
If you want the most sensational experience in Africa let Julia and the staff at Classic Safari Co plan it for you! Their knowledge, expertise and enthusiasm for their job means your every wish will be fulfilled.
Miriam & Joseph Harrison
Classic Safari is the place to go to for "top end" adventure travel.
Ron & Alison Guthrie
Classic Safari Company were brilliant - 10/10
Di & Kingsley Yates
The Classic Safari Company is the best I have dealt with. Extremely knowledgeable & professional, friendly, patient & understanding of first timers to Africa.
Annette Whiley
It certainly was the best trip we have EVER had. The experiences were mind blowing.  We want everyone we know to experience Africa - the animals, the people - magical.
Jo-anne & Dean Mifsud
Would do it all again and not change a moment. Best holiday ever!
The McGowan Tribe
An absolutely fantastic travel company - every one of the many trips they have organised for us over 22 years have been faultless and fabulous.
Judith & Roger Williams

begin your journey now
Take advantage of our highly personalised advice, inspiration and experience