Top End Immersion
This inspirational itinerary offers full immersion into Australia's 'Top End' with half spent under canvas in Kakadu & Arnhem Land learning the ways of the native Aboriginal peoples, and half spent exploring the floodplains of Kakadu from the comfort of a luxurious wilderness lodge.

Beginning in Darwin you'll spend a night at a luxurious waterfront hotel before heading 'out bush' on a privately outfitted tented safari through Kakadu and Arnhem Land. Your days will be determined by the wildlife and nature around you with each itinerary designed to provide the best experience at any one time. Visiting Fogg Dam, which has year-round water coverage and is an important feeding and roosting site, you'll see a astonishing variety of water birds including egrets, herons, ibis, royal spoonbill, cormorants, comb-crested jacanas, Australian darters and Jabiru storks. An airboat through the lilies and reeds of the Mary River Wetlands, and a cruise on the Yellow Water Billabong will undoubtedly provide close crocodile encounters. Throughout you will enjoy the company of a local guide who will weave magic into stories of the land and share their traditional, quiet life with you. This is not a 'canned tourist performance' but an exploration of the land with the people whose ancestors have walked it for millennia.

For the second part of your journey you'll head to Bamurru Plains – a safari style lodge on the edge of Kakadu's Mary River floodplains. Here you can explore the landscape on foot, by 4×4 or by fan boat, then retire to your luxurious accommodation to lounge in the pool and watch the wildlife amble past before dining on a gourmet menu of native ingredients.

This journey perfectly wraps up the comfort and style of  a top notch lodge with the sense of adventure that comes from exploring the land as early civilisations and frontier explorers would have done.
You will love
Authentic Aboriginal culture

Privately outfitted tented safari

The incredible wildlife of Kakadu's wetlands

Small, intimate, exclusive

A rugged bush adventure with added comfort
7 Days of true Top End adventure!
DAY 1 | DARWIN | 1 NIGHT
Arrive in Darwin and overnight in a luxurious waterfront hotel, ready to launch into the Top End early tomorrow morning.
DAY 2 | KAKADU & ARNHEM LAND PRIVATE CAMPING SAFARI | 2 NIGHTS
With your driver, in a private vehicle, head 'out bush' to your tented safari camp – your base for exploring Fogg Dam Reserve, the Mary River Wetlands by airboat, to cruise on Yellow Water Billabong and visit Gunbalanya and Injalak, Maguk Gorge and Gunlom Falls. You will enjoy the company of a local Aboriginal guide who will weave magic into the stories of the land and share their traditional, quiet life with you. This is not a 'canned tourist performance' but an exploration of the land with the people whose ancestors have walked it for millenia. This will be nothing short of outstanding.
DAY 4 | BAMURRU PLAINS | 3 NIGHTS
Transfer to the stunning wilderness lodge, Bamurru Plains, on the edge of the Mary River floodplains.  Explore this region of exceptional natural beauty and unique biodiversity on an airboat skimming through a wilderness of clear water and tall grass, or on a 4WD adventure or walking safari through the savannah searching for wallabies, buffalos and dingos in the company of an expert guide. Return to the lodge each night for gourmet dining and pure bush luxury.
DAY 7 | HOMEWARD BOUND
Today brings your itinerary to a close. Transfer to the airport to begin your journey home or continue your adventure…. ask us for ideas or, for a fitting end to this fabulous adventure, why not add a few nights at impeccable El Questro Homestead – contact us for planning and pricing.
ACCOMMODATION
Our favourites in the Top End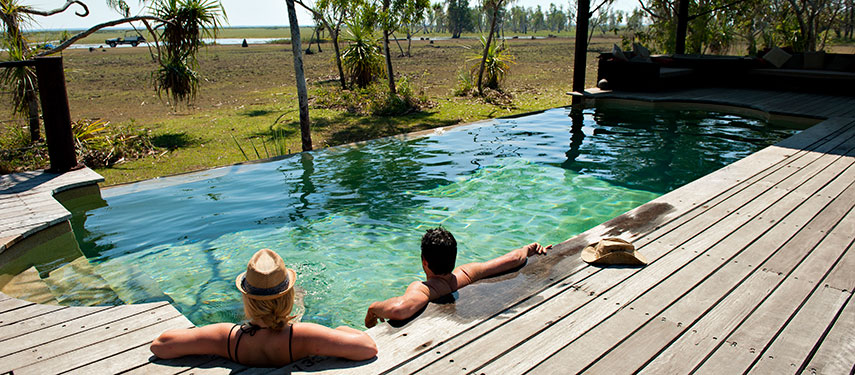 Bamurru Plains – Kakadu NP, Northern Territory
Bamurru Plains exudes 'Wild Bush Luxury' and brings a touch of style to this remote and beautiful wilderness. Nine safari bungalows overlook the floodplains frequented by a myriad of bird and animal life and provide a cool and relaxing retreat - the perfect spot from which to explore the NT's ancient land. Read More
NEED TO KNOW
6 nights / 7 days
6 nights / 7 days
Please enquire for pricing
Please enquire for pricing

START: Darwin, Australia
|
Finish: Darwin, Australia
This itinerary provides the perfect framework for a spectacular journey through Australia's Top End but it is an example only. All journeys will be individually designed and quoted on a case by case basis.
Exellent and wonderful, reaching way above expectations.
Elizabeth Mackintosh
Julia you did a fantastic job - everything was first class. Well organised, efficient and stress free. We all agreed it was the best holiday we've ever had. Cant wait to travel with CSC again.
Milford family
We are so happy we put our trust in CSC, we had an amazing adventure and would recommend them to anyone.
Kim & Brad Balance
The trip exceeded my expectations and was the best family holiday I have ever had. Our children simply loved it and now I know more about African wildlife than they do about our own farm animals.
Rowntree family
Classic Safari are the people who genuinely know other culture and offer incredible insight to perfectly meet your expectations.
Melanie McMillan & Iain Jones
We loved it all. Our son wants to go back tomorrow. We would ALL go back again!
Laurence & Remi Cunningham
An amazing experience - the best family holiday we have ever had. We were extremely impressed by the meticulous attention to our itinerary. I can't speak highly enough of all the elements of this exciting journey!
Sheryl & Robert Taylor
Thank you for making our trip to Africa so spectacular. The attention to detail really made it special. It really was the trip of a lifetime.
Paul Cozzi
Very knowledgeable and patient. Our trip was all that we hoped for. Wonderful!
Jane & Robert Happell
Everything was perfect! Advice and information on destinations and activities hit everything I had hoped to experience. I contacted the Classic Safari Company upon recommendation and have now, in turn, recommended to others.
Tim Bradley
You can't improve on perfection. I had my best birthday and holiday with my family celebrating my 80th birthday in Africa. Everything that Julia organised was perfect and the whole trip was a highlight!
Buckingham Family
The trip of a lifetime, couldn't have dreamt of a better adventure if I tried.
Emma Jeffcoat
Absolutely everything was first class & so well organised.
Simon & Jackie Adams
Classic Safari Company has done it again! A unique experience that ticked all the boxes - wildlife, culture and dining experience. A dream come true!
Ros Wheeler
Their experience and knowledge of Africa is evident and we couldn't have been happier with the total package. This has given us a taste for Africa - now we are ready for more.
Andrew & Pip Stevens
If you want the most sensational experience in Africa let Julia and the staff at Classic Safari Co plan it for you! Their knowledge, expertise and enthusiasm for their job means your every wish will be fulfilled.
Miriam & Joseph Harrison
Classic Safari is the place to go to for "top end" adventure travel.
Ron & Alison Guthrie
Classic Safari Company were brilliant - 10/10
Di & Kingsley Yates
The Classic Safari Company is the best I have dealt with. Extremely knowledgeable & professional, friendly, patient & understanding of first timers to Africa.
Annette Whiley
It certainly was the best trip we have EVER had. The experiences were mind blowing.  We want everyone we know to experience Africa - the animals, the people - magical.
Jo-anne & Dean Mifsud
Would do it all again and not change a moment. Best holiday ever!
The McGowan Tribe
An absolutely fantastic travel company - every one of the many trips they have organised for us over 22 years have been faultless and fabulous.
Judith & Roger Williams

begin your journey now
Take advantage of our highly personalised advice, inspiration and experience