Wine, Wildlife & Walking
This itinerary is a journey of two halves. The first explores the gourmet riches of South Australia from abalone and oysters plucked fresh from the ocean to private wine masterclasses and hatted restaurants. Along the way you'll come face to face with the many species that inhabit this region's unique biospheres and plunge into the ocean with friendly sea lions, all the time enjoying the endless knowledge and fascinating insight of a team of expert guides.

The second part sees you tackling the Flingers Ranges on foot, using the beautifully restored Arkaba Homestead as your base as you hike the 540-million year old landscape. Sleeping under the stars and tucking into gourmet bush tucker you'll gain a whole new appreciation for frontier life whilst never compromising on quality or comfort. Arkaba is a pioneer in conservation and your stay will directly support the restoration of wild habitats and native species. You can also get involved in the conservation efforts if you wish.

This journey is ruggedly luxurious, exquisitely tasty and effortlessly stylish, celebrating the very best of South Australia's beauty and abundance.
You will love
Fresh seafood plucked from the ocean

Up close wildlife encounters

Private wine masterclass

Epic hiking in the Flinders Ranges

The exquisitely & eco-conscious Arkaba Homestead
10 UNFORGETTABLE DAYS
DAY 1-3 | PORT LINCOLN | 2 NIGHTS
Arrive in Adelaide and transfer by air straight to Port Lincoln where you'll check in to a contemporary hotel overlooking Boston Bay.
Spend time exploring the likes of Big Swamp (freshwater) Wetlands, Coffin Bay National Park, Avoid Bay, Mount Dutton Bay Conservation Park, Port Lincoln National Park, and Mikkira Station where a specialist guide will reveal an incredible diversity of environments and which is also home to some of Australia's rare, endangered and vulnerable wildlife; Visit an oyster farm, where you'll learn about, and sample, fresh Pacific and native Agassi Oysters; enjoy a hunt and gather seafood experience, collecting abalone and 4Wdriving through massive sand dunes to cast a fishing line into remote waters.
DAY 4 | ADELAIDE | 1 NIGHT
Take a quick flight back to Adelaide and check into a designer boutique hotel. Enjoy a day to explore Adelaide under your own steam. Specialist optional touring can be arranged for those interested in the city's history or art scene. Enjoy dinner at the hotel's fine dining restaurant which boasts three chef hats, a sensational wine list and local ports.
DAY 5 | BAROSSA VALLEY | 2 NIGHTS
A full day of vineyard visits and wine tastings to include a personalised masterclass, dining room luncheon and private transportation.
DAY 6 - 10 | FLINDERS RANGES | 4 NIGHTS
Transfer to the epic landscape of the Flinders Ranges where you will stay at the beautiful Arkaba Homestead, part of a historic 1950s sheep station which is now leading the way in conservation as a member of 'The Long Run'. Spend one day (or more if you like) relaxing at the Homestead, then undertake the iconic Arkaba Walk – a challenging 3 night/4 day expedition style hike exploring the 540-million year old landscape, sleeping under the stars and tucking into gourmet bush tucker.
DAY 10 | HOMEWARD BOUND
Today your itinerary draws to a close. Make your way home feeling energised and relaxed.

ACCOMMODATION
A handpicked selection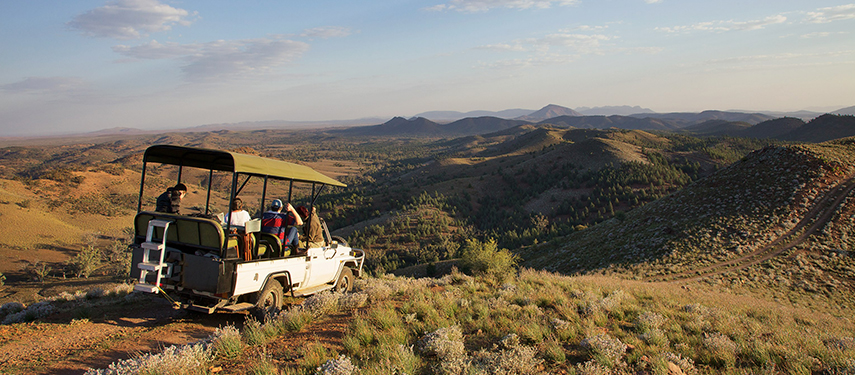 Arkaba Homestead – Flinders Ranges, South Australia
An ancient landscape sculpted by millions of years of geological activity, the Ikara-Flinders Ranges offers some of Australia's most striking outback scenery. Arkaba's former sheep station turned thriving wildlife conservancy offers native wildlife, Adnamatna culture and rugged luxury to just a handful of guests. Read More
NEED TO KNOW
9 nights / 10 days
9 nights / 10 days
Please enquire for pricing
Please enquire for pricing

This itinerary provides the perfect framework for a spectacular journey through South Australia but it is an example only. All journeys will be individually designed and quoted on a case by case basis.
Exellent and wonderful, reaching way above expectations.
Elizabeth Mackintosh
Julia you did a fantastic job - everything was first class. Well organised, efficient and stress free. We all agreed it was the best holiday we've ever had. Cant wait to travel with CSC again.
Milford family
We are so happy we put our trust in CSC, we had an amazing adventure and would recommend them to anyone.
Kim & Brad Balance
The trip exceeded my expectations and was the best family holiday I have ever had. Our children simply loved it and now I know more about African wildlife than they do about our own farm animals.
Rowntree family
Classic Safari are the people who genuinely know other culture and offer incredible insight to perfectly meet your expectations.
Melanie McMillan & Iain Jones
We loved it all. Our son wants to go back tomorrow. We would ALL go back again!
Laurence & Remi Cunningham
An amazing experience - the best family holiday we have ever had. We were extremely impressed by the meticulous attention to our itinerary. I can't speak highly enough of all the elements of this exciting journey!
Sheryl & Robert Taylor
Thank you for making our trip to Africa so spectacular. The attention to detail really made it special. It really was the trip of a lifetime.
Paul Cozzi
Very knowledgeable and patient. Our trip was all that we hoped for. Wonderful!
Jane & Robert Happell
Everything was perfect! Advice and information on destinations and activities hit everything I had hoped to experience. I contacted the Classic Safari Company upon recommendation and have now, in turn, recommended to others.
Tim Bradley
You can't improve on perfection. I had my best birthday and holiday with my family celebrating my 80th birthday in Africa. Everything that Julia organised was perfect and the whole trip was a highlight!
Buckingham Family
The trip of a lifetime, couldn't have dreamt of a better adventure if I tried.
Emma Jeffcoat
Absolutely everything was first class & so well organised.
Simon & Jackie Adams
Classic Safari Company has done it again! A unique experience that ticked all the boxes - wildlife, culture and dining experience. A dream come true!
Ros Wheeler
Their experience and knowledge of Africa is evident and we couldn't have been happier with the total package. This has given us a taste for Africa - now we are ready for more.
Andrew & Pip Stevens
If you want the most sensational experience in Africa let Julia and the staff at Classic Safari Co plan it for you! Their knowledge, expertise and enthusiasm for their job means your every wish will be fulfilled.
Miriam & Joseph Harrison
Classic Safari is the place to go to for "top end" adventure travel.
Ron & Alison Guthrie
Classic Safari Company were brilliant - 10/10
Di & Kingsley Yates
The Classic Safari Company is the best I have dealt with. Extremely knowledgeable & professional, friendly, patient & understanding of first timers to Africa.
Annette Whiley
It certainly was the best trip we have EVER had. The experiences were mind blowing.  We want everyone we know to experience Africa - the animals, the people - magical.
Jo-anne & Dean Mifsud
Would do it all again and not change a moment. Best holiday ever!
The McGowan Tribe
An absolutely fantastic travel company - every one of the many trips they have organised for us over 22 years have been faultless and fabulous.
Judith & Roger Williams

begin your journey now
Take advantage of our highly personalised advice, inspiration and experience