Magical and mysterious
Cast adrift off the coast of East Africa, isolated for some 165 million years of evolution, Madagascar's plants and animals include some of the most peculiar life forms on the planet. The wild National Parks are teeming with dancing lemurs, aye-ayes, fossas (a cat-like predator), rare birds, colourful chameleons, frogs, lizards, butterflies and a host of weird and wonderful insects and plants – a staggering 80% of which are only found on this island. This itinerary is one for wildlife lovers!

Landing in  Antananarivo, you'll spend just one night in the country's capital before being whisked straight off the to the beautiful and unique 'Avenue of Baobabs', the straight on to Andasibe. Guided explorations through Andasibe-Mantadia National Park will showcase colourful orchids, insects and birdlife as well as several lemur species, including Indris, which can only be found here in Andasibe. Night walks through the forests, with the haunting call of the lemurs echoing all around, is a spinetingling experience!

Moving to Vakona Forest you'll come face to face with the habituated lemurs of Lemur Island, before continuing on to the ancient, multi-cultural trading post of Diego Suarez, then on to Montagne d'Ambre, where you'll discover surreal landscapes of dramatic limestone karsts forming shard-like rock formations.

Our final stop will be Nosy Be, where we will sink into desert island life. This is your chance to kick off your shoes and relax to your own rhythm – be that action packed days filled with hiking and watersports, or laid back hours spent stretching out in the sunshine. The marine life is phenomenal and snorkelling among shoals of fish in clear blue waters, diving some of the most spectacular sites world, and swimming with turtles will create memories you will cherish for a lifetime.

Tourist numbers to Madagascar are exceptionally low meaning that large swathes of the country are virtually untrodden and, with minimal infrastructure, it offers a real sense of adventure. With leaping lemurs and a kaleidoscope of fascinating critters just waiting to be discovered, this itinerary is a must for any female nature nut looking to travel in good company!
You will love
Lemurs, chameleons, birds and botany galore!
Bizarre 'Tsingy' landscapes
The women of the Menalamba Association
Beautiful lodge-style accommodation
Forests, beaches, rivers and mangroves
Astonishing snorkelling & diving
Small group of likeminded lady travellers
16 UNFORGETTABLE DAYS
DAY 1 | Antananarivo
Upon arrival into Ivato Airport we will be greeted by an English-speaking guide who will accompany us to our hotel, Pavillon de l'Emyrne, in the upper town of Antananarivo. It's a charming 13-bedroom property housed in a 1930s colonial building which offers peaceful gardens and a convenient location close to some of the nicest restaurants and shops the capital has to offer.
'Tana' – as the locals call it has fascinating traditional architecture and a more Indonesian influence than the rest of Madagascar. Time permitting, and if you have the energy, we can head out to explore, otherwise take some time to rest and recharge after your flight before our great adventure begins tomorrow.
Overnight at Pavillon de L'Emyrne in superior room (Half board)
DAY 2 | Antananarivo – Morondava – Avenue of the Baobabs
A return to the airport and a quick flight this morning delivers us to the laid back seaside town of Morondava. Upon arrival we will meet our guide and transfer to our hotel.
Morondava is situated in the west of the country, on the delta of the river of the same name at the edge of the Mozambique Channel. It was once the centre of the Sakalava kingdom and as such is known for its elaborately sculpted wooden royal tombs, which are frequently decorated with well-executed, often erotic, funerary carvings representing life and fertility.
The afternoon is at leisure or you can choose to have a tour around Morondava, with its scultpede tombs, sandy streets and faded clapboard houses.
In the evening we'll drive about 20km to the iconc Avenue of the Baobabs for a beautiful sunset and fantastic photo opportunities. This is the most iconic view of Madagascar.
Overnight at Palissandre Côte Ouest in standard room (Full board)
DAY 3 | Morondava – Antananarivo
Hopping back on a plane we'll head back to Antananarivo where we will be greeted by our guide and driven to our hotel, the Relais Des Plateaux, which is just a short drive away. This hotel has been selected for its clean, contemporary interiors and ease of logistics, which allows us to minimise travel time. The on site swimming pool and spa provide a lovely retreat for some R&R and we recommend the therapies that use traditional Malagasy remedies.
Overnight at Relais Des Plateaux (Half board)
DAY 4 | Antananarivo – Andasibe
An early breakfast sets us up to drive 4 hours east with our guide to Andasibe National Park. The drive itself is a pleasure as we pass through rural areas of rice fields, past redbrick houses and roadside stalls selling seasonal fruits and vegetables. There is always something to see or someone to wave to, and seeing 'real life' unfold will really deepen our appreciation of the environment and the people who call it home.
We'll check into our hotel, Mantadia Lodge, for lunch then, in the afternoon, visit the Menalamba Women's Association. The Association was created in 2015 by 25 determined women from the Torotorofotsy area to provide alternate income for the women of the region. The women have spent thousands of hours perfecting and selling handicrafts, learning business skills and hosting training courses with professional local artisans. The Association also contributes to the protection of the Torotorofotsy Wetland Ramsar site – an important habitat to many endangered species, which is threatened by rice cultivation—by promoting the sustainable harvesting of natural materials.
Overnight at Mantadia Lodge in a standard rooms (Full board)
DAY 5 | Andasibe (Perinet Reserve)
After breakfast, enjoy a visit to the 810 ha Perinet Reserve with a local guide in search of the famous Indri indri – the largest living lemur. Andasibe is the very best place to spot these characterful creatures.
The eerie, yet beautiful call of the Indri can be heard over a mile from the park and will make your hair stand on end long before you set eyes on them. Seeing them is a charming experience, with their strong leaping legs, black and white teddy bear faces and cheeky antics. You can't help but fall in love!
There are another 11 species of lemur to spot as you walk through the rainforest and you may find a troop of grey bamboo lemurs, common brown lemur, diademed sifaka and the black and white ruffed lemur. Birdwatchers should look out for the velvet asity, the blue coua and the Nuthatch vanga and many more endemic species. Perinet also teems with quirky reptiles, colouful invertebrates, and several of Madagascar's thousand-plus orchid species.
A night walk will be organised in late evening in the forest surrounding the reserve with a local guide. You will be on the look out for a variety of nocturnal lemurs including mouse lemurs, white footed sportive lemur, fat-tailed dwarf lemur, and the woolly lemur.
Overnight at Mantadia Lodge in a standard room (Full board)
DAY 6 | Andasibe – Tana
This morning we'll visit Lemur Island, located in Vakona Forest, which is a project borne from a local lodge, which sees previously captive lemurs released to live freely on the island. Being fully habituated to humans, they often climb down from the trees to enjoy some fruit from your hand or even sit on your head for a photo!
After lunch at Vakona we'll continue on to the Relais des Plateaux hotel near Ivato Airport (5hrs).
Overnight at Relais des Plateaux in a classic room (Half board + lunch at Vakona)
DAY 7 | Antananarivo – Diégo Suarez – Joffreville
A quick flight this morning will whisk us to Diego Suarez, where we will be met by local staff and transferred to Joffreville.
Diego Suarez is well known for its spectacular setting, overlooking a deep harbour. For centuries, it has been considered of great strategic importance and although it has long been relatively isolated from the rest of Madagascar, if have been heavily influenced by the many travellers and traders who have passed through: Arab, Chinese, Indian and Creole culture have all made their mark on this cosmopolitan city.
In Joffreville we will check in to Nature Lodge – a small and tranquil eco-lodge in the midst of turquoise seas, rich forests, immense mountains and beautiful bays with just 12 raised, standalone bungalows.
Enjoy a restful afternoon as you listen to the birdsong and gaze out across stunning views of the Mozambique Channel and Indian Ocean beyond.
Overnight at Nature Lodge (Full board)
DAY 8 | Montagne d'Ambre
This morning we will meet with our local English speaking guide and drive to Montagne d'Ambre National Park for a full day visit. Established by the French in 1958, this volcanic massif and its surrounding forest are now one of the country's best examples of ecotourism, which invites local community participation in planning and management.
DAY 8 | Continued
Thousands of acres of mountain rainforest are home to extraordinary plant and animal life. Huge ferns and strangler figs flourish in the forest, while several indigenous species of lemurs, including Sanford's lemur and the crowned lemur, are also found here. You may even see ring-tailed mongoose and fossa. Magnificent birdlife includes crested ibis, paradise flycatcher, forest rock thrush and ground-rollers.
Two waterfalls – Cascade d'Antomboka and Cascade Sacrée – form focal points, and there are crater lakes (Lac de la Coupe Verte and La Grande Lac), plus viewpoints over the forest and surrounding area from which to soak up the beauty of the forest.
Overnight at Nature Lodge (Full board)
DAY 9 | Montagne d'Ambre –Red Tsingy – Visit of Western part of Ankarana
An early start allows us to reach the famous Red Tsingy by mid morning. 'Tsingy' is the Malagasy name for the country's dramatic limestone karst rock formations, appearing like a forest of often razor-sharp shards. Red Tsingy is unique in being formed of red laterite, which give it its unique colour, and is the result of riverine erosion that sculpted these colorful and phantasmagoric forms, unique in Madagascar.
The balance of the heterogeneous vegetation is incredibly fragile and the entire environment is both phenomenal and staggeringly beautiful.
After lunch at a small hotel run by a local couple we'll head to the Eastern Park of Ankarana, which is home to a 35km long karstic massif made of Tsingy. Canyons, forests, caves and underground rivers crisscross this National Park which is also the home of an endemic flora and fauna. Time permitting we'll stop at a sapphire diggers village where the rice fields create beautiful scenery.
As evening falls we'll check in to Iharana Bush Camp, which we'll call home for the next three nights. The lodge is charming and intimate with just eighteen en suite cottages, or cabanas, built from local materials. The large outdoor terrace, complete with emerald swimming pool, is perfect for soaking up the stunning sunsets over the lake and cliffs of massif Tsingys behind, where you'll often see birds and lemurs.
Overnight at Iharana Bush Camp (Full board)
DAY 10 | Visit of Tsingy d'Iharana
Wake to the sound of birdsong, then take the cannon for a 15 minute crossing from the ecolodge to the Tsingy. During this morning explorations we'll find orchid vanilla, coryphaea, Ebony woods, syphostema macro carpa, Andena, orchids and Aloes de Vera. Arriving at the Cave of Caméléon bats will meet us at the entrance, before we delve inside to discover stalagmites and the stalactites of wonderful colours. Climbing to one of the highest points in the area, we'll enjoy magnificent lookouts and views over the whole of Sirama. When the sky is clear, you can see the archipelago of Mitsio on the horizon.
Overnight at Iharana Bush Camp (Full board)
DAY 11 | Grand Tsingy Ankarana
After breakfast, we will set out with our local English speaking guide for a full day visit to the Park. Ankarana is an island of Tsingy and forest, the massif is penetrated by numerous caves and canyons. Some of the largest caves have collapsed, forming isolated pockets of river-fed forest with their own perfectly protected flora and fauna. The reserve is known for its many lemur species, including crowned and Sanford's brown lemurs and it is also a birdwatcher's paradise with nearly 100 species. If you are lucky you may even spot fossa (a relative of the mongoose, unique to the forests of Madagascar) and tenrec (a type of Madagascan hedgehog).
Our guide will recommend the best trails to follow depending on your preferences and fitness levels, but generally points of interest for all include mighty baobab forests, an abyss where the three rivers of Ankarana disappear, turret shaped rock formations, and Lac Vert, a stunning crater lake.
Overnight at Iharana Bush Camp (Full board)
DAY 12 | Ankarana –Ankify – Nosy Be
Today marks the end of our time on the mainland as we set off for our island retreat. After an early breakfast, we will drive to Ankify (4 hours) to take the boat to Nosy Be.
Nosy Be is Madagascar's most popular beach resort and it has all the ingredients you'd expect: soft white sand, turquoise waters and wonderful seafood.  The name means 'big island' and the climate is nearly perfect all year. The largest town is Hell-Ville named after the French colonial governor of Reunion, Admiral de Hell.
We will check in to Sakatia Lodge, which lives up to every castaway fantasy you can imagine! Eleven rustic bungalows feel as through they have been washed up on the tropical island, clustered in fringe of lemur-filled tropical jungle, which stretches along a gorgeous beach.
Turtles and dolphins can be seen year-round and humpback whales visit annually between mid-August and October. Guests can relax by the poolside or explore and enjoy an array of activities ranging from cycling, fishing and snorkelling.
Unpack, kick off your shoes and settle in – its time to unwind and soak up the paradise of your surroundings.
Overnight at Sakatia Lodge (Full board)
DAYs 13, 14 & 15 | Nosy Be
On Nosy Be here is no fixed itinerary and you are free to fill your days with your own selection of activities—or absolutely nothing at all!
The Nosy Be area is known for its rare marine life and huge variety of hard and soft corals, and the scuba-diving and snorkeling is exquisite. There are more than 20 dive sites that we can visit, ranging from 1 km to 15 km from the Lodge, and most dive sites are suitable for all levels of qualification since the average depth is 18 metres. Those who take the plunge are treated to a vast array of tropical reef fish, brightly colored nudibranchs, rare pygmy pipe horses and immense table top corals. It is also one of the rare centres in the world to offer fluoro night dives, with special torches and mask filters.
Snorkelling can be enjoyed directly off the beach in front of the lodge and you can swim with green turtles in the sanctuary.
Those who prefer to keep their feet on dry land can enjoy customized excursions to neighbouring islands, guided visits to nature reserves (eyes peeled for chameleons!), fishing trips, quad biking expeditions, and boating. Indulging in a massage and relaxing on a lounger is never a bad idea either!
Overnights at Sakatia Lodge (Full board)
DAY 16 | End of itinerary
Today our time in paradise draws a close and we'll enjoy a relaxed morning before taking a boat and road transfer back to Nosy Be airport. International departures are with SA Airlink on Sundays and with Ethiopian Airlines on Tuesdays, Thursdays and Saturdays.
Thank you for joining this adventure and welcome home!
WHERE YOU'LL STAY
A selection of the finest safari camps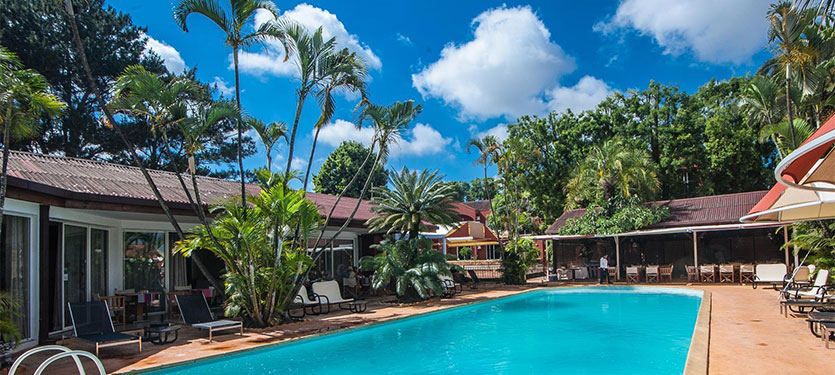 Relais des Plateaux – Antananrivo
Set in a peaceful garden within the city of Antananarivo and close to the airport, Relais des Plateaux is the perfect base pre and post any safari in Madagascar. The hotel wraps around an inner garden where all rooms have views of the garden's Jacaranda trees and delicate palms creating a serene haven from the hustle and bustle of the city. Read More
begin your journey now
Take advantage of our highly personalised advice, inspiration and experience