Giddy Up Makgadikgadi
The remote and mysterious Makgadikgadi Pans are a place to feel gloriously free. Early explorers such as David Livingstone and Frederick Courtney Selous ventured this way and the extraordinary landscape, with the Pans disappearing into the distant heat haze, has barely changed since.

Legendary horseback safari guide David Foot has teamed up with Uncharted Africa co. to create a variety of horse-riding safaris through this mysterious landscape. Three, five and seven night itineraries are available in both the dry and the green season.

This five night example ride follows the meandering shoreline of the Makgadikgadi Salt Pans' ancient lake bed and combines three nights at Camp Kalahari, a delightfully relaxed traditional tented safari camp on one of the palm thronged islands, with two nights fly camping out on the Pans under the stars. You will interact with the fascinating Zu/'Hoasi Bushmen and ride amongst desert adapted wildlife including meerkat clans, brown hyenas, and aardwolves. At the height of the migration season, the grasslands are awash with zebra, wildebeest, hartebeest, and ostrich – and of course the attendant predators!

This special and relatively unknown area of Botswana is the perfect ground for exhilarating riding though a timeless, surreal and stunningly beautiful landscape.
You will love
Surreal scenery with palm tree islands & salt pans
Bushmen cultural experience
Uber stylish camps
Deserted adapted wildlife
Exhilarating gallops across the pans
6 UNFORGETTABLE DAYS
This itinerary is based on the 5-day Kalahari Ride during dry season. Other available adventures include shorter/longer rides, alternative accommodation and green season departures. Please enquire.
DAY 1 | CAMP KALAHARI | 2 NIGHTS
On arrival by air or road, you will be greeted by your host and guide David Foot and settled into Camp Kalahari on the edge of the Makgadikgadi Salt Pans. Head off after tea in the beautiful afternoon light, for an introductory ride – primarily to match horse and rider but also your first opportunity to experience the beauty of this magical area.
DAY 2 | CAMP KALAHARI
Up with the dawn, a light breakfast is followed by a long morning ride through the "land of a thousand islands". Stranded on the ancient lakebed, these sand dunes covered in palm trees are one of the most beautiful and fascinating areas of the Botswana wilderness. Return to the camp for lunch and rest through the heat of the day or cool off in the swimming pool. After tea, head back out on horseback, then enjoy a night game drive to see the Kalahari's elusive nocturnal creatures.
DAY 3 | XAU XAI FLY CAMP | 1 NIGHT
Today is a long ride eastwards to Xau Xai Fly Camp away from the edge of the pans and through the mopane and acacia woodlands interspersed with short grasslands allowing for lovely long canters. By lunchtime reach the famous Green's Baobab visited by David Livingstone and scarred with the initials of early travellers. Siesta through the midday heat then continue to arrive at Xau Xai Fly Camp in time to enjoy a long cool drink as you watch the sunset. Dine out under the magnificent Kalahari sky. The camp will be made up of comfortable dome tents, a central mess tent, loos and bucket showers.
DAY 4 | UNDER THE STARS | 1 NIGHT
Head off on foot in search of the Kalahari's habituated meerkats. Remember, they are not tame – just used to a handful of human's non-threatening presence. As the day warms up, mount up and ride among resident herds of zebra and large congregations of ostriches. Set off in the late afternoon to a ride straight out into the middle of the ancient lakebed where there is not one visual landmark to be seen. Here you will sleep on a simple bedroll under the silence of a star studded sky!
DAY 5 | CAMP KALAHARI | 1 NIGHT
As the dawn greets this extraordinary landscape head directly across the pans to Camp Kalahari. Out here the horses love the space and the salt crust and despite the distance travelled they will be raring to go. Afternoon at leisure in at Camp Kalahari.
DAY 6 | END OF SAFARI
After breakfast, drive through the bush to the traditionally built Bushmen village where the community gathers during the day. A strong relationship with the Zu/'hoasi people of the Western Kalahari developed over many years presents the opportunity to understand how they have survived in this harshest of environments, using their vast and ancient knowledge of plants, animal behaviour and survival skills. Enjoy a relaxed lunch at Camp Kalahari before you continue with your onward travels or begin your journey home.
Please Note:
This itinerary is an outline of the activities offered. The order in which the activities are experienced may vary depending on weather and/or other factors. Please note that guests with an early morning departure may not be able to do the final morning's activity.

ACCOMMODATION
Choose between Camp Kalahari or Jack's Camp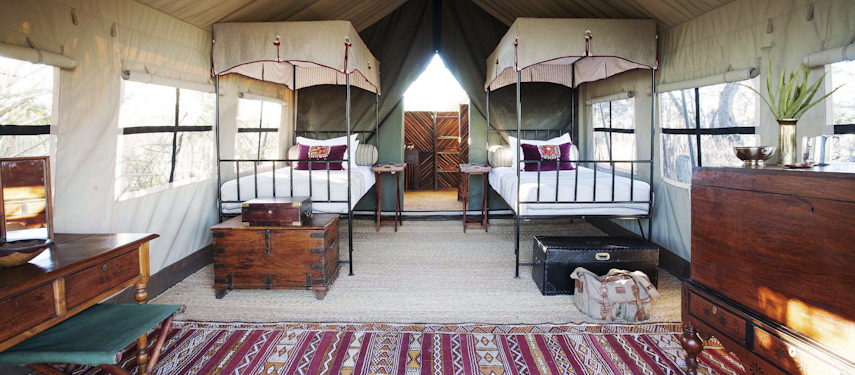 Camp Kalahari – Makgadikgadi Pans
Camp Kalahari lies nestled amongst the acacias on the edge of a vast salt pan, adjacent to the Makgadikgadi National Park. Operated by the same family for five generations, it offers a return to the traditional safari style of the original explorers, allowing guests to experience the Makgadikgadi in an affordable yet authentic way. Read More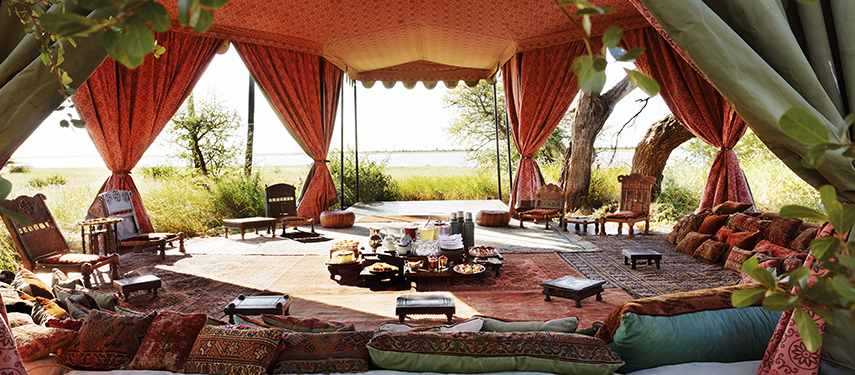 Jack's Camp – Makgadikgadi Pans
Jack's Camp is located on a private concession amid the desert ecosystems and moon-like landscapes of Makgadikgadi Pans, Botswana. Sited on the original spot chosen by Jack Bousfield in the 1960's, it has ten exquisite tents, a library and a giant canvas pavilion that houses its own Natural History Museum. Read More
NEED TO KNOW
5 nights / 6 days
5 nights / 6 days
Please enquire for pricing
Please enquire for pricing

Minimum 2 | maximum 8 riders.
Larger groups on request.
3, 5 or 7 night itineraries available.
Private, tailormade departures happily arranged.
Opportunity to stay at either Camp Kalahari or Jack's Camp.
Rides operate year-round with both green season & dry season safaris available. Please enquire so we can advise re: seasonal weather, water levels and game.
Exellent and wonderful, reaching way above expectations.
Elizabeth Mackintosh
Julia you did a fantastic job - everything was first class. Well organised, efficient and stress free. We all agreed it was the best holiday we've ever had. Cant wait to travel with CSC again.
Milford family
We are so happy we put our trust in CSC, we had an amazing adventure and would recommend them to anyone.
Kim & Brad Balance
The trip exceeded my expectations and was the best family holiday I have ever had. Our children simply loved it and now I know more about African wildlife than they do about our own farm animals.
Rowntree family
Classic Safari are the people who genuinely know other culture and offer incredible insight to perfectly meet your expectations.
Melanie McMillan & Iain Jones
We loved it all. Our son wants to go back tomorrow. We would ALL go back again!
Laurence & Remi Cunningham
An amazing experience - the best family holiday we have ever had. We were extremely impressed by the meticulous attention to our itinerary. I can't speak highly enough of all the elements of this exciting journey!
Sheryl & Robert Taylor
Thank you for making our trip to Africa so spectacular. The attention to detail really made it special. It really was the trip of a lifetime.
Paul Cozzi
Very knowledgeable and patient. Our trip was all that we hoped for. Wonderful!
Jane & Robert Happell
Everything was perfect! Advice and information on destinations and activities hit everything I had hoped to experience. I contacted the Classic Safari Company upon recommendation and have now, in turn, recommended to others.
Tim Bradley
You can't improve on perfection. I had my best birthday and holiday with my family celebrating my 80th birthday in Africa. Everything that Julia organised was perfect and the whole trip was a highlight!
Buckingham Family
The trip of a lifetime, couldn't have dreamt of a better adventure if I tried.
Emma Jeffcoat
Absolutely everything was first class & so well organised.
Simon & Jackie Adams
Classic Safari Company has done it again! A unique experience that ticked all the boxes - wildlife, culture and dining experience. A dream come true!
Ros Wheeler
Their experience and knowledge of Africa is evident and we couldn't have been happier with the total package. This has given us a taste for Africa - now we are ready for more.
Andrew & Pip Stevens
If you want the most sensational experience in Africa let Julia and the staff at Classic Safari Co plan it for you! Their knowledge, expertise and enthusiasm for their job means your every wish will be fulfilled.
Miriam & Joseph Harrison
Classic Safari is the place to go to for "top end" adventure travel.
Ron & Alison Guthrie
Classic Safari Company were brilliant - 10/10
Di & Kingsley Yates
The Classic Safari Company is the best I have dealt with. Extremely knowledgeable & professional, friendly, patient & understanding of first timers to Africa.
Annette Whiley
It certainly was the best trip we have EVER had. The experiences were mind blowing.  We want everyone we know to experience Africa - the animals, the people - magical.
Jo-anne & Dean Mifsud
Would do it all again and not change a moment. Best holiday ever!
The McGowan Tribe
An absolutely fantastic travel company - every one of the many trips they have organised for us over 22 years have been faultless and fabulous.
Judith & Roger Williams

begin your journey now
Take advantage of our highly personalised advice, inspiration and experience