Luxury Rail Journey
Pretoria to Cape Town over 3 days. This spectacular train journey across South Africa travels through the grasslands of the Highveld, the quiet barrenness of the Great Karoo, spectacular mountain scenery in the Hex River Valley and the beautiful Cape Winelands region. The journey ends in the iconic city of Cape Town, cradled by Table Mountain, the Waterfront, and the South Atlantic Ocean.

Highlights on the journey include a visit to the historic village of Matjiesfontein – a Victorian village founded in 1890, and the Kimberley to visit the Diamond Mine Museum and Big Hole; the world's largest man-made excavation.
You will love
Discreet and friendly service
Top cuisine with South African wines
Vintage wood panelled coaches
Daily off train excursions
Spectacular scenery
Journey ends in iconic Cape Town
3 UNFORGETTABLE DAYS
DAY 1 | START PRETORIA, OVERNIGHT ON BOARD
The train departs the Rovos Rail Station in Pretoria at 11am and travels across the goldfields of the Witwatersrand. Lunch is served in the impeccable dining cars at 13h00. Later, afternoon tea and dinner is served as the train continues toward Kingswood. Overnight on board.
DAY 2 | KIMBERLEY, OVERNIGHT ON BOARD
After breakfast, enjoy a tour of Kimberley's Diamond Mine Museum and the Big Hole. Capital of the Northern Cape, Kimberley is well-known for the discovery of diamonds that led to its establishment in 1871. Lunch is then served in the dining cars. Travel through the Karoo, a vast semi-desert region that was once an enormous inland sea. Over millions of years, volcanic matter was ground down and deposited as silt upon the seabed to form what geologists call the Karoo system. Later, tea is served in the lounge and observation cars, followed by dinner en route to Gemsbok. Overnight on board.
DAY 3 | MATJIESFONTEIN - ARRIVE CAPE TOWN
During breakfast there is a chance to disembark the train at Whitehill Siding and walk the 5km into Matjiesfontein. A member of staff will accompany the group. Otherwise, disembark at Matjiesfontein for an opportunity to stroll through the historic village. Of special interest is the museum on the platform and a collection of historic cars and railway carriages to the right of the Lord Milner Hotel. About an hour after Matjiesfontein, the train arrives at the first of four tunnels on the pass. The first tunnel is 13.5km long. Lunch is served in the dining cars. The train climbs ±750m down the escarpment through the Hex River Valley. Tea is served in the lounge and observation cars before the train arrives at Cape Town Station around 18h00.
OTHER TRAIN JOURNEYS
This itinerary is just one of the many train journeys offered by Rovos Rail, some as long as 15 days, travelling from Cape Town in South Africa to Dar es Salaam in Tanzania, visiting Botswana, Zimbabwe and Zambia en route. If luxury train travel is your passion, call us for many other exciting train journey options.

WHERE YOU'LL STAY
A selection of the finest safari camps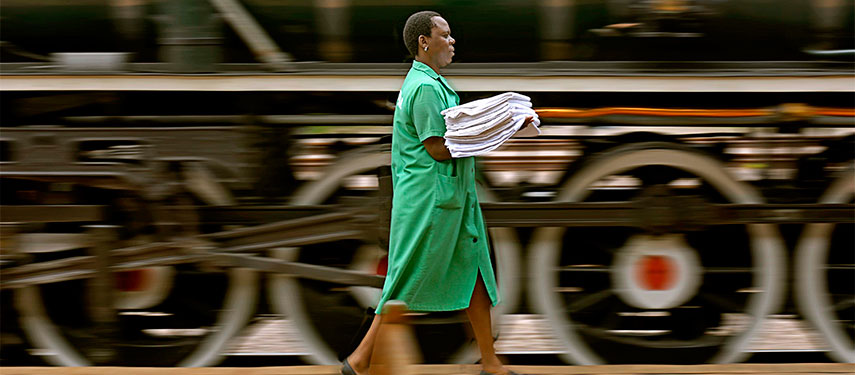 Rovos Rail – Africa-Wide
There is no finer way to see Africa than on board a Rovos Rail train locomotive, known as 'the most luxurious train in the world'. This is surely the most civilised and relaxing way to embark upon some of the world's most epic long distance journeys. Read More

begin your journey now
Take advantage of our highly personalised advice, inspiration and experience