The Arkaba Walk
The Arkaba Walk is redefining the classic Aussie 'bush walk', adding luxury touches to a five-day private hike in the Flinders Ranges. Traversing an ancient landscape and private wildlife conservancy, you'll be immersed in the story of the land.

Your walk includes two nights at the 1850's Arkaba Homestead with its five en suite bedrooms tastefully restored to reflect the property's pioneering history and understated Australian style, plus two night's camping in deluxe swags on their famous star beds, each located in some of the most scenic spots on Arkaba. Each camp has five permanent swag decks with one side open to the views over the countryside.  Your bed is a 'swag' – the bedding of choice for generations of Australian pioneers, a canvas envelope that is comfy and protects you from the elements.  Inside each swag will be an all seasons sleeping bag with liner.  Each campsite has two waterless composting toilets and bush showers with spectacular views.

A suitable hydration daypack (with 2.5L water bladder) will also be provided, with plenty of room for your lunch, camera, and items of a personal nature.  A support vehicle will transfer the remainder of your luggage between camps each day, leaving you free to explore Arkaba with only what you need for the day.

The Arkaba Walk is a 'moderate to challenging' walk. You will cover between 6 to 15km per day over various terrains, along creeks beds, flat plains and some steep, hilly ground with mountain scrambling over rocky surfaces. You can be walking for up to 7 hours per day with plenty of ascents and descents. Whilst you do not need previous trekking experience a good level of fitness is required.


You will love
One of the great walks of Australia
Outback Star Beds
Gourmet cuisine
Spectacular landscapes
Birds and wildlife
Exceptional guiding
4 UNFORGETTABLE DAYS
Please note:
This example itinerary is based on the 5D|4N walking itinerary in the Flinders ranges. Please contact us for further details and set departure dates.
DAY 1 | ARKABA HOMESTEAD | 1 NIGHT
A guide will greet you in the arrivals hall at Adelaide domestic airport, or in the lobby of your city located hotel between 9:50 and 10am before hitting the open road to Arkaba.
Heading north from Adelaide, you will bypass the small country towns of Virgina, Two Wells and Dublin. After a quick break for lunch on the banks of Bumbunga Lake, your journey will take you past the infamous Snowtown, Redhill, Port Pirie and Port Germein before another short stop in the historic railway town of Quorn. From here, Arkaba is about an hour away, and you will arrive to Arkaba Homestead by 5pm in time to freshen up before your guided lay of the land experience and a three course meal hosted by one of Arkaba's field guides.
DAY 2 | BLACK GAP CAMP | 1 NIGHT
After breakfast a short 35-minute drive will take you to the starting point. The distance today is approximately 13km through the flat interior of Wilpena Pound and a gradual 1.5km ascent to the rim of the Pound, climbing 200 metres ahead of a steeper descent of about 1km into Arkaba wilderness and Black's Gap Signature Swag Camp.
Expect to walk into camp at around 5:30pm in time to settle in, take a hot bush shower (with a view!) and enjoy a pre-dinner drink and canapes as the sun sinks behind the ancient ramparts of Wilpena Pound.
Your field guide and camp assistant will prepare a three-course evening feast, taken al fresco under the evening sky and accompanied by local South Australian wine. Enjoy some interesting tales around your bush TV, the good old campfire, and retire to your swag bed for an unforgettable night under a canopy of stars.
DAY 3 | ELDER CAMP | 1 NIGHT
Today is arguably the most scenic, as you move out from Black's Gap into the rolling hills more suited to the sheep farming activities previously carried out across the property.
The first 2km will follow the famous Heysen Trail through Black's Gap itself revealing a fascinating insight into the pastoral history of the region, pausing at old shepherds' camps and mustering yards, with Red and Grey Kangaroos and Emus all regular sightings.
The last leg of the day will take you slightly west into rolling hills culminating in a sharp 1km climb of about 100m in elevation to the summit of the Red Range, where you'll be rewarded with panoramic views of the IkaraFlinders Ranges before moving on to the foot of Elder Range.
Your luggage will have been transported by vehicle to your next signature swag camp, Elder Camp. A hot bush shower, dinner and another special night under the great Australian sky awaits.
DAY 4 | ARKABA HOMESTEAD | 1 NIGHT
Wake to the glorious morning light creeping up the Elder Range. As you move south east the first few kilometers will be amongst hill country at the foot of the Elder Range. Walking through Mallee and native pine forests, cross Slaty Creek which can hold precious water well into the dry season, sometimes even offering the opportunity to drink from clear, ice cold springs.
Ascending the Red Range and down onto the banks of the Arkaba Creek with plenty of opportunities to spot birds that commune in the canopy, including galahs, parrots and honeyeater species. The pace is unhurried with time to stop and breathe in the outback, view wildlife and take photographs.
Arrive Arkaba Homestead mid afternoon and relax or perhaps partake in a massage or a scenic flight over the ancient ramparts of Wilpena Pound. This evening enjoy a hosted feast and guided viewing of the Southern Hemisphere's clearest skies silhouetted against mountains half a billion(!) years in the making.
DAY 5 | END OF ITINERARY
Depart Arkaba Homestead after breakfast for a scenic transfer through gorgeous outback towns with wine tasting and lunch in the Clare Valley. Arrive Adelaide Airport or hotel at 5:00pm to meet onward flights departing from 6:30pm.

ACCOMMODATION
A handpicked selection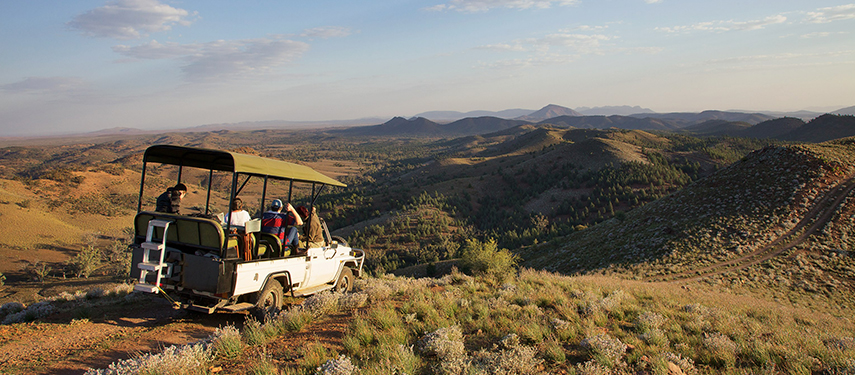 Arkaba Homestead – Flinders Ranges, South Australia
An ancient landscape sculpted by millions of years of geological activity, the Ikara-Flinders Ranges offers some of Australia's most striking outback scenery. Arkaba's former sheep station turned thriving wildlife conservancy offers native wildlife, Adnamatna culture and rugged luxury to just a handful of guests. Read More
NEED TO KNOW
4 nights / 5 days
4 nights / 5 days
AUD $2,900 per person Twin Share
AUD $2,900 per person Twin Share

START: Adelaide, Australia
|
Finish: Adelaide, Australia
AUD $2,900
per person
Twin Share
Inclusions
Two night's camping in deluxe swags on our signature star beds

One night in the Arkaba Homestead

All gourmet meals including trail snacks
All drinks including premium South Australian wine
Support vehicle for transporting your luggage between camps
Hydration backpack for your use with room for your lunch, camera and items of a personal nature
Sock protectors
Light Wild Rambler walking poles
Toiletries
National Park Fees
Conservation Levy
Laundry in camp
government taxes
Exclusions
Domestic flights
Travel Insurance
Extra activities
Items of a personal nature
Minimum – 2 walkers (to confirm the departure)
Maximum – 10 walker per departure
---
Operates mid March-mid October
Weekly departures on Wednesdays only
Small groups between 4 – 10 people
Up to two solo walkers will be accommodated on each trip.
A one way private charter flight from Adelaide on arrival day can be pre-arranged
Exellent and wonderful, reaching way above expectations.
Elizabeth Mackintosh
Julia you did a fantastic job - everything was first class. Well organised, efficient and stress free. We all agreed it was the best holiday we've ever had. Cant wait to travel with CSC again.
Milford family
We are so happy we put our trust in CSC, we had an amazing adventure and would recommend them to anyone.
Kim & Brad Balance
The trip exceeded my expectations and was the best family holiday I have ever had. Our children simply loved it and now I know more about African wildlife than they do about our own farm animals.
Rowntree family
Classic Safari are the people who genuinely know other culture and offer incredible insight to perfectly meet your expectations.
Melanie McMillan & Iain Jones
We loved it all. Our son wants to go back tomorrow. We would ALL go back again!
Laurence & Remi Cunningham
An amazing experience - the best family holiday we have ever had. We were extremely impressed by the meticulous attention to our itinerary. I can't speak highly enough of all the elements of this exciting journey!
Sheryl & Robert Taylor
Thank you for making our trip to Africa so spectacular. The attention to detail really made it special. It really was the trip of a lifetime.
Paul Cozzi
Very knowledgeable and patient. Our trip was all that we hoped for. Wonderful!
Jane & Robert Happell
Everything was perfect! Advice and information on destinations and activities hit everything I had hoped to experience. I contacted the Classic Safari Company upon recommendation and have now, in turn, recommended to others.
Tim Bradley
You can't improve on perfection. I had my best birthday and holiday with my family celebrating my 80th birthday in Africa. Everything that Julia organised was perfect and the whole trip was a highlight!
Buckingham Family
The trip of a lifetime, couldn't have dreamt of a better adventure if I tried.
Emma Jeffcoat
Absolutely everything was first class & so well organised.
Simon & Jackie Adams
Classic Safari Company has done it again! A unique experience that ticked all the boxes - wildlife, culture and dining experience. A dream come true!
Ros Wheeler
Their experience and knowledge of Africa is evident and we couldn't have been happier with the total package. This has given us a taste for Africa - now we are ready for more.
Andrew & Pip Stevens
If you want the most sensational experience in Africa let Julia and the staff at Classic Safari Co plan it for you! Their knowledge, expertise and enthusiasm for their job means your every wish will be fulfilled.
Miriam & Joseph Harrison
Classic Safari is the place to go to for "top end" adventure travel.
Ron & Alison Guthrie
Classic Safari Company were brilliant - 10/10
Di & Kingsley Yates
The Classic Safari Company is the best I have dealt with. Extremely knowledgeable & professional, friendly, patient & understanding of first timers to Africa.
Annette Whiley
It certainly was the best trip we have EVER had. The experiences were mind blowing.  We want everyone we know to experience Africa - the animals, the people - magical.
Jo-anne & Dean Mifsud
Would do it all again and not change a moment. Best holiday ever!
The McGowan Tribe
An absolutely fantastic travel company - every one of the many trips they have organised for us over 22 years have been faultless and fabulous.
Judith & Roger Williams

begin your journey now
Take advantage of our highly personalised advice, inspiration and experience