DISPATCHES FROM EXOTIC LANDS
A Serengeti tour is top of most people's list – and for good reason. The vast grassy open plains are broken only by the odd parasol shaped acacia trees that are synonymous with safaris in Africa. Aside from endless natural beauty, a carefully curated Serengeti safari tour can also offer front row seats to the great wildebeest migration, which eats its way through this giant eco-system, followed hotly by the inevitable predator species. When embarking on a Serengeti safari tour, you are no longer a spectator, but a participant, as you immerse into the wilderness.
The Classic Safari Company can curate a tailor-made Serengeti safari tour taking you on a journey of natural wonders that perfectly suits your style and budget. Usually we would recommend combing a tailor made Serengeti safari tour with wider travel across Tanzania, or further afield in East Africa, taking in all the breathtaking scenes, culture and wildlife that this fascinating region has to offer.
Here are 10 reasons a Serengeti tour should be on your bucket list:
1. Sleep in luxurious safari lodges and stylish tented camps
The ambience of the Serengeti is one of modest luxury and easy comfort – a home away from home where you can unpack, relax, and soak up the tranquillity of your natural surroundings. We partner with safari lodges that provide the perfect balance between colonial camping, and elegant style. Not sure what your style might be? Take a look at our blog – 'Canvas, Colonial or Contemporary – what's your safari style?'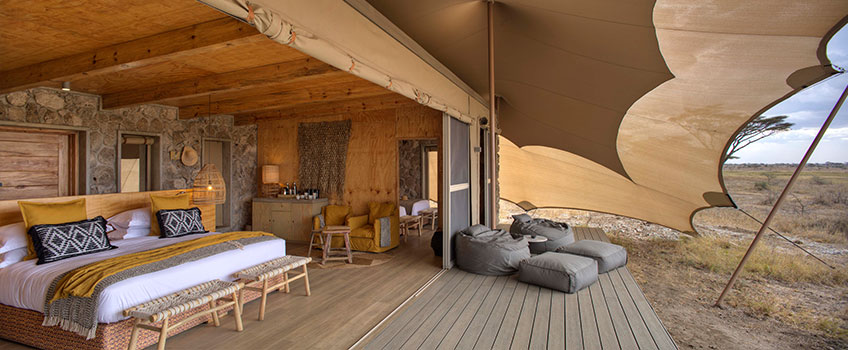 2. Witness the Great Migration
The main event to witness during your Serengeti tour, is the Great Migration,  Africa's second longest land migration, where around 1.5 million wildebeest, 500,000 Thomson's gazelles and 250,000 zebras travel in an endless cycle around the Serengeti-Mara ecosystem.  The most popular time to see the herds is when they cross the Mara and Grumeti rivers from June to October, however, another wonderful time to visit is January to March, when the wildebeest are calving in the south. Read our guide on seasons in the Serengeti here.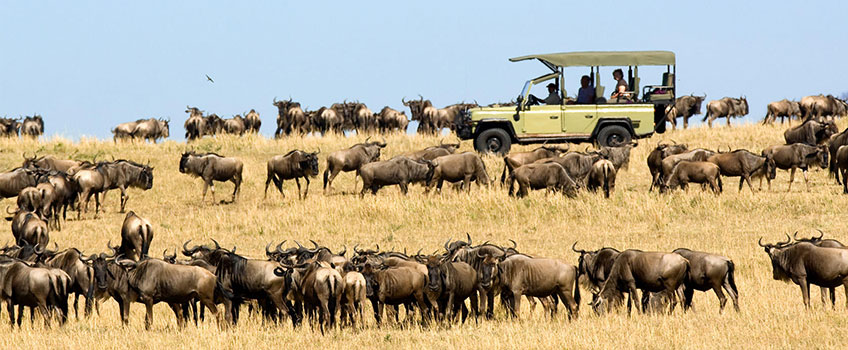 3. Experience incredible game viewing all year round
Outside of migration madness, the Serengeti supports so much resident wildlife that you are guaranteed great game viewing at any time of year. On the vast Serengeti plains, you can catch a glimpse of cheetahs scanning from the top of a termite mound, lions beginning their prowl at sundown and herds of browsing elephants moving from tree to tree.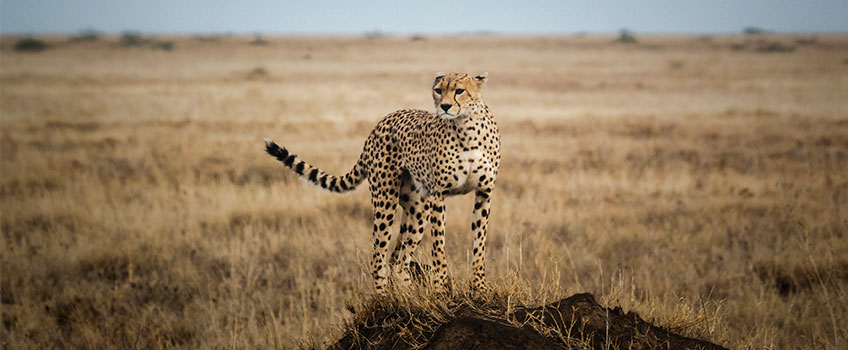 4. Go horseriding and gallop with the game
Experiencing the spectacular unfenced and expansive wilderness eco-system on the back of a horse is a journey like no other and one you will never ever forget. On horseback you are one with the great herds and your Serengeti tour is elevated to the next level! Browse our collection of horseback safaris for inspiration.
5. Exclusive guided nature walks on private land
Soak up the sounds, smells, and the colours of the bush in a way that a game drive does not. The Serengeti is home to some of the best African safari tour guides in the business. Your private Serengeti tour guide will take you across exclusive land to view some of the most exquisite sites. Your guide will teach your how to track wildlife species by following footprints along different trails. Guided nature walks also give you a closer encounter with the wilderness around Serengeti National Park.
6. Soar over the plains at sunrise in a hot air balloon Serengeti safari tour.
Consider starting your day floating along the course of the Serengeti in a Hot Air Balloon Serengeti Tour as the sun rises. Imagine floating above the Serengeti plains, skimming treetops in complete silence and bliss, whilst seeing wildlife on the ground below. Hot air balloon safaris are an essential experience for travellers to Serengeti National Park. We encourage you to pack layers, as it can be chilly in the air. Hot-air balloon excursions are also weather dependent. Balloons cannot go up if it is too windy or rainy.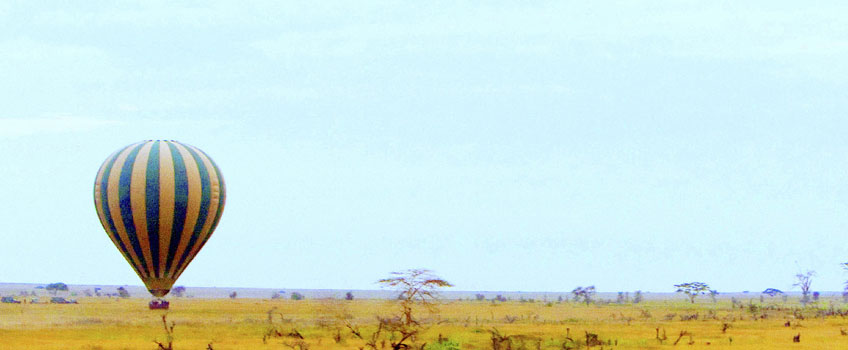 7. Move with the migration on a mobile safari
Contrary to popular belief there is no 'best time' to see the migration – you just have to be in the right place at the right time! A mobile safari such a Alex Walkers Serengeti Safari Tour tracks the movement of wildlife, moving with the seasons to ensure you are always perfectly placed to see the biggest herds and the most exciting action. The outfit blends the rugged history of safari with effortless style, unobtrusive luxury, and fantastic guiding
8. Sleep under the stars
Drift off to sleep to the exquisite sounds of wildlife under an ocean of stars after an unforgettable day on your Serengeti tour. As you fall asleep not only will you witness to spectacular stars in the sky, but you will also be serenaded by the sounds of crickets chirruping, snorts of nearby elephant and faint roars of a lion in the distance. Reset your body clock, fall asleep under Orion's belt and wake refreshed for another day out in the wilderness.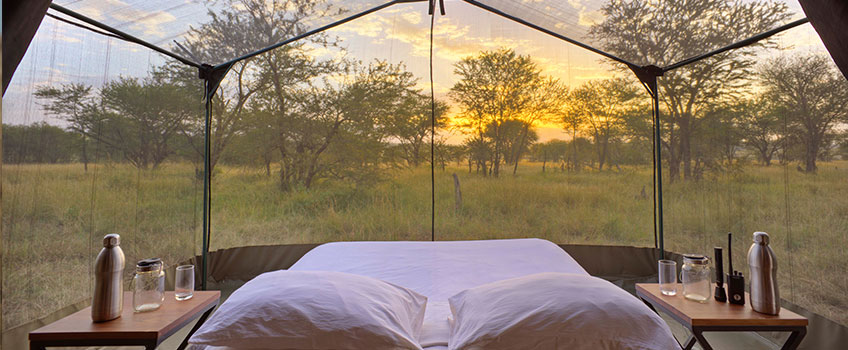 9. Rejuvenating spa experience
After the wild thrill of an early morning game drive, take time out to pamper yourself with a relaxing spa experience. Whether you are enjoying a massage in the comfort of your own room, or at a dedicated spa, you will be looked after by professionally trained therapists using beautiful natural products.
10. Explore the diverse cultures
No visit to East Africa is complete without exploring the culture and traditions of the people of this region and we ensure that all cultural experiences are wholly authentic thanks to long standing relationships with local communities. A stay at any of our camp sites or lodges opens the door to a rich world of the iconic Maasai people who are so synonymous with the Serengeti.

The Classic Safari Company partner with a vast range of privately owned nature conservancies, which allow you to stay in the most exclusive areas of the Serengeti. Although accommodation options come in every price range – the exquisite sound of lions roaring at night is complimentary. If you are seeking out of this world encounters, and dream of going on a Serengeti safari tour, we can help you curate the perfect travel itinerary. Get in touch with us today.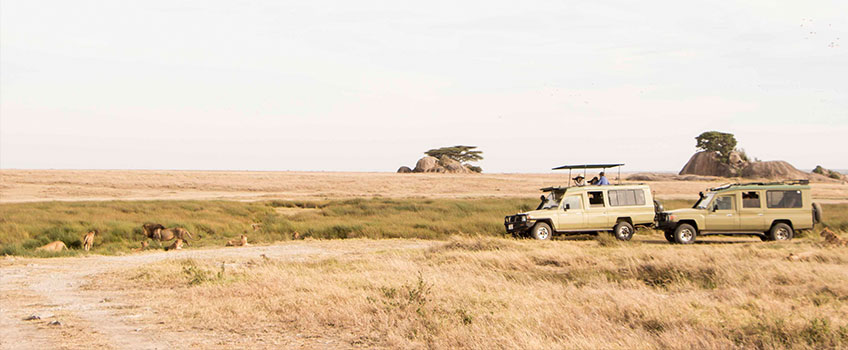 OLDER POSTS

27/11/2023
Did you receive our latest newsletter in the post? It contains all…