DISPATCHES FROM EXOTIC LANDS
Tourism in Colombia is relatively new, but growing, and the result is a destination that welcomes visitors with open arms, packed with new and exciting discoveries. It is often said that in Colombia you get five destinations for the price of one: the Pacific, the Andes, the Amazon, the eastern plains and the Caribbean. With such natural diversity, plus lost civilisations and pulsating modern cities all jostling for your attention, it's little wonder it has been tipped as the place to visit in 2020.
Below we've outlined the country's key destinations, including both the iconic sites and the lesser-known experiences not yet on the tourism radar. We've also given you two inspiration itineraries, designed to show how the destinations could be woven together for a tailor made holiday.
Colombia is a star on the rise. The word is out, but the crowds haven't arrived yet. The message? Go now, before everyone else does!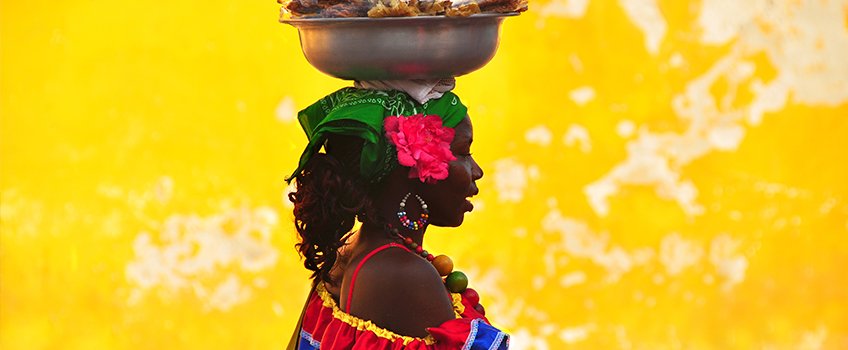 WHERE TO GO
Cartagena
Cartegena is perhaps Colombia's most picturesque, and certainly its most photographed city. Cobblestone streets are lined with brightly-coloured colonial mansions and impressive fortifications that once protected the historic centre from pirates still stand tall, providing beautiful views across the Caribbean. A colonial history spanning several hundred years has created a profusion of Spanish colonial architecture alongside African culture and Amerindian heritage. Salsa dancing is the norm, film and literature festivals perpetually grace the calendar and music drifts from the open windows of grand buildings, many of which now house exquisite restaurants, hotels and boutiques. There's no doubt about it. Cartagena lives up to the hype.
Stay: Hotel Casa San Agustín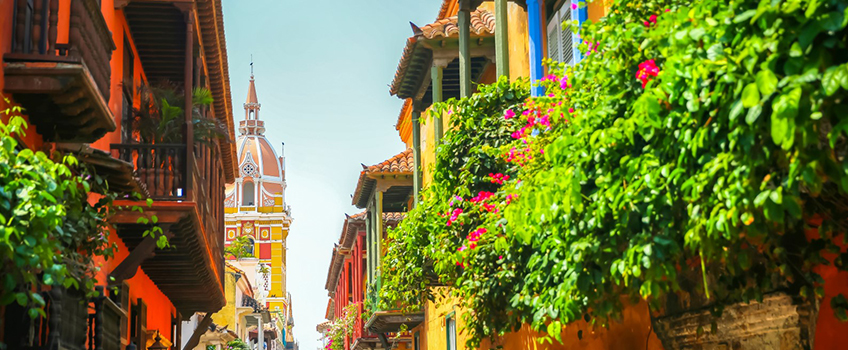 Bogotá
Bogotá is renowned for the remarkable preservation of its colonial and baroque architecture, but it was also named 'South America's next capital of cool' by Forbes, thanks to its sophisticated hotels, chic designer boutiques and cutting edge gastronomy. Internationally trained young chefs are flocking to the country and turning the food scene on its head. Here is a city that champions change and pulses with energy and optimism.
Stay: Four Seasons Casa Medina or B.O.G.
Coffee Region
Spanning three states high in the western Andes, this region's altitude, climatic conditions and fertile terrain produce what many consider to be the best coffee in the world. Visitors can a while away a few days horse-riding and hiking through verdant plantations, exploring the small towns of Salento and Filandia, which have preserved their traditions and brightly coloured houses since the late 1840s, and of course tasting the fine local produce. Traditional haciendas and characterful guesthouses provide the perfect base from which to soak up the goodness of rural life.
Stay: Hacienda Bambusa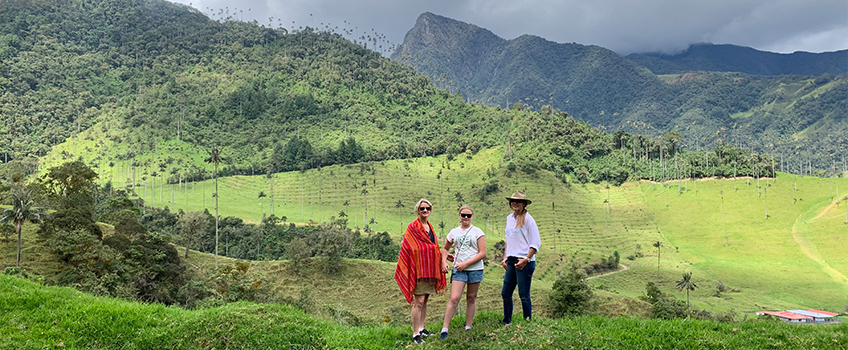 Las Llanos
Los Llanos is a 550,000-sq-km region of flooded grassland and savannah biome that is often dubbed the 'Serengeti of South America'. Historically it was rarely, if ever, visited by tourists due to its inaccessibility and lack of lodging options, but all that changed with the opening of Corocora Camp.
Corocora Camp is located in a 9,000-hectare private reserve run partly as a cattle ranch by Llaneros, some the last authentic cowboys in the Americas, famous for their bare feet. The rest is dedicated to conservation and species including capybaras, jaguars and caiman can all be spotted. Days are spent horse riding across the plains, exploring by 4×4, wrangling cattle with the cowboys and partaking in conservation programmes. As dusk falls guests and cowboys alike gather round the campfire to exchange stories to the soft sound of a guitar.
Los Llanos is reached via the small town of Yopal (accessed via direct flight from Bogota), where coincidentally there is a fabulous hat shop perfect for kitting yourself out ahead of your adventure!
Stay: Corocora Camp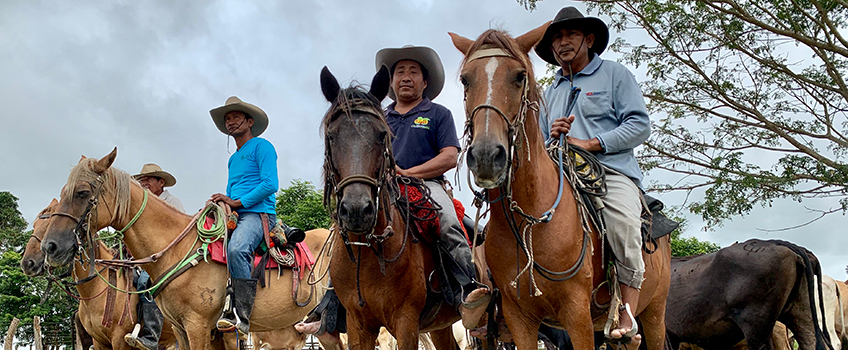 Barichara
Giving Cartagena a run for its money, Barichara was recently named Colombia's prettiest village. According to local legend, it sprung up after the image of the Virgin Mary appeared on a limestone rock, a chapel was built and Spanish settlers brought the colonial architecture which remains perfectly preserved to this day. Equally noteworthy is the pueblito's legacy of cultural craftsmanship. Barichara is a place where traditions remain alive from the stone carvers paving the streets to the artisan clay houses and the natural fibres used for weaving, but also where contemporary artists seek a haven for inspiration. Having been somewhat left behind, accommodation options are limited to simple guesthouses, but the fortunate few can rest their heads in Casa del Presidente – the magnificent home of the late Colombian president, Belisario Betancur.
Stay: A local guesthouse (we can ensure that linen, chefs etc are brought in for guests) or Casa del Presidente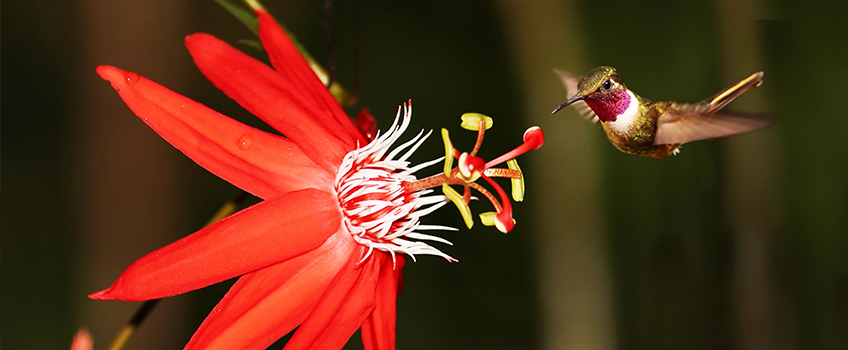 Sierra Nevada
La Sierra Nevada de Santa Marta climbs to an altitude of 5,776 metres (18,950 feet) and is just 42 kilometres (26 miles) from the Caribbean coast, making it the highest coastal mountain range in the world. This unique geography gives rise to magnificent beaches, tropical rainforests and snowy mountain peaks all within a few miles of one another. Thirty six rivers wind through the hills and it's a haven for exotic birds and flowers. Several indigenous groups also inhabit this region, living in remote villages where they have maintained their cultures and traditions for thousands of years. Spending time with them offers a fascinating insight into the kind of ancient cultures which have all but disappeared across the rest of the continent.
Stay: Casa Galavanta
Tayrona National Park
Taking its name from the ancient Tayrona tribe who ruled this area for many years, Tayrona National Park is a paradise of lush vegetation, limpid lagoons, beautiful virgin beaches and extraordinary biodiversity. Though four indigenous tribes still live here, and trekking to visit them affords an opportunity rarely given to day-to-day travellers, the region is most famous for the relics of past civilisations, namely Pueblito and Ciudad Perdida. These ruins are believed to be some 650 years older the Machu Picchu and the mind starts to boggle as you wander among them, being transported through the misty passages of time. Though the park can get crowded in December and January with swimmers, snorkelers and hikers, it's not difficult to find your own private slice of paradise since most of refreshingly free of development.
Stay: Your own secluded private villa – ask us for details.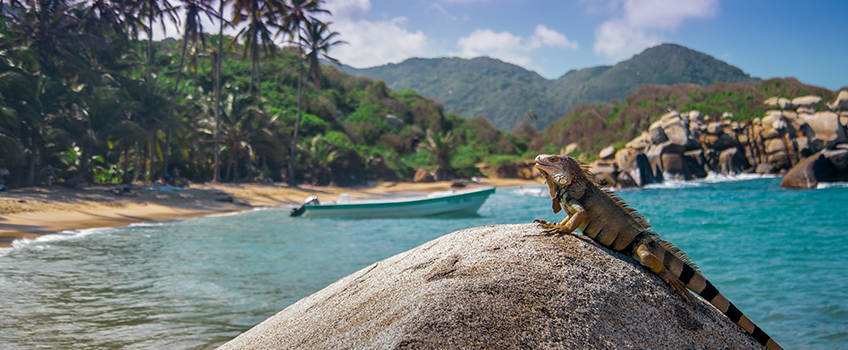 Medellín
Once famed as the most dangerous city on Earth, Medellin is a city reborn. Named 'Innovative City of the Year' by the Wall Street Journal with streets that showcase clever urban planning street art and fabulous eateries, it stands today as the poster child for social reform. Riding the outdoor escalator system of Comuna 13, which was once at the heart of Medellín's troubles, you'll begin to understand the stories of its people through the captivating street art. If you're lucky you might even catch one of the city's graffiti festivals which attracts artists from across the continent, if not the world. Everywhere you go you'll be met by rapturous welcomes and don't be surprised if you're thanked for visiting by a stranger in the street. Medellin joyfully encapsulates the resurgent spirit of Colombia.
Stay: Patio del Mundo
HOW TO GET THERE
Itineraries for Inspiration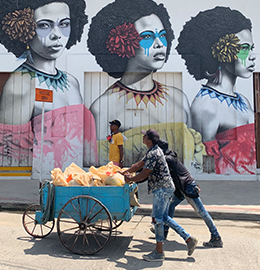 1. 'The Maestro' Itinerary – art, design & gastronomy
Peruse Colombia's art, culture and design scenes with the people who know it best, and taste the country's exquisite cuisine with insider access to some of its the hottest gastronomic destinations.
2. 'The Wild One' Itinerary – horse riding & wildlife
Spend a couple of days soaking up the culture of Colombia's iconic cities, then head for the hills and plains of the wilderness to discover astonishing nature and experience the life of a barefoot cowboy.
OLDER POSTS

27/11/2023
Did you receive our latest newsletter in the post? It contains all…