Bucket-list Patagonia and Antarctica
Commence your journey in Chile's hub, Santiago, with a one night stay at The Singular Santiago, in beautiful Lastarria where you can head out to explore with your guide, and dine at nearby restaurants if you wish.

Fly down to Punta Arenas and you are right in the heart of Patagonia, making your way to the Torres del Paine National Park for a four-night stay at Explora, the only property within the National Park. Enjoy over 40 of its explorations on offer – various hikes at a style, pace and length of your choice, bike ride, horse-ride, head out on 4×4 jeeps perhaps venturing about the surrounds, bird watching or searching for puma. At the end of each day, return to the lodge and admire the views of the peaks right from the property itself, appreciate fine food, local wine and perhaps the spa.

Venture further South to Ushuaia for a one-night stay at Cabo de Hornos, all in preparation for your unforgettable five-night journey to Antarctica.  Fly over Cape Horn and the mythical waters of the Drake Passage, boarding your exploration vessel to cruise around sites such as Port Lockroy, Petermann Island and Paradise Bay, visit Chile's Frei Station and Russia's Bellinghausen station. Navigate mountainous glaciers, volcanic islands, roaming icebergs, all the while looking out for humpback whales, penguin, seal and a vast range of birds including albatross, petrel and skua.

Wrap up your adventure with a final night in Santiago, once more at The Singular, and now as you are more familiar with the surroundings, explore at your leisure for your final afternoon and evening in the city.


You will love
Unbelievable landscapes
Bucket list experiences
High quality accommodation
Flying across the Drake passage
14 UNFORGETTABLE DAYS
DAY 1 | SANTIAGO
Arrive to Santiago and transfer to your accommodation. Allow for some time to freshen up before heading out again for an afternoon private city tour.
DAY 2 | TORRES DEL PAINE
After breakfast transfer to the airport and fly to Punta Arenas. A 5 hour road transfer among beautiful landscapes has you reach the lodge late this afternoon.
DAY 3 | TORRES DEL PAINE
Enjoy any of the 40 explorations on offer at Explora either on foot, horseback or by van. These include walks to crystal clear lakes and forests, hikes to viewpoints and horseback rides through the Park's pampas (grasslands) and along its rivers.
DAY 4 | TORRES DEL PAINE
More of the explorations are on offer for today such as walking some of the popular W circuit that trails around the Paine Massif. Explorations to the Torres base, the Grey Glacier and the Valle Frances (French Valley) follow part of this circuit.
DAY 5 | TORRES DEL PAINE
Further enjoy the activities on offer – either half or full day experiences. Perhaps have lunch in the middle of nature, or live the Patagonian experience on horseback riding through the Park along with the gauchos.
DAY 6 | PUNTA ARENAS
After breakfast road transfer back to Punta Arenas and check into your accommodation this afternoon, arriving before 2pm. You are welcomed by Antarctica 21 staff and this afternoon attend a mandatory briefing providing important information about your voyage and reviews the essential guidelines for Antarctic visitors. Later, gather for a welcome dinner and meet your fellow adventurers while enjoying a typical regional menu.
DAY 7 | ANTARCTICA
Fly to King George Island in the South Shetland Islands and board your vessel. As you exit the airplane, the clear Antarctic air fills your lungs for the first time. Explore the area surrounding Chile's Frei Station and Russia's Bellingshausen station before boarding a Zodiac to embark your expedition vessel.
DAYS 8-11 | ANTARCTICA
No journey is the same and flexibility is the key to success in Antarctica. The expedition team sets the voyage route to take advantage of the ever-changing opportunities provided by nature, crafting a unique and extraordinary experience each time. While the exact itinerary changes with each expedition, you will explore several spots that offer the best possible overview of the varied Antarctic environment and your voyage many include visits to sites including: Port Lockroy, Petermann Island, Paradise Bay and Deception Island. Optional activities at an extra cost include sea kayaking in a small group under the leadership of an experienced kayak master and hiking and snow shoeing across the Antarctic landscape.
DAY 12 | PUNTA ARENAS
Return to King George Island and bid farewell to Antarctica before boarding the flight back to Punta Arenas. Upon arrival, transfer to your hotel for the night.
DAY 13 | SANTIAGO
After breakfast, transfer to the Punta Arenas airport for your flight to Santiago. Upon arrival, transfer to your accommodation and the afternoon and evening are at leisure to explore and to perhaps dine in surrounding Lastarria.
DAY 14 | INFLIGHT
After breakfast, check out of your accommodation and inflight home, or end of arrangements.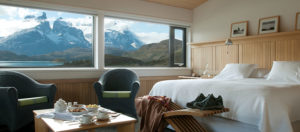 WHERE YOU'LL STAY
A selection of the finest accommodation
Exellent and wonderful, reaching way above expectations.
Elizabeth Mackintosh
Julia you did a fantastic job - everything was first class. Well organised, efficient and stress free. We all agreed it was the best holiday we've ever had. Cant wait to travel with CSC again.
Milford family
We are so happy we put our trust in CSC, we had an amazing adventure and would recommend them to anyone.
Kim & Brad Balance
The trip exceeded my expectations and was the best family holiday I have ever had. Our children simply loved it and now I know more about African wildlife than they do about our own farm animals.
Rowntree family
Classic Safari are the people who genuinely know other culture and offer incredible insight to perfectly meet your expectations.
Melanie McMillan & Iain Jones
We loved it all. Our son wants to go back tomorrow. We would ALL go back again!
Laurence & Remi Cunningham
An amazing experience - the best family holiday we have ever had. We were extremely impressed by the meticulous attention to our itinerary. I can't speak highly enough of all the elements of this exciting journey!
Sheryl & Robert Taylor
Thank you for making our trip to Africa so spectacular. The attention to detail really made it special. It really was the trip of a lifetime.
Paul Cozzi
Very knowledgeable and patient. Our trip was all that we hoped for. Wonderful!
Jane & Robert Happell
Everything was perfect! Advice and information on destinations and activities hit everything I had hoped to experience. I contacted the Classic Safari Company upon recommendation and have now, in turn, recommended to others.
Tim Bradley
You can't improve on perfection. I had my best birthday and holiday with my family celebrating my 80th birthday in Africa. Everything that Julia organised was perfect and the whole trip was a highlight!
Buckingham Family
The trip of a lifetime, couldn't have dreamt of a better adventure if I tried.
Emma Jeffcoat
Absolutely everything was first class & so well organised.
Simon & Jackie Adams
Classic Safari Company has done it again! A unique experience that ticked all the boxes - wildlife, culture and dining experience. A dream come true!
Ros Wheeler
Their experience and knowledge of Africa is evident and we couldn't have been happier with the total package. This has given us a taste for Africa - now we are ready for more.
Andrew & Pip Stevens
If you want the most sensational experience in Africa let Julia and the staff at Classic Safari Co plan it for you! Their knowledge, expertise and enthusiasm for their job means your every wish will be fulfilled.
Miriam & Joseph Harrison
Classic Safari is the place to go to for "top end" adventure travel.
Ron & Alison Guthrie
Classic Safari Company were brilliant - 10/10
Di & Kingsley Yates
The Classic Safari Company is the best I have dealt with. Extremely knowledgeable & professional, friendly, patient & understanding of first timers to Africa.
Annette Whiley
It certainly was the best trip we have EVER had. The experiences were mind blowing.  We want everyone we know to experience Africa - the animals, the people - magical.
Jo-anne & Dean Mifsud
Would do it all again and not change a moment. Best holiday ever!
The McGowan Tribe
An absolutely fantastic travel company - every one of the many trips they have organised for us over 22 years have been faultless and fabulous.
Judith & Roger Williams

begin your journey now
Take advantage of our highly personalised advice, inspiration and experience