DISPATCHES FROM EXOTIC LANDS
No overseas travel? No trouble. See Australia!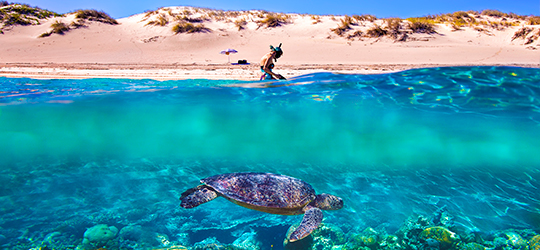 Our land abounds in nature's gifts.
With international travel temporarily off the cards, and those employed in Australian tourism needing a helping hand, what better excuse is there to support the #holidayherethisyear movement?
It's never been more important to band together and support each other in our own back yard. And what a backyard. We've got vast outback savannahs, jungle retreats, far flung reefs and anything else the nature loving solitude seeker could wish for.
It goes without saying that your safety and wellbeing is our utmost priority so whilst we're busy rescheduling safaris, why don't you sit down with a cuppa and explore our top pick of Australian journeys. They feature destinations you may never have heard of and are filled with adventure, rugged luxury, style and authenticity – everything you'd expect from The Classic Safari Company!
Now more than ever is the time to take reprieve from the anxiety of city living, to escape to Australia's wild landscapes and just breathe.
Australian itineraries for inspiration
Designed as a framework for bespoke itineraries.
TOP END IMMERSION IN KAKADU AND ARNHEM LAND
GOURMET SOUTH AUSTRALIA AND THE FLINDERS RANGES .
Wildlife, wetlands and glamping, 6 days ex Darwin.
Food, wine, walking and wildlife, 12 days ex. Adelaide.
REMOTE COASTS, CATTLE AND THE KIMBERLEY.
BLISSFUL PRIVATE ISLAND ISOLATION, QUEENSLAND
Fishing, landscapes and outback luxe, 10 days ex. Broome with optional True North cruise.
Wellness, history and solitude, 8 days on a remote castaway island ex, Cairns.
LEARN MORE
Our top pick of Australian properties
These beautiful and remote hideouts are destinations in their own right.
Bamurru Plains, NT
Wetlands & Wildlife
A wilderness lodge that delivers a prolific wildlife experience on the floodplains
of Kakadu National Park.

Arkaba Homestead, SA
Traditional 1950's
Leading the way in native habitat conservation in South Australia's ruggedly beautiful
'outback'.

Sal Salis, WA
Outback meets reef
A glamorous safari style tented camp on the fringes of Ningaloo Reef, the perfect
place for swimming with whale sharks.

Read More
Read More
Read More
Haggerstone Island, QLD
Private island isolation
One of the most remote destinations in Australia for the ultimate castaway experience.
The entire island can be booked on a private basis.

Bullo River Station, NT
Convivial Cattle Station
Rustic style and good old fashioned outback hospitality. There's cattle work to
do if you fancy joining in and plenty of leisure activities if you don't.

El Questro Homestead, WA
Luxe frontier style lodge
An exclusive retreat situated atop the Chamberlain Gorge, in the heart of 700,000
acres of untamed Kimberley land. Most of it has never been explored.

Read More
Read More
Read More
OLDER POSTS

27/11/2023
Did you receive our latest newsletter in the post? It contains all…