DISPATCHES FROM EXOTIC LANDS
Known locally as Mosi-oa-Tunya, or 'The Smoke that Thunders', Victoria Falls is almost twice the height of Niagara Falls and every bit as awe inspiring as you imagine. The Zambezi River forms the border between Zambia and Zimbabwe and Victoria Falls straddles the two countries, meaning we are often asked 'which is the better side to visit?'.
The first thing to understand is that the border crossing at the Falls is very straightforward meaning that whichever side you decide to stay on, a day trip to the opposite side is remarkably easy. In fact, if you have time, we usually recommend seeing the Falls from both sides to complete the experience.
Which side provides the best views?
Geographically, the majority of the Falls lies on the Zimbabwean side meaning that the most comprehensive selection of viewpoints, including the Devil's Cataract, Main Falls, Horseshoe Falls and Rainbow Falls, are all in Zimbabwe's Victoria Falls National Park. Further, the continually falling spray means that the park is a true rainforest teeming with life, and wandering its meandering paths is a wonderfully serene way to take in the views.
The Zambian side isn't wet enough the whole year round to generate a rainforest, but it does provide a more 'up close and personal' view. Some paths skirt the edge of the falls, and crossing Knife-Edge Bridge involves a heart-racing walk along the edge of the precipice some 100 metres above the gorge. Be prepared to get drenched when they are in full flow!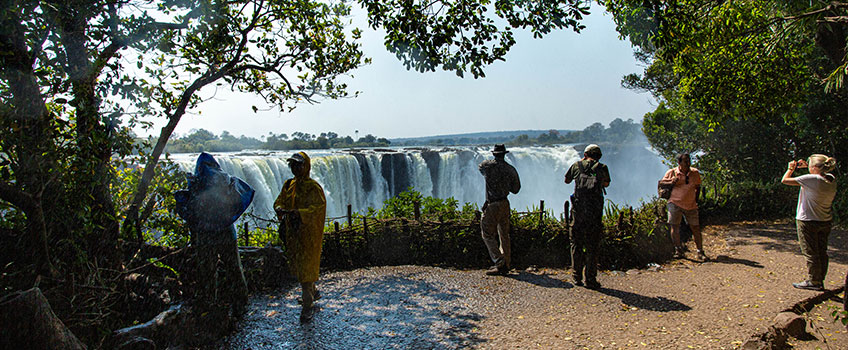 Views from Zimbabwe's Victoria Falls National Park
Do the activities available differ on both sides?
Most of the area's popular activities including scenic flights, white water rafting, scenic boat cruising and wildlife watching can be done in either country. However, if you want to take a dip in Devil's Pool (a rock pool perched at a pulse-raising height on the very edge of the Falls), or visit Livingstone Island, which sits in the middle of the river at the precipice of the Falls, then you will need to be on the Zambian side. However, both can be comfortably done in a day trip from Zimbabwe.
Those seeking an African wildlife safari experience during their time at the Falls can enjoy day trips to Hwange National Park in Zimbabwe or Chobe National Park just across the border in Botswana. This can be easily arranged as part of your bespoke travel itinerary – just ask!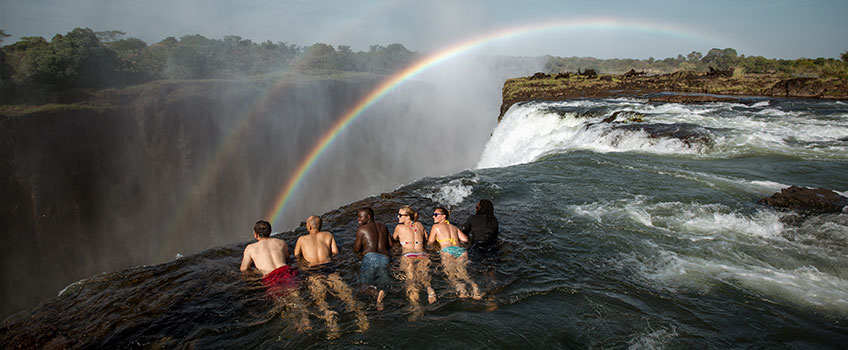 Swimming in Devil's Pool
Is either side affected by seasonality?
In a word, yes. Water flows year-round on the Zimbabwean side, and during high water levels (February-May) both sides deliver a brilliant spray experience, but during the drier months when water levels are low (October/November) the Zambian side sometimes dries up completely.
However, bear in mind that certain activities, such as swimming in Devil's Pool or rafting can only take place when water levels are low, so if these are important to you then it's worth timing your visit carefully.
Which side works better as part of a longer safari itinerary?
A choice of good travel connections mean that it is easy to combine your visit to Victoria Falls with a number of other great safari destinations including:

Canoeing in the Lower Zambezi
How do the towns of Victoria Falls and Livingstone compare?
Victoria Falls is a lively little tourist town just 2km from the Falls. It has a good selection of shops, restaurants and curio markets all within just a couple of square kilometres of each other so it is easy and safe to explore on foot.
Livingstone is further from the Falls (approximately 10 km away), larger and more industrial but still has a relaxed and friendly atmosphere. The Livingstone Museum houses an impressive ethnography and natural history collection, as well as plenty of original David Livingstone memorabilia, and is well worth a visit.
Both towns have internationally recognised airports that provide good connectivity.
Where should I stay – which side has the better accommodation?
Both sides have lovely options ranging from colonial style hotels to luxurious riverside safari lodges. Here are our top picks:
Zimbabwe:

The Victoria Falls Hotel, Zimbabwe
Zambia: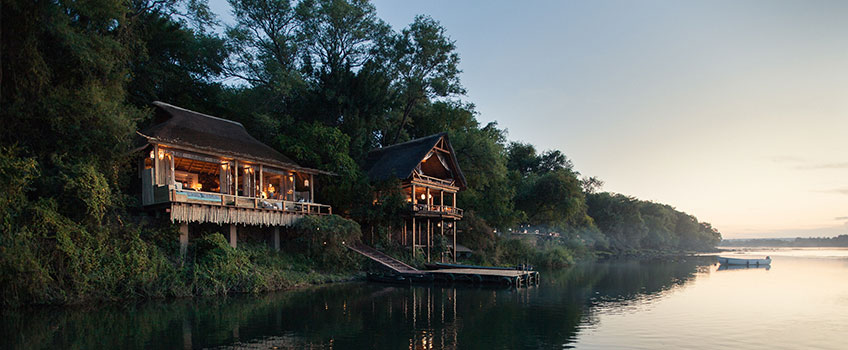 Tongabezi, Zambia
In short, both sides offer some fantastic plus points and whichever side you decide upon, a day trip to the other comes highly recommend. After a busy day exploring the Falls, when you are sitting by the mighty Zambezi, G&T in hand, watching the elephants wallowing at sunset, you won't be questioning your choice!

We are a small African safari company specialising in small group African safari tours and bespoke travel to wilderness regions.
Contact us to discuss your plans for visiting Victoria Falls and beyond!
OLDER POSTS

27/11/2023
Did you receive our latest newsletter in the post? It contains all…